Love Must Be Real Because Jenny Slate and Chris Evans Are Officially Back Together
Everyone can breathe a little easier now that Jenny Slate and Chris Evans have reportedly rekindled their relationship.
---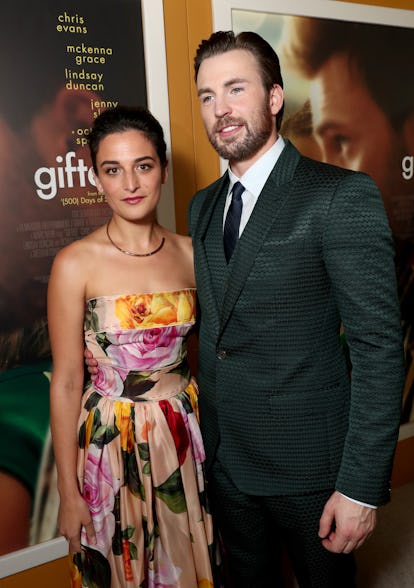 Getty
There has been quite a rollercoaster of relationship ups and downs thus far in 2017—from Justin Bieber and Selena Gomez to The Weeknd and Bella Hadid (allegedly), getting back together with your ex is definitely trending this fall. Now, People reports that everyone's favorite former couple—Jenny Slate and Chris Evans—went apartment hunting in Tribeca, and we can all finally put away our book of spells that demonstrates how to resurrect failed relationships.
Jenny Slate, who was previously married to film editor and director Dean Fleischer-Camp for about four years, began dating Chris Evans in early 2016 after co-starring in the Marc Webb film Gifted and recording an episode of Anna Faris' podcast, Anna Faris Is Unqualified.
Some people scratched their heads at first at the pairing. She's a cult comedy icon, he's a Marvel superhero who loves team sports. Slate even confessed that she was initially apprehensive to date Evans, but the two found common ground in their Massachusetts upbringings and the couple turned out to be oddly perfect for one another. Seeing them together allowed us to hold on to the hope that nice guys like Chris Evans really do exist out there, somewhere, and opposites really could attract. For about a year, Slate and Evans were the Internet's favorite couple, but the two called it quits in February, and we all suffered.
A few months after her breakup with Captain America, Slate opened up to New York Magazine about how difficult it was to deal with their split. She had such nice things to say about her ex, exclaiming, "He's really vulnerable, and he's really straightforward. He's like primary colors. He has beautiful, big, strong emotions, and he's really sure of them. It's just wonderful to be around. His heart is probably golden-colored, if you could paint it." Slate also lovingly referred to Evans as the "truly one of the kindest people I've ever met" in the same interview.
In October, they were spotted hanging out together, grabbing dinner in Atlanta. Then, earlier this month, Chris Evans posted a cute video of his dog on Twitter. This particular video of his howling dog named Dodger happened to be special, thanks to a very distinguishable giggle in the background easily identified as Slate, and theories that the two were back together began to circulate. Shortly after Evans posted the video of his dog, Slate tweeted a cryptic message of her own about a "generous" boyfriend. Who else would Slate possibly be referring to besides Evans?
Now that the two are officially back together, and potentially cohabiting, a message for the couple. Jenny and Chris: please, please, please, do not break up again. None of us will be able to handle this rollercoaster of emotions if you split up once more; it was painful enough the first time around.
Related: Why Are All the Young Celebs, from Justin Bieber and Selena Gomez to Alex Turner and Alexa Chung, Getting Back Together?
Chris Evans Remembers Back to When He Got Dumped