Jessica Chastain Was Cut From Xavier Dolan's Film The Death and Life of John F. Donovan
Rest assured: Nicole Kidman, Natalie Portman, Troye Sivan, and Paris Hilton's fiancé, Chris Zylka, have still made it into the film—for now.
---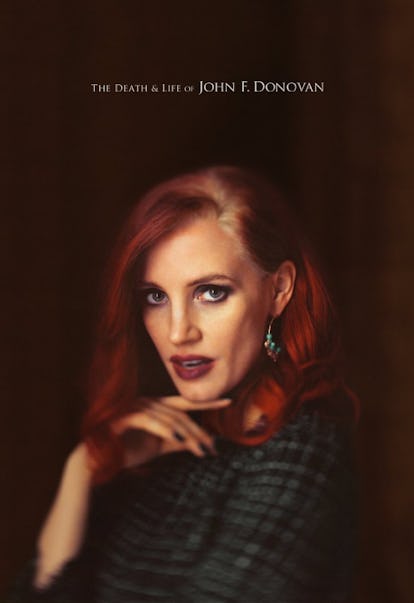 Jessica Chastain has seemed to been able to do no wrong these days. In recent months, she's stepped up her activism in becoming a vocal supporter of the anti-harassment and pro-equality movement Time's Up and an activist making real change in successfully campaigning for her costar Octavia Spencer to get five times her pay. And all of this while keeping up with her day job and getting her fifth Golden Globe nomination for her leading role in Aaron Sorkin's Molly's Game.
In other words, Chastain is exactly who you'd want to star in your highly anticipated film, which is what makes the director Xavier Dolan's announcement late on Sunday night that he's decided to cut the actress from The Death and Life of John F. Donovan all the more flummoxing. Dolan posted an Instagram gallery of an image of himself and Chastain on set, as well as a series of screenshots explaining why he decided to cut her from the film, all introduced with a caption that described it as "perhaps not the news you were waiting for, but something I had to tell you nonetheless."
The content of the rest of his many Instagrams is this: That he has dedicated every day since last May to working on the film, which is why it hadn't premiered last fall as had been intended, and that its first cut was four hours in length. It was also length, Dolan acknowledged, that led him to cut Chastain—or, in his words, "to give you all the necessary context to understand I had to make."
"I feel, toward Jessica, a very sincere love, and a great admiration. The decision was editorial and narrative, in that it has nothing to do with a performance, and everything to do with a character, and the compatibility of its storyline," he wrote, adding that the "'villain' subplot … didn't feel like it belonged to the rest of the story, which ended up not being on heroes or their nemesis, bur [sic] rather on childhood, and its dreams."
Jessica Chastain Was Inspired By The Kardashians While Shooting "Molly's Game":
Dolan then went on to praise Chastain: "Jessica has, since the very beginning, defended this project, and defended me on so many occasions. She is a terrific actress, a politically engaged artist, what is more, who relentlessly champions the causes she believes in," he said, adding that he was "disappointed" they didn't get to "reveal the exciting things we crafted together on this one adventure."
And Chastain has indeed been there from the beginning. The film was originally announced in 2014 with Kit Harington and Jessica Chastain billed as its stars. To be fair, the cast of Death and Life, which is the director's English-language debut, has since that announcement been filled to the brim: This summer, it was announced that everyone from Nicole Kidman to Red Hot Chili Peppers bassist Flea to YouTuber Troye Sivan would star in the film, along with Harington, Russell Crowe, Bella Thorne, Thandie Newton, Kathy Bates, Lucas Hedges, Natalie Portman, Susan Sarandon, Jacob Tremblay, and Paris Hilton's fiancé, Chris Zylka.
The film is based on Garrard Conley's Boy Erased: A Memoir of Identity, Faith, and Family, a memoir recounting Conley's experience of being outed to his conservative family as a college freshman in Arkansas, and ultimately being forced by his Baptist pastor father to undergo the gay conversion therapy, which is now widely considered unethical. (Hedges will star as a fictionalized version of Conley, while Crowe and Kidman will play his parents; Chastain, on the other hand, was set to play a journalist.)
The film is still in post-production, with no release date in sight. Hopefully, between all the remaining editing in the time intervening, someone will think to change the main image advertising the film on its IMDb page from a poster featuring only the movie's title and a portrait of Chastain.
Related: Jessica Chastain Is Surprised By Her Golden Globes Nomination After Refusing to Be Silent About Sexual Assault