Meet the Man Who Has Trained Everyone From Mary-Kate Olsen to Monica Lewinsky
Joe Maysonet just opened his own gym, J Train, in New York City.
---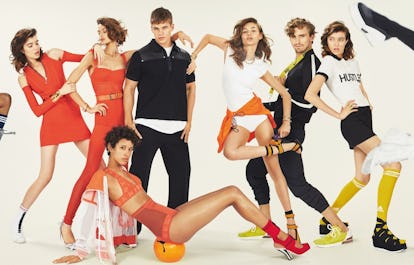 Joe Maysonet has nearly 20 years of experience training some of the world's biggest celebrities, so it is no surprise that his client list has included everyone from the likes of the leading men Denzel Washington, John Slattery, and Liev Schreber to the fashion icons Mary Kate Olsen and Charlotte Gainsbourg to even Monica Lewinsky. This weekend, Maysonet opened his first gym, J Train, in TriBeCa, meaning that now even those without A-list power can get the star training treatment. With an emphasis on aesthetics (a large Will Cotton piece greets visitors upon entry, and the exterior of the space features a 60-foot installation of images by Eadweard Muybridge), Maysonet and his team of trainers, masseuses, acupuncturists, and naturopaths focus on custom wellness plans with a holistic approach. "We believe clients' bodies are like paintings and we're artists," he said. Here, Maysonet breaks down how to stay on track through the holidays, his week of workouts, and more.
What advice would you give to someone who wants to get into fitness but doesn't know where to start?
The first thing is to be realistic and understand your goals. It helps a lot with the intimidation factor when you're realistic about what you can achieve. People will come to a gym and start picking up weights, but if you focus on intrinsic balance, stability, and core, you won't end up with problems later. Hiring a fitness professional also takes a lot of the guesswork out of it.
What are the benefits of hiring a trainer?
It allows you to get the most out of your workout. For people who are new to exercise, it's good to have a trained eye that will help them have the safest, most efficient workout they can. For someone more advanced, a trainer can help them cross a plateau and reach that next level.
What do you tell clients about staying on track during the holidays?
Just do something. It's hard because you're traveling and the food is going to be different. If you have access to a health-and-wellness facility, please use it, but it's okay if you're not minding your Ps and Qs.
There are lots of myths relating to health and wellness out there. Any you'd like to debunk?
Pretty much everything! A lot of it is just general information. You could have a twin with a completely different disposition, and you won't respond to a program in the same way. If you don't do the proper testing, it can be difficult to derive how you're going to get to where you want to be. Don't get frustrated because you're not getting the results you're supposed to based on what you read—that's when you stop adhering to a principle or goal. A lot of the time, people aren't getting to where they need to be because they aren't eating according to a nutrition plan tailored to their needs.
What are your pre- and post-workout nutrition tips?
Before a workout, make sure you're hydrated, and have healthy carbs like whole grains. Avoid too much protein because it's more difficult to digest. Post-workout, I'd recommend some banana and peanut butter for protein, sweet potatoes or eggs, or some yogurt with berries.
What does a week of workouts look like for you?
My day starts with skateboarding from the parking lot. I skateboard everywhere. Fitness is a huge part of how I get around. I train with my clients, so a lot of my workouts can be boxing, kickboxing, calisthenics, or weight training. I also work out with the trainers twice a week, and we'll do a lot of olympic movements, which are explosive power movements like deadlifts, clean and jerks, and squatting. I also do yoga once a week, but I'm not very flexible. If I could reveal my weakness to the world, it'd be that I'm not flexible enough.
How would you recommend warming up before a workout?
Warming up for 7 to 10 minutes hardens the soft muscle tissue, making the body less prone to injury. Warming up can be any kind of cardio, like bikes, treadmill, or rowing. Stretching with a foam roller is also a form of warming up, but personally I like to sweat. It gets the muscles prepared to fire up and gives you a little edge.
What is your fitness philosophy?
It's about making little connections and assessing imbalances by firing up muscles that aren't activating, stretching muscles that are tight, and optimizing range of motion to help you get the most out of your workout. If you train consistently, you should also be doing recovery, like massage and acupuncture, which is going to help you along your journey and also make you feel great.
What's it like to train celebrities?
It's an honor to have been able to have had these relationships with so many different types of professionals, not just celebrities but high-level artists or executives. They all fall into the same category because their schedules are demanding and they need a place where they feel safe. In today's, world nothing is sacred, everything is like "show me," but we're only going to show you a little. We mandate that our staff signs a contract of confidentiality, and we don't video the clients. We train clients very similarly to athletes. If you train consistently and you do recovery, you're going to have a really good chance of meeting your goals. It's really the mindset of an athlete that makes them unique. They take it seriously, and they really care.