Exclusive: See Photos from Fashion Designer Jonathan Simkhai's Breathtaking Honeymoon in Greece
The designer, who has dressed the likes of Gigi Hadid, Yara Shahidi, and Emily Ratajkowski, breaks down all the details of his honeymoon.
---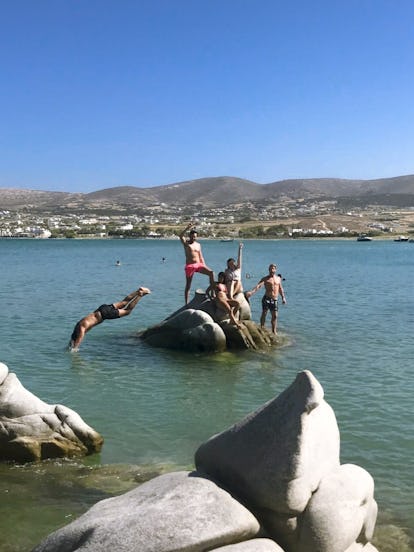 As July slowly creeps into August, you'll find that more and more of the fashion set start to flee their normal lives in favor of a far-off destination. Jonathan Simkhai's recent getaway wasn't just a typical vacation, however; the fashion designer jetted off to Greece for his honeymoon, following his June wedding to fashion publicist TJ Allers. "We wanted to travel somewhere with beautiful beaches, blue waters, the option for adventure, and most importantly, amazing food," says Simkhai. "The always changing scenery of the Greek Islands was an easy choice but we actually planned the trip around the baptism of my Goddaughter in Athens. Many of our best friends who attended the ceremony of the baptism were present for our wedding, and they joined us as we sailed the sea. It was definitely an unconventional but unbelievable way to celebrate our marriage." Here, the designer who has dressed the likes of Gigi Hadid, Yara Shahidi, and Emily Ratajkowski, among many others, breaks down all the details of the honeymoon.
What was the most memorable experience you had on this trip? One of our first mornings at sea, we woke up to find our boat docked in a tiny cove on the island of Paros. There's a small beach bar in Faragas only accessible by sea, which serves freshly caught fish. We all dove from the boat, and swam to the beach in the morning for breakfast. I will never forget that day.
What was the best thing you ate on the trip? One day after we had been exploring the island of Paros by ATV we found a seaside taverna call Siparos. They had the most phenomenal seafood and saganaki. We sat outside at a rickety table right by the water and stuffed ourselves with octopus, calamari, and fresh sea urchin served on slices of lemon. The food was just plucked from the sea and the freshest seafood I can remember eating!
What were the highlights of your trip? I had the wonderful opportunity to partner with Enny Monaco in Mykonos on an exclusive pop-up shop for my Pre-Fall 2017 Collection. The store concept is unreal and they threw an amazing party while I was in Mykonos. I love meeting my international customers and getting to know their style. It was so wonderful seeing my collection set in such a beautiful location.
Where are your must-visits for someone traveling to Greece? Hopping around the Cyclades by boat is a must. When you're on the island of Mykonos definitely stop by Enny Monaco shop. Aside from the beautifully styled collection, the artwork they curate from local talent was worth getting lost in the winding streets for. Also, make sure you spend time at Alemagou! It is an amazing beach and restaurant that turns into a surprisingly cool party.
Where would you recommend people stay in Greece? Definitely charter a boat to take you around the islands. There's nothing like the sea gently rocking you to sleep. And, I loved staying at Bohéme in Mykonos, our suite overlooked the sea and you have a consistently epic sunset every night. After spending more time there, I do think a lot of people overlook Athens in favor of the islands. We had an amazing time seeing the sites in Athens and hopping around the seaside towns. The mainland is not to be missed and the nightlife on the beach could give Mykonos a run for its money.
What did you purchase during your trip? I loved wandering through the little boutiques along the islands. We picked up a few traditional locally produced and hand-embroidered pieces for our moms and nieces and then some cotton tunics for ourselves.
How did your destination factor in when packing for the trip? I focused on packing light easy clothes. My suitcase was filled with basics that all went together. I think simplicity is key when traveling.
What were some of your favorite outfits you wore on the trip? My go-to outfit for being on the open seas was a light-weight white linen t-shirt with APC shorts and classic Ray-Bans. That being said, I probably spent 85% of my trip in swim trunks.
What are your packing tips? For myself, it's all about versatile basics, linen and cotton for daytime and cool silks that feel soothing at night when the temperature drops and your skin has spent some time in the sun. I did make sure I packed some Simkhai swim for our friends on our trip. Throw in a couple of swimsuits with coordinating coverups and you'll go seamlessly from dipping into the sea to sunset cocktails.
What are your must-haves for a long flight? Hydration is very important for me. I always pick up the largest bottle of SmartWater for my flight and I don't go many places without Kiehl's daytime reviving oil. And great headphones to go with a fully loaded Netflix queue!
Do you have any pre- or post- flight rituals? Selfies next to my sleeping husband's hilarious facial expressions.
Related: An Insta-Girl's Guide to the Hamptons and Summer Beauty
Gigi Hadid Has Perfected Her Model Off-Duty Style
Like most teens in 2012, Gigi Hadid had a love of cool printed pants. Worn with her natural wavy hair and tan accessories, the young model showed an early sense of style.

GETTY
Less than two years later, Hadid had blossomed from traditional teen to mega model off-duty—and she had the leather jacket, black skinnies, and leopard print boots to prove it.

GETTY
The model was all smiles at the 2014 Kids' Choice Awards with a fun blue and white look befitting of the occasion…

GETTY
And again showed off her stellar off-duty style in a striped shirtdress and Chanel boots in New York.

GETTY
The model is known for her versatility. Here, she wears a minimalist Calvin Klein Collection number at the brand's 2014 Reveal fragrance launch party.

GETTY
And really showed her star power at the 2015 Vanity Fair Oscar Party with a slinky Versace dress.

GETTY
The shimmering Atelier Swrovski and Michael Kors jumpsuit she wore to the CFDA Awards…

GETTY
And, most recently, the branded Mikhael Kale jacket and Christian Louboutin booties she sported at the MuchMusic Awards. #Hadid for the win.

GETTY
Out on a date with then-boyfriend Joe Jonas at L'Avenue, Hadid opted for a sporty Versace dress in Paris, France, September 2015.

GETTY
Hadid and Kendall Jenner wore straight-off-the-runway Balmain looks (and swapped hair colors while they were at it) during Olivier Rousteing's Fall 2017 Balmain after party in Paris, France, March 2016.

GETTY
A longtime fan and model for Rousteing, Hadid wore another one of his designs for Balmain attending a dinner he hosted during the Spring 2016 collections in Paris, France, September 2015.

GETTY
Hadid wore a daring sheer Yanina Couture dress with a La Perla bodysuit to the Daily Front Row "Fashion Los Angeles" awards, where she observed little sister Bella Hadid nab the Model of the Year award, in West Hollywood, California, March 2016.

GETTY
Hadid made headlines with her new (later revealed to be faux) bangs, but her Versace suit was no less attention-getting. Here, she walks the red carpet at the MTV Movie Awards in Burbank, California, April 2016.

GETTY
Hadid was in the midst of promoting her first collection with Tommy Hilfiger when the designer was honored at the Daily Front Row's Fashion Media Awards — so, appropriately enough, she wore a daring iridescent gown by Hilfiger to support the designer, in New York, New York, September 2016.

GETTY
Hadid proves there's Tommy for all occasions, here under the brutal New York City heat dome, July 2016.

GETTY
Hadid, in Atelier Versace chain mail, joined sister Bella (who walked her first-ever Victoria's Secret show last year) on the pink carpet at the lingerie brand's afterparty in Paris, France, November 2016.

GETTY
Hadid put the rest of New Yorkers to shame in the chic-est possible look during the polar vortex: a Victoria Beckham coat, Mansur Gavriel bag, Karen Walker sunglasses, and Freda Salvador boots, in New York, New York, December 2016.

GETTY
Ever the early adopter of a street style trend, Hadid works a pair of plaid Miaou jeans, looking every inch the British punk goddess in Paris, France, March 2017.

GETTY
Hadid broke the cardinal rule of New Yorkers everywhere, wearing a slouchy all-white ensemble after a bout of fresh snow and before Memorial Day with an M2Malletier bag. You can take the girl out of Calabasas, but you can't take Calabasas out of the girl.

GETTY
Gigi Hadid's enviable crop top selection showcases her enviable abs. Here, she wears an embellished Sally LaPoint sweatsuit in New York, New York, April 2017.

GETTY
Gigi Hadid seen on the streets of Manhattan on September 08, 2018 in New York, NY. Photo courtesy of Getty Images.

GETTY
Gigi Hadid looks crisp in an all white suit on October 23, 2018 in New York City. Photo courtesy of Getty Images.

GETTY
Denim-on-denim for a Rangers game as Gigi Hadid is seen arriving at MSG on 34th street on March 12, 2018 in New York City. Photo courtesy of Getty Images.

GETTY
Gigi Hadid seen on the streets of Manhattan on October 09, 2018 in New York, NY. Photo courtesy of Getty Images.

GETTY
Gigi Hadid seen on the streets of Manhattan on December 11, 2018 in New York City. Photo courtesy of Getty Images.

GETTY
Model Gigi Hadid is seen on February 26, 2019 in Paris, France. Photo courtesy of Getty Images.

GETTY
Model Gigi Hadid is seen on February 28, 2019 in Paris, France. Photo courtesy of Getty Images.

GETTY
Model Gigi Hadid attends the "Americans In Paris" Cocktail Party Outside Arrivals as part of the Paris Fashion Week Womenswear Fall/Winter 2019/2020 on March 03, 2019 in Paris, France. Photo courtesy of Getty Images.

GETTY
Gigi Hadid is seen at Cipriani 42nd Street for the Variety's Power of Women on April 5, 2019 in New York City. Photo courtesy of Getty Images.

GETTY
Gigi Hadid arrives at Marc Jacobs and Char DeFrancesco wedding reception at the Pool on April 6, 2019 in New York City. Photo courtesy of Getty Images.

GETTY
Gigi Hadid, Karaoke Star, Takes On "Baby" by Justin Bieber