Justin Bieber and Hailey Baldwin Can't Stop Location Hopping Since Announcing Their Engagement
Justin Bieber and Hailey Baldwin have moved on from the Bahamas and Brooklyn, and taken a helicopter from New York to New Windsor.
---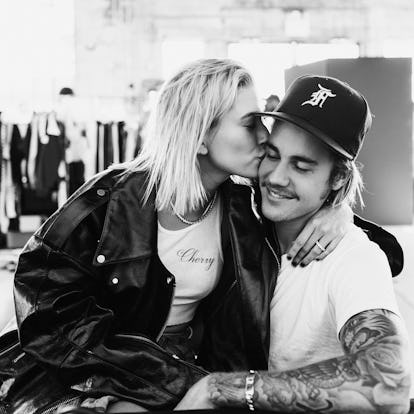 Courtesy of @justinbieber
Just as the chances of running into Justin Bieber and Hailey Baldwin in New York City increased after their return from the Bahamas, they have now diminished, as the couple has already left for a new destination.
Looking out for the latest locale in which Bieber and Baldwin can be spotted is turning into a particularly fun game because these two just can't seem to sit still. This time, the couple didn't cab it to a barber in Brooklyn, or attempt to drive to the Hamptons from the city—Bieber and Baldwin took a private helicopter to upstate New York.
Of course, Bieber's in-flight style does not differ much from his engagement style or his general street style. That is to say, the singer wore slides (again) as he and his fiancée flew from New York to New Windsor. At least it's a step up from his choice of footwear for gallivanting around the city with Baldwin—the classic hotel slipper.
Though there is speculation that the couple is location scouting for their wedding, many believe they will settle on a spot in Canada, Bieber's home country. But according to the Daily Mail, the couple reportedly flew to the upstate town of New Windsor to meet with her father, actor Stephen Baldwin, who reportedly gave Bieber his approval before the Bahamas proposal that took place just a few short days ago.
After confirming via Twitter that he approved of the holy union between the young couple, Stephen deleted his tweet about his excitement for the marriage. Though the father-daughter duo have strongly disagreed on politics, they have patched up any major issues regarding the subject in the last year. Stephen was an outspoken supporter of Trump, while the model has remained a strong supporter of the left. She even turned up at the Los Angeles March for Our Lives rally to protest the NRA and advocate for gun control with friend and fellow model Kendall Jenner, who wore an anti-Trump jacket, and was quoted in an interview with The Times saying, "his opinions have changed with how everything's now unfolding,"
Whether Bieber and Baldwin have taken a quick jaunt to New Windsor to decide on a wedding location, to smooth things over with Stephen and the family, or just to escape the throngs of fans who continue to spot the couple as they maneuver through the city, trying to figure out where Bieber and Baldwin will go next is turning into a more fun pastime than the classic '90s geography game, Where in the World is Carmen Sandiego?
Related: Hailey Baldwin Gave Justin Bieber His Own Engagement Ring