Justin Theroux, Emma Stone, Laura Harrier, and Sienna Miller Had a Swim Hang Together at Hotel du Cap-Eden-Roc
And raised a lot of questions in doing so.
---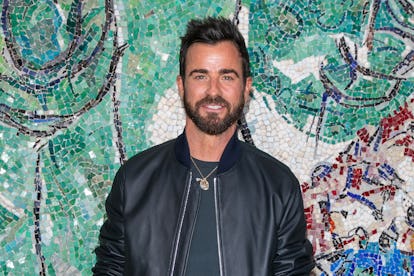 Marc Piasecki/WireImage
When pictures surfaced of Justin Theroux hanging with Emma Stone, Laura Harrier, and Sienna Miller at the South of France's famed Hotel du Cap-Eden-Roc, it prompted a handful of questions. Foremost among them: How exactly did this friend group come to be? While the answer is fairly simple—all of them were in town for Louis Vuitton's Cruise 2019 show as ambassadors of the brand—it remains an interesting situation considering that Theroux has been romantically linked to both Stone and Harrier since he and Jennifer Aniston separated in February.
Of course, Theroux is aware of that, and hanging out with both women at once could just be him trolling the paparazzi. (Clearly it worked because the Daily Mail published photos of the group swim.) Or maybe it's merely that all three parties, along with Miller, were just killing time together outside their brand-ambassador obligations.
Theroux already denied any kind of romantic involvement with Stone when he posted a photo of the two of them next to Queer Eye's Jonathan Van Ness with the caption "Bffffffs. And yes. JUST bfffffs." That statement was before the Maniac costars—whose 10-episode show drops on Netflix later this year—were spotted leaving a Met Gala afterparty together in a car with Shailene Woodley, which People noted at the time.
Honestly, though, who cares if Theroux and Stone are just friends or more than friends? Their relationship is their own business, despite the paparazzi broadcasting it for the world whenever possible. Theroux certainly doesn't care about your personal feelings on his love life. "I've stopped caring about what other people think of me. It's also minimized over the years," as he told Paris-based Mastermind magazine earlier this year. "I just keep working, which is the only thing you can do," he said. "So when someone I've never met in my life comes up to me and asks me a personal question, I say, 'I don't know what you're talking about.' And you know, I'm sorry, but I really don't." "I don't know what you're talking about" is also a perfect response to any personal questions for the rest of us.