Kanye West Might Turn His Sunday Services Into a Clothing Brand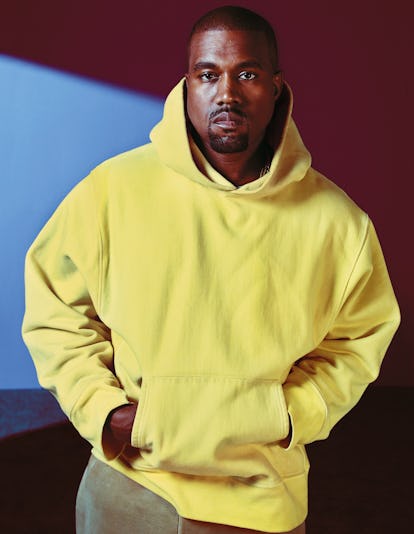 Mario Sorrenti
Jesus walks! Taking the whole Yeezus thing to its logical next step, rapper Kanye West is combining his two biggest extracurriculars — preaching and designing clothes — into one new project: Sunday Service apparel. West recently filed for a trademark on Sunday Service-branded merchandise including "clothing, dresses, footwear, headwear, jackets loungewear, scarves, shirts, socks and clothing tops," according to TMZ. This will be the latest in a series of forays into the fashion world, following collections like Calabasas Casualwear for Adidas and his ongoing Yeezy line.
Sunday Service is the semi-formal title of West's weekly outdoor worship sessions, combining Gospel music, Kanye West songs and good old-fashioned preaching. It's not a concert. It's kind of a jam session for God. In addition to the Kardashians, celebrities like Chance the Rapper, Katy Perry, Orlando Bloom, Kid Cudi, Jaden Smith and Donald Glover have all reportedly dropped by.
With the growing popularity of "cool" A-lister churches like Hillsong and the advent of the Preachers In Sneakers phenomenon (many of whom wear Yeezys, in fact), there's something of a lifestyle emerging from the Hollywood Christian scene. West and Kim Kardashian's baby son is even named Psalm (and yes, papers have been filed to trademark Psalm West). Jesus has been #trending for over two thousand years. You could do a lot worse when picking a brand ambassador apparently.
Per TMZ, West did a practice run at Coachella, where he hosted an Easter Sunday Service gathering and sold hoodies and socks. His choir, in matchy-matchy sweats and Yeezys, perhaps gives us a hint at what the clothing line might look like.
Honestly, anything that keeps Kanye focused on finding creative outlets instead of visiting the Oval Office is probably a good idea. And if anyone's got the clout to redefine "church clothes," it's him.
Related: Kim Kardashian West Had to Tell Kanye to Stop Spending
Bali Brings Out the Best in Kanye West, Chris Hemsworth, and Kourtney Kardashian
Kanye West and Kim Kardashian posed with elephants at a sanctuary during their April 2019 vacation in Bali.

Photo by @kimkardashian.
Kourtney Kardashian shared her April 2019 Bali travel diary, featuring her daughter Penelope Disick.

Photo by @kourtneykardash
Chris Hemsworth attended the Men in Black: International press tour in Bali in May 2019. According to Hemsworth's post on Instagram, it was "the first time ever for a major studio to bring cast for film promotion to Indonesia."

Photo by @chrishemsworth.
Kristen Crawley and Don Crawley celebrated their five year anniversary and vow renewal in Bali in May 2019.

Photo by @kristennoelcrawley.
Tom Holland brought another major studio film press tour to Indonesia in May 2019, and celebrated the fans of Spider-Man: Far From Home on Instagram.

Photo by @tomholland.
John Legend and Chrissy Teigen brought their daughter Luna (and newborn son, Miles) to Bali last summer for a family vacation.

Photo by @johnlegend.
Brody Jenner married Kaitlynn Carter in Bali last summer, and shared the whole celebration on Instagram in June 2018.

Photo by @brodyjenner.
Cleopatra Coleman shared a closeup from her Bali vacation in October 2018.

Photo by @cleopatracoleman.
The Beckhams had their third family vacation of the summer in Bali last August, but only Romeo Beckham did the most with sharing photos of the trip on Instagram.

Photo by @romeobeckham.
Paris Hilton, a frequent Bali visitor, shared photos from her Bali vacation in February 2019.

Photo by @parishilton.