Kanye West Apologizes for Being on His Phone at The Cher Show's Opening Night
He apologized for his "lack of etiquette" on the Broadway show's opening night.
---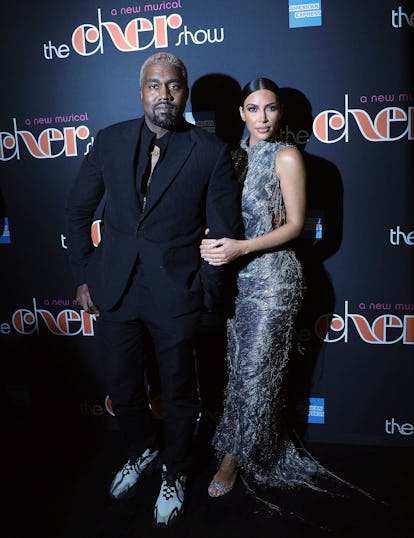 Taylor Hill/FilmMagic
At The Cher Show, that oft-ignored, standard-issue request at the beginning of any performance for all phones to be silenced and put away actually has some teeth, as Kanye West learned this week. While attending the musical's Broadway debut with noted Cher superfan Kim Kardashian West on Monday evening, the rapper, apparently, had his phone out for much of the show, with the screen's brightness high enough to catch the attention of the actors on the stage in front of him. Perhaps West was hiding his phone from view of the ushers, or they were simply too timid to reprimand a Grammy winner; whatever the case, Jarrod Spector, who plays Sonny Bono in The Cher Show, soon took it upon himself to kindly ask West to follow the most basic rule of theater attendance.
"Hey @kanyewest so cool that you're here at @TheCherShow! If you look up from your cell phone you'll see we're doing a show up here. It's opening night. Kind of a big deal for us. Thanks so much," Spector tweeted. (Of course, this raises questions about Spector's own phone use during the show, but we'll give him the benefit of the doubt and assume he was tweeting from backstage, and not mid–"I Got You Babe.")
A few hours later, in something of a divergence from his typically more aggressive Twitter persona, West readily admitted to his fault and asked for forgiveness, and also shared his gratitude for the show and its cast. "The dynamics of Cher and Sonny's relationship made Kim and I grab each other's hand and sing 'I got you babe' please pardon my lack of etiquette. We have so much appreciation for the energy you guys put into making this master piece," he tweeted at Spector.
It was that appreciation, in fact, that inspired West to whip out his iPhone in the first place. As his representative explained to The New York Times in a statement on Monday, West wasn't texting or playing Kim Kardashian: Hollywood in the theater: "Kanye was on his phone taking notes. He loved the show and was incredibly impressed by the production."
An unnamed source corroborated these claims of inspiration that just couldn't be ignored, telling TMZ that not only was West actively taking notes about the performance on his phone, but he and Kardashian West also scrapped their plans to leave at intermission and pushed back a flight so they could watch the entire show, since West found it "so beautiful." Don't be surprised if he replaces Jonathan "Foodgod" Cheban as the Sonny to Kardashian West's Cher for Halloween 2019.
Related: Kanye West Just Wants to Bring Joy to the World Like Will Ferrell in Elf