Everyone Cried at Karl Lagerfeld's Final Show for Fendi, Which Paid Tribute to the Late Designer
Models also wore versions of Lagerfeld's signature ponytail.
---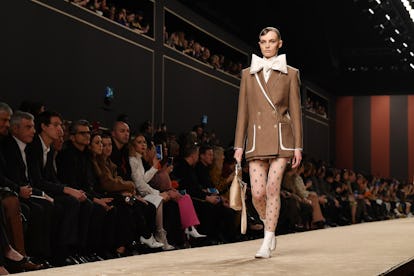 Jacopo Raule/Getty Images
He may have been best known for his tenure as the creative director of Chanel, but Karl Lagerfeld was also the head of women's wear at Fendi from 1965 until his death, at age 85, this week, just a few days before Fendi presented its fall/winter 2019 collection at Milan Fashion Week. Still, as it did last month when Chanel announced that Lagerfeld was too "tired" to appear at either of its couture shows, the show must go on—though not without a few finishing touches that Fendi added at the last minute, in tribute to the designer.
Upon arriving to the show on Thursday, attendees found that a card featuring a heart, Lagerfeld's signature, and the date of his death had been placed upon their seats, along with several sketches that Lagerfeld had made of what turned out to be his final collection for the house. Also scrawled in the late designer's signature handwriting was the phrase "Love Karl," which was printed above the runway. That soon served as the backdrop for a host of models wearing ponytails similar to Lagerfeld's signature 'do—including Kaia Gerber and Bella and Gigi Hadid, all of whom had shared tributes to the designer on their Instagram accounts less that two days earlier. (The Hadids had also brought giant bouquets to Fendi's headquarters the night before.) Gigi Hadid closed the show, which ended by switching from "Heroes" by David Bowie to a video of Lagerfeld sketching his first collection for the house, back in '65.
Adding to the speculation that she'll soon be named as Lagerfeld's successor at the house, Silvia Venturini Fendi—Fendi's creative partner and the creator of its iconic Baguette bag—stood in for Lagerfeld to (tearfully) take his bow. Backstage, The New York Times reported, everyone—models, hairstylists, and executives alike—joined her in her tears.
Whereas Fendi has yet to announce its plans moving forward, Virginie Viard has been appointed as Lagerfeld's replacement at Chanel, whose own fall/winter 2019 runway show will take place during Paris Fashion Week early next month. The fate of Lagerfeld's beloved millionaire "heiress," Choupette, also remains unknown, but given her fortune thus far, it seems likely she may soon become the world's richest cat.
Related: How Karl Lagerfeld Became Fashion's Andy Warhol
See Karl Lagerfeld's Front Row Devotees Over the Years, From Kristen Stewart To Rihanna
Kate Moss. at the Carousel du Louvre in Paris, France.

Getty
Victoria Beckham and Katie Holmes at the Grand Palais in Paris, France.

Getty
Cher at the Pelouse de St Cloud in Paris, France.

Getty
Fergie of the Black Eyed Peas sits front row at a Chanel show.

Getty
Kanye West and his wife Alexi attend the Chanel fashion show during the Spring/Summer 2008 ready-to-wear collection show at Grand Palais on October 5, 2007 in Paris, France.

Getty
Lindsay Lohan attends the Chanel Ready to Wear show as part of the Paris Womenswear Fashion Week Fall/Winter 2011 at Grand Palais on March 9, 2010 in Paris, France.

Getty
Blake Lively attends the Chanel show as part of the Paris Haute Couture Fashion Week Fall/Winter 2011 at Grand Palais on July 6, 2010 in Paris, France.

Getty
Leighton Meester and Clemence Poesy attend the Chanel Haute Couture fashion show as part of the Paris Haute Couture Fashion Week Fall/Winter 2011 at Grand Palais on July 6, 2010 in Paris, France.

Getty
Ivana Trump sits front row at a Chanel show.

Getty
Alicia Keys attends the Chanel Ready-To-Wear Fall/Winter 2012 show as part of Paris Fashion Week at Grand Palais on March 6, 2012 in Paris, France.

Getty
Alexa Chung and Jared Leto attend the Chanel Ready to Wear Spring / Summer 2012 show during Paris Fashion Week at Grand Palais on October 4, 2011 in Paris, France.

Getty
ennifer Lopez, her daughter Emme Maribel Muniz and her boyfriend Casper Smart attend the Chanel Spring / Summer 2013 show as part of Paris Fashion Week at Grand Palais on October 2, 2012 in Paris, France.

Getty
Hailee Steinfeld attends the Chanel Spring/Summer 2013 Haute-Couture show as part of Paris Fashion Week at Grand Palais on January 22, 2013 in Paris, France.

Getty
Frank Ocean attends the Chanel Fall/Winter 2013 Ready-to-Wear show as part of Paris Fashion Week at Grand Palais on March 5, 2013 in Paris, France.

Getty
Jessica Chastain attends the Chanel Fall/Winter 2013 Ready-to-Wear show as part of Paris Fashion Week at Grand Palais on March 5, 2013 in Paris, France.

Getty
Katy Perry attends the Chanel show as part of the Paris Fashion Week Womenswear Spring/Summer 2014 on October 1, 2013 in Paris, France.

Getty
Kristen Stewart attends the Chanel show as part of Paris Fashion Week Haute-Couture Fall/Winter 2013-2014 at Grand Palais on July 2, 2013 in Paris, France.

Getty
Mario Testino and Kate Upton attend the Chanel show as part of the Paris Fashion Week Womenswear Spring/Summer 2014 on October 1, 2013 in Paris, France.

Getty
Marion Cotillard during Paris Fashion Week – Pret a Porter Spring/Summer 2006 – Chanel – Front Row at Grand Palais in Paris, France.

Getty
Tilda Swinton attends the Chanel show as part of Paris Fashion Week Haute Couture Spring/Summer 2014 on January 21, 2014 in Paris, France.

Getty
Rihanna attends the Chanel show as part of the Paris Fashion Week Womenswear Fall/Winter 2014-2015 on March 4, 2014 in Paris, France.

Getty
Florence Welch attends the Chanel show as part of the Paris Fashion Week Womenswear Fall/Winter 2015/2016 on March 10, 2015 in Paris, France.

Getty
Gwyneth Paltrow attends the Chanel Spring Summer 2016 show as part of Paris Fashion Week on January 26, 2016 in Paris, France.

Getty
Karen Elson attends the Chanel show as part of the Paris Fashion Week Womenswear Fall/Winter 2016/2017 on March 8, 2016 in Paris, France.

Getty
Frances Bean Cobain and Courtney Love attend the Chanel show as part of the Paris Fashion Week Womenswear Spring/Summer 2017 on October 4, 2016 in Paris, France.

Getty
Jada Pinkett Smith and Willow Smith attend the Chanel show as part of the Paris Fashion Week Womenswear Fall/Winter 2016/2017 on March 8, 2016 in Paris, France.

Getty
Cara Delevingne and Lily-Rose Depp attend the Chanel show as part of the Paris Fashion Week Womenswear Fall/Winter 2017/2018 on March 7, 2017 in Paris, France.

Getty
Sofia Coppola and actress Isabelle Huppert attend the Chanel Haute Couture Spring Summer 2018 show as part of Paris Fashion Week on January 23, 2018 in Paris, France.

Bertrand Rindoff Petroff
Pamela Anderson attends the Chanel show as part of the Paris Fashion Week Womenswear Spring/Summer 2019 on October 2, 2018 in Paris, France.

Bertrand Rindoff Petroff
Helen Lasichanh, her husband Pharrell Williams and Tilda Swinton attend the Chanel Haute Couture Spring Summer 2019 show as part of Paris Fashion Week on January 22, 2019 in Paris, France.

Bertrand Rindoff Petroff