Kate Moss Knows About "Contouring and Stuff," aka Instagram Beauty, Thanks to Her Daughter Lila Grace
Lila Grace Moss-Hack taught her mom, who once said she "couldn't be bothered with loads of products," all about "contouring and stuff."
---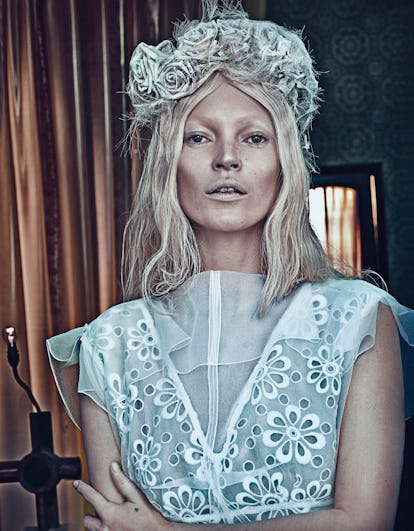 Steven Klein
Kate Moss, relatable supermodel, once told The Guardian that she "couldn't be bothered with loads of products, and I'd get them all mixed up and not know what I was doing. I haven't got the time or the inclination to sit there for ages, putting creams on my face." Her relatively moderate beauty routine consisted of just a "cleanser and a serum and a moisturizer and that's it." She also mentioned she wasn't much of an advocate for the gym, but she was getting into it, and she could juice on occasion.
Oh, how times have changed. Since then, Moss has not only discovered the gym, she's also established a beauty routine, become the creative director of the Japanese cosmetics brand Decorté, and become an avid beauty connoisseur, thanks, in part, to her daughter, 16-year-old Lila Grace Moss-Hack, the recently crowned face of Marc Jacobs Beauty. (Of course, makeup—and dressing up more generally—have long been a "passion" of the supermodel's, as she told The Guardian. It's just that now she's a bit more into those "loads of products" she once disdained.) In a new interview for Harper's Bazaar, Moss describes how her daughter influenced her relationship to beauty trends—including getting her into contouring.
"She teaches me everything," Moss said in the interview. "Lila and her friends follow all the beauty blogs and Instagram accounts, and she'll be like, 'Mum, you have to try this,'" she continued. "She does all that contouring and stuff, which I'm sure they do to me when I'm at work, but I never pay any attention—I'm too busy talking." Maybe they swapped beauty tips before attending the second royal wedding together.
Moss is also well aware of the potential hazards of learning beauty secrets from social media: "For Lila and her friends, it's hard because it's all there on the phone, the Kardashian factor," she explained. "It's in their face much more than it was for us. It's instant inspiration, but it's also instant judgment."
So the supermodel mom isn't totally committed to this new beauty regimen: "You don't want to be a slave to beauty," she told Harper's Bazaar. "Don't get me wrong, I love beauty products more than ever—as you get older, you have more to hide—but I'm not obsessed. Even when I'm going out, I still find it hard to wear false eyelashes and stuff."