Kate Moss and Mario Sorrenti Prove That It's Possible to Work with Your Ex
All of the party pictures that you may have missed this week.
---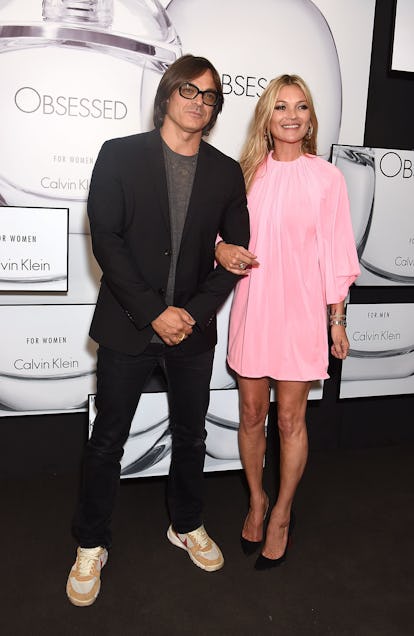 David M Benett
In 1993, one of the most stylish couples of all time, model Kate Moss and photographer Mario Sorrenti, created one of the most iconic fragrance campaigns of all time for Calvin Klein's Obsession. Nearly 25 years later, not much has changed: Sorrenti and Moss are still two of the most iconic names in their fields, and Calvin Klein is still among the most celebrated brands in the business—in fact, perhaps the only difference is that Moss and Sorrenti are no longer a couple. However, the pair didn't let that stop them from reuniting to team up once again to re-invent the famous images, which they celebrated together in London this week. Back in New York, a couple of alcohol brands—St-Germain and Dom Pérignon—each threw their own delightfully over-the-top soiree, while the fashion contingency headed out East to the Hamptons for the start of summer. Here, a look at all of the parties you may have missed this week.
Moss embraced Winnie Harlow at the London party for her new Calvin Klein fragrance.
While Brooklyn Beckham and Sorrenti teamed up—perhaps comparing photography notes?
Lily Kwong transformed the High Line into a floral wonderland at the opening of Maison St. Germain.
Over in Paris, Bella Hadid arrived at Heron Preston's Spring 2018 presentation in a show-stopping orange ensemble.
Amanda Lepore came out for Dom Perignon present the Vintage Trinity Launch.
Seth Meyers and wife Alexi Ashe came out for Chloe Gosselin's spring 2018 presentation.
Suki Waterhouse premiered her new film, The Bad Batch, with a rooftop screening.
Alison Brie and Dave Franco made a rare joint public appearance for Brie's new Netflix series, Glow.
Ruth Negga returned to the spotlight, stepping out for the season two premiere of Preacher.
Olivia Wilde wore Miu Miu for the opening night of her Broadway play 1984.
Out East, Athena Calderone hosted a dinner for Zimmermann at her East Hampton home.
And Oliver Peoples threw a Wild Belle concert at the Surf Lodge.
Photographers "Always Ask" Kate Moss to Take Her Clothes Off
A Visual History of It-Brits at Glastonbury, From Kate Moss to Cara Delevingne
Kate Moss and Jamie Hince are seen backstage at Glastonbury Festival at Worthy Farm, Pilton on June 25, 2010 in Glastonbury, England.

Getty
Emma Watson and George Craig of band One Night Only are seen backstage at Glastonbury Festival at Worthy Farm, Pilton on June 25, 2010

Getty
Keira Knightley is seen on the second day of the Glastonbury Music Festival 2005.

Getty
Emma Watson and George Craigs attend Glastonbury Festival at Worthy Farm on June 26, 2010 in Glastonbury, England.

Getty
Florence Welch poses at the Glastonbury Festival on June 25, 2010 in Glastonbury, England.

Getty
Sienna Miller attends Glastonbury Festival at Worthy Farm on June 26, 2010 in Glastonbury, England.

Getty
Florence Welch attends day 2 of the 2013 Glastonbury Festival at Worthy Farm on June 28, 2013 in Glastonbury, England.

Getty
Sienna Miller attends the Glastonbury Festival of Contemporary Performing Arts at Worthy Farm, Pilton on June 28, 2013.

Getty
Kate Moss during day 3 of the 2013 Glastonbury Festival at Worthy Farm on June 29, 2013 in Glastonbury, England.

Getty
Kate Moss and Jamie Hince attend day 3 of the 2013 Glastonbury Festival at Worthy Farm on June 29, 2013 in Glastonbury, England.

Getty
Sienna Miller attends day 4 of the 2013 Glastonbury Festival at Worthy Farm on June 30, 2013 in Glastonbury, England.

Getty
Rita Ora attends Day 1 of the Glastonbury Festival at Worthy Farm on June 27, 2014 in Glastonbury, England.

Getty
Florence Welch and Sam Smith attend the Glastonbury Festival at Worthy Farm on June 28, 2014 in Glastonbury, England.

Getty
Suki Waterhouse is pictured during day 4 of the 2013 Glastonbury Festival at Worthy Farm on June 30, 2013 in Glastonbury, England.

Getty
Lily Allen and friends attends the Glastonbury Festival at Worthy Farm on June 29, 2014 in Glastonbury, England.

Getty
Lily James attends the Glastonbury Festival at Worthy Farm, Pilton on June 26, 2015 in Glastonbury, England.

Getty
Suki Waterhouse attends the Glastonbury Festival at Worthy Farm, Pilton on June 27, 2015 in Glastonbury, England.

Getty
Hunter Boots' Alasdhair Willis and Stella McCartney are seen backstage at the Glastonbury Festival 2015.

Getty
Florence Welch and Daisy Lowe attend the Glastonbury Festival at Worthy Farm, Pilton on June 28, 2015 in Glastonbury, England.

Getty
Lily James on Day 3 of the Glastonbury Festival at Worthy Farm on June 29, 2014 in Glastonbury, England.

Getty Images
Poppy Delevigne attends the Glastonbury Festival at Worthy Farm, Pilton on June 24, 2016 in Glastonbury, England.

Getty
Rita Ora attends Day 1 of the Glastonbury Festival 2016 at Worthy Farm, Pilton on June 24, 2016 in Glastonbury, England.

Getty
Lily Donaldson attends day 1 of Glastonbury Festival on June 24, 2016 in Glastonbury, England.

Getty
Natalie Dormer attends Glastonbury Festival 2016 at Worthy Farm, Pilton on June 24, 2016 in Glastonbury, England.

Getty
Poppy Delevingne attends the Glastonbury Festival at Worthy Farm, Pilton on June 25, 2016 in Glastonbury, England.

Getty
Poppy Delevigne attends the Glastonbury Festival at Worthy Farm, Pilton on June 25, 2016 in Glastonbury, England.

Getty
Natalie Dormer attends the Glastonbury Festival 2016 at Worthy Farm, Pilton on June 25, 2016 in Glastonbury, England.

Getty
Suki Waterhouse and Lily Donaldson attend Glastonbury Festival 2016 at Worthy Farm, Pilton on June 25, 2016 in Glastonbury, England.

Getty
Alexa Chung is seen backstage at Glastonbury Festival at Worthy Farm, Pilton on June 25, 2010 in Glastonbury, England.

Getty
Cara Delevingne attends day 2 of the 2013 Glastonbury Festival at Worthy Farm on June 28, 2013 in Glastonbury, England.

Getty