Kim Kardashian Is So "Obsessed" with Death She Studied Mortuary Makeup
A second career working in morgues may be in her future.
---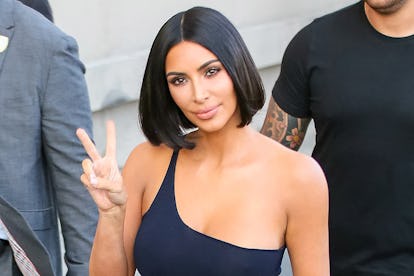 BG017/Bauer-Griffin/Getty Images
Pop culture's interest in the more morbid side of life is nothing new: think Serial; upcoming Hollywood movies about Charles Manson (starring '90s hearthrob Leonardo DiCaprio) and Ted Bundy (starring '00s heartthrob Zac Efron); just about everything written by Gillian Flynn, and so on. So, perhaps it shouldn't be that much of a surprise that the pinnacle of American pop culture, Kim Kardashian, is also interested in the macabre, to say the least.
On Sunday night's episode of Keeping Up With the Kardashians, Kardashian proudly declared that she is, in fact, "obsessed" with death—so much so that she wants to learn about mortuary cosmetology, i.e. the art of applying makeup on a corpse. And what better subject to test her passions out on than Kris Jenner. After all, who needs a cadaver when you have a momager?
"Kim is always trying something new, but being a mortician is… interesting," Jenner said. "Who knew that her love of makeup would take her this far?" After consulting with her "dead body," aka Jenner, Kardashian landed on a natural look for the corpse of "perfect skin, nude lip—I learned that from you," per Jenner's instructions. "You're really creepy," Jenner continued. And yet, in the end she's quite satisfied with the glam she received.
With one victim done, Kardashian decides to take it to the professionals, meeting with a mortician at "an actual mortuary." (Which, in case it has since alluded you, is where "people go when they actually die.") "I've been dying—no pun intended—to know the tricks of the trade, like what concealer morticians use," she said. Her first question for the mortician? "How do you embalm someone?" And you thought Keeping Up With the Kardashians wasn't educational.
When it comes to actually practicing in the morgue—on a "method" actor, so, no, Kim Kardashian did not interact with a dead body on national television—Kardashian's sidekick for the day and makeup artist Mario Dedivanovic takes the lead by (how else?) adding some KKW Beauty highlighter to the actor's face.
"I can really see this as a career for you," Kardashian said. "I don't know, Kimberly," he fired back. "I wouldn't be able to get Instagram pictures."
In the end, Kardashian also decided that she's not going to give up her own illustrious Instagram account for the funeral industry. "Okay, I know this is way too heavy for me to ever take on, but I've learned so much being here and I'm really grateful for the experience," she said. "And I'm really glad that Mario came along, because now I know that when the day comes I'll be in good hands." What's the saying? Good men must die, but death cannot kill their glam.