Kendall Jenner's Art Collection, Explained
A closer look at the supermodel's snapshot of her dining room proves it's a bit cheekier than you might think.
---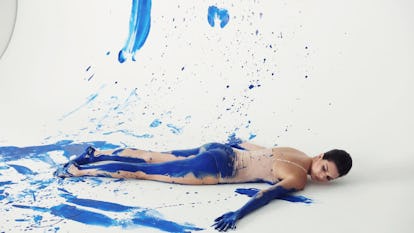 W magazine
On Tuesday, Kendall Jenner made like Kylie Jenner and shared a peek into her home on her Instagram Stories. It's not exactly surprising that along the way she also showcased just how different her taste is from her sister's. (At age 20, Kylie, a proud homebody, already has a closet to rival that of Martha Stewart, plus a living room decked out with everything from a coffee table practically made of gold leaf to an editioned print of a Jean-Michel Basquiat work that's reportedly signed by the late artist.)
Of course, just because Kendall doesn't appear to be as fond of gold leaf doesn't mean her home is exactly everyday. At first glance, the initial snapshot she posted of her dining room appears to be not only cozy but rather ordinary—until you take a look beyond the wooden tables and wicker chairs to the wall featuring some of her art collection, which turns out to be made up of much more than the single work Kendall was known to have before. (She has a 1999 neon by Tracey Emin that spells out the dimensions of the British artist's ex-boyfriend's penis, prominently installed right above her bed.)
Kendall has carried over some of that playfulness to the more public space in her $8.5 million Beverly Hills mansion; the largest work pictured is a photograph of shirtless Beverly Hills High School students that the photographer and expert rich-person-documentarian Lauren Greenfield took in 1993—the year after she photographed a then 12-year-old Kim Kardashian. While the subjects and setting in this particular work of Greenfield's are nowhere near as over-the-top as her usual fare, Kendall certainly made an interesting choice in sharing that she has a work by a photographer who's made it her job to capture the not-so-glamorous reality of the rise of consumerism, capitalism, and society's obsession with image and celebrity, all of which Kendall's family has, of course, contributed to. (The timing is particularly of note, given that the Kardashians have lately been at the center of a debate about whether or not Forbes was correct in recently declaring Kylie, a budding billionaire, "self-made.")
As for all the other photographs hanging above Kendall's modest wooden tables and wicker chairs, none of them seems to be remotely as political; instead, they're shots from typical fashion editorials—like a print of William Klein's Hat and Five Roses, which he shot for Vogue in 1956—the sort of thing you might expect to find in a supermodel's home. The same is true for the details found in the snapshot she shared of her living room: a pair of framed Marilyn Monroe portraits overlaid with the words "GOOD" and "EVIL," seen hiding behind a pair of de Chirico–esque arches; and a coffee table decorated with a sizable book on the fashion photographers Mert Alas and Marcus Piggott.
No wonder Kendall is proud to have made the place her own; it did, after all, formerly belong to Charlie Sheen.
Related: A Definitive Ranking of All of the Kardashians' Art Collections
Exclusive: Kendall Jenner Proves Her Skills as a Photographer with Backstage Images from Paris Haute Couture
Putting the finishing touches on Bella Hadid, backstage at the Miu Miu resort presentation.

Photographs by Kendall Jenner
Joan Smalls and Lara Stone (from left) chatting at Miu Miu.

Photographs by Kendall Jenner
Photographs by Kendall Jenner
The lineup at Fendi Haute Fourrure.

Photographs by Kendall Jenner
Karlie Kloss getting curls for a shoot with Mario Testino.

Photographs by Kendall Jenner
Last calls before the Fendi show.

Photographs by Kendall Jenner
Photographs by Kendall Jenner
Photographs by Kendall Jenner