Did Khloé Kardashian Just Move Back to Los Angeles For Good?
Kris Jenner hopes it's permanent, at least.
---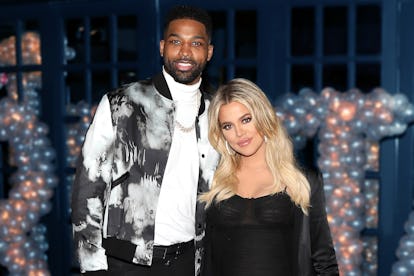 Jerritt Clark/Getty Images
Khloé Kardashian has been committed to living in Cleveland ever since things became serious with her boyfriend Tristan Thompson.
Though Thompson is initially from Toronto, he's played basketball for the Cleveland Cavaliers since 2011. Kardashian moved there to be with him in the spring of 2017. Naturally, she shared the joys of Cleveland with her sisters Kim and Kourtney, some close family friends, and the rest of the world in an October 2017 episode of Keeping Up With the Kardashians, in which the Kardashians rented out an entire indoor amusement park and FaceTimed mom Kris Jenner during dinner, who cried because she couldn't make it out to Cleveland to be with everyone.
Jenner was there, though, when her Kardashian gave birth to her daughter True. (Kim and Kourtney also flew into town for the occasion.) But in April 2018, it was reported by People that Thompson was not living in Kardashian's home that appeared on Keeping Up, which certainly didn't help the narrative that all was well with the couple after those cheating rumors.
Now, with the NBA championship games over, Kardashian has finally returned to California. The new mom took the long trip from Cleveland to Calabasas to spend Father's Day with Tristan and True.
Back in Calabasas, she was naturally given a warm welcome by her family—Kris Jenner shared a photograph of a bunch of balloons sent from Kylie Jenner and her daughter Stormi, monogrammed with Khloé's and True's names to welcome them home from Cleveland. "God i love my kids and how they love each other…," Jenner wrote in her Instagram caption. Tristan's name, however, is nowhere to be found on the salutation.
But Kardashian made sure to remind her followers on Snapchat that her boyfriend was present. She shared a photograph of their daughter sleeping in her car seat holding her father's hand with the caption "Happy Father's Day." She also posted a few snaps of some cookies with her daughter's face and name on them.
Thompson is still signed to play with the Cleveland Cavaliers, so for now Kardashian's return to California could be quite short-lived (or at least, until basketball season starts up again), but earlier this month, Kris Jenner revealed to Us Weekly that she has high hopes that her daughter's relocation from Cleveland to Calabasas is a permanent one.
Related: Khloé Kardashian Responds to Troll Who Said She'll Regret Staying With Tristan Thompson