Khloé Kardashian Responds to Backlash About Her Pregnancy Workout Routine With Even More Gleeful Snapchats at the Gym
Looks like her followers definitely haven't succeeded in making her "stop sharing s—."
---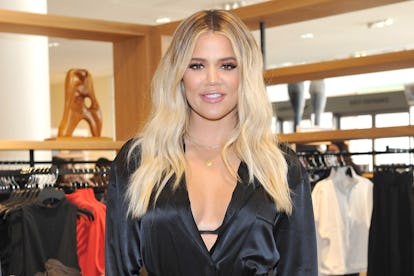 Donato Sardella/Getty Images
It's been just over a week since Khloé Kardashian finally officially confirmed that she was pregnant—news that she posted on Instagram, with a black-and-white photo of her belly and boyfriend Tristan Thompson.
The post has since gotten 8.6 million likes, though unfortunately Kardashian hasn't been finding the same response on other platforms: To celebrate the fact that, with the news at long last now out in the open, she could "finally share [her] workouts again," Kardashian spent part of her Christmas Eve sharing her pregnancy fitness routine on Snapchat—a combination of weights, lunges with resistance bands, and time on the step machine that she embellished with appropriately festive filters.
Unfortunately, however, it seems that not everyone was glad Kardashian had returned to documenting her workouts, given her recent announcement. That much seemed to be clear, anyway, when on Tuesday, she shared an article from the site Fit Pregnancy listing 33 benefits of exercising during a pregnancy to her 25 million Twitter followers, along with the message that "For the ones who think they are physicians all of a sudden," followed by a face palm emoji.
"MY doctor and I communicate and my workouts are cleared and highly recommended. Thanks kiddos! Don't make me stop sharing s—." She then responded to about two dozen fans who both supported her in her decision and shared their own stories of working out while pregnant with an avalanche of exclamation points and heart emojis. (And informed one fan who asked how far along she is that she's now six months pregnant.)
In a further demonstration that she isn't letting the haters get to her, on Thursday, she also used Snapchat to document her and her sister Kourtney putting in some time at their home gym, posting videos of them again lifting weights and using resistance bands that with Kourtney, somewhat disguised with a bunny filter, declaring that they worked on not only their abs, but that they "did it all."
It looks like they did indeed—except that, alas, they forgot to invite Kylie.
Related: Where in the World Is Kylie Jenner?
Claire Foy Was Very, Very Pregnant When She Auditioned for The Crown: