Kim Kardashian's Tiny Chanel Bikini Continues Her Revival Tour of '90s Runway Controversies
"Itty, bitty" isn't even the half of it.
---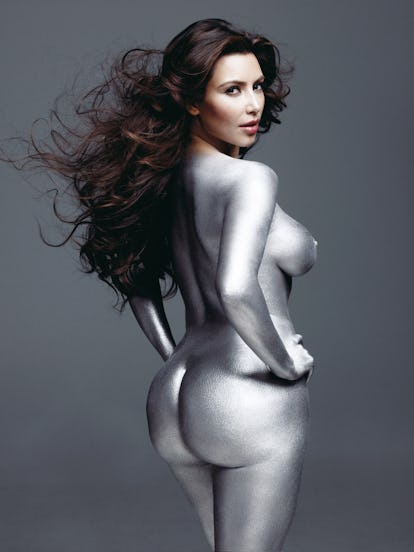 Mark Seliger
Kim Kardashian seems intent on bringing sexy back. Specifically, some of the sexiest and most scandalous high fashion garments from the '90s. Based on her recent ensembles, it seems like she's spent quite a bit of her precious free time this year skimming through pages of vintage fashion magazines and scrolling through online resellers or vintage boutiques to assemble a personal super collection of items that defined the word "thotty" before that was even a word.
The latest stop on Kardashian's revival tour? The infamous Chanel micro-bikini from the brand's 1996 Spring/Summer collection.
After teasing the top four days ago in a saucy selfie, Kardashian has revealed that she is in possession of the matching bottoms as well. Apparently Kardashian was so excited about the complete set that she didn't even feel the need to include her own face in the photo, captioning the image, "Chanel vintage, lets please be specific." As if there was any doubt. It's hard to miss those logos.
While the ensemble certainly made for an eye-popping post, it also serves as Kardashian's latest attempt to remind everyone of very specific moment in fashion history.
While today it feels like Chanel has been emblematic of a certain kind of classic and sophisticated French girl chic for as long as the sky has been blue, that hasn't always been the case. In the decade after Coco Chanel's death the brand's clothing, at least, was considered rather dull, if not bordering on dowdy and irrelevant. Upon his arrival in 1981, after getting his footing, Karl Lagerfeld set forth in modernizing the brand and upping it's appeal to younger consumers. Not everyone was particularly pleased with his efforts. Vanity Fair wrote in 1992 that what Lagerfeld did to the French fashion house would have Chanel, herself, "rolling over in her grave." Suddenly, in addition to those classic suits, one could find items like ripped Chanel jorts, Chanel belly chains, or Chanel roller blades. Lagerfeld ramped up the provocations in the '90s, perhaps reaching the peak with his Spring/Summer 1996 collection in which he showed a collection highlighted by what could politely be called micro-bikinis, but might more accurately be described as pasties with strings attached.
The show started typically enough. Model Claudia Schiffer emerged from the middle of a split globe in an oversized pink boucle jacket worn over a white crop top an a pair of Dickies-like pants (the effect: a Gwen Stefani fan of the time had raided her grandmother's wardrobe, specifically the kind of vibe Lagerfeld was going for). Though, just a little bit after the 11 minute market, Stella Tennant emerged in what may have been the least amount of fabric to ever grace the torso of a model on a polite Paris Fashion Week runway. The parade of micro-kinis continues, until Lagerfeld settled back into a procession of more modest day dresses.
It was perhaps the height of Chanel provocations. By 1997's Spring/Summer collection, bikinis were still part of the offerings, but they were much more modest offerings resembling those favored by classic pinup girls.
Of course, this is not the only infamous '90s runway moment Kardashian has revisited this year.
For a Met Gala afterparty hosted by Donatella Versace this past may, she fittingly chose a leather number from Gianni Versace's landmark "Miss S&M" collection.
Later that month, she revealed that she had the house remake another favorite Versace gown from the '90s. While this one was more traditionally red carpet appropriate, it's cut still harkened back to the runway.
Then, as previously chronicled, she wore that infamous Gucci g-string, an iconic piece from Tom Ford's run at the house.
She's also been spotted in a few other Chanel and Dior bikinis this year, as well.
Tom's Gucci thong, Karl's pasties, and Gianni's bondage-wear might as well be the holy triumvirate of iconic controversial '90s fashion, but we're sure that Kardashian will soon turn up a couple of other complimentary pieces during her archive digging. We imagine it's only a matter of time until she finds that infamous nipple-baring outfit Madonna once wore on a Jean-Paul Gaultier runway.
Related: See Kim Kardashian's Butt Literally Sparkle In a Gucci Bodysuit