Kim Kardashian Deleted and Replaced Her Family On Instagram For the #Aesthetic
She also revealed her 2018 resolution.
---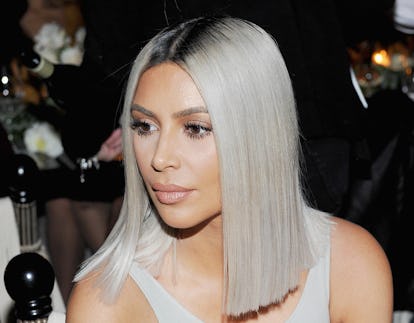 Photo by Donato Sardella/Getty Images for The Tot
As 2017 slowly wound to a close this month, we were treated each day to a piece of the glorious jigsaw puzzle that was the Kardashian family 2017 Christmas card, a series of pictures of the family released, like an advent calendar, one day at a time on Instagram. And while those Gap ad-esque images live on through photographer Eli Russell Linnetz's account, they've been wiped from Kim Kardashian West's. Why? #Aesthetic, duh. Ever since returning to social media following her temporary withdrawal from public life in the aftermath of being robbed in Paris, Kardashian West has stuck to a social media diet of filtered, curated images and posts. In a word, her Instagram is artsy now, and she wasn't about to let something as trivial as a family photo mess that up.
"Was always the plan," she explained to a worried fan on Twitter, lest anyone think a family feud caused the deletion "I archieved [sic] them so my instagram feed vibe is back".
Yes, Instagram archives are a thing, and yes, the vibe is very much back! And because Kim celebrates not just Christmas but all holidays (let's not get political; there are lots of holidays and it's cool, it's fine, please calm down), she replaced the countdown posts with a glamorous shot of herself with her husband Kanye West and their two children, Saint and North.
"Happy Holidays."
Now that her Instagram vibe is all sorted out, Kim can focus on her 2018 resolution: putting her phone down! "My New Year's resolution is to be on my phone less and be more in the moment," she wrote on her website and app, per E! News. Same, Kim. Hard same.
Then again, if Kim isn't on her phone, who will take us on a virtual tour of J. Lo's taco night?
Related: Kanye West Achieved "Best Husband" Status This Christmas
7 Times Kim Kardashian's Hair Was Ahead of the Game in 2017
Sporting an ultra sleek, shoulder grazing bob at the 2017 Met Gala, Kardashian proves she can rock any hair length.

Getty.
Taking her hair to new lengths, Kardashian shows up at the Balmain event with slick straight, ultra long locks.

@chrisappleton1
Experimenting with color, Kardashian takes on the the pastel pink rocked by other A-listers Cara Delevingne and Nicki Minaj.

@kimkardashian
Kardashian goes platinum blonde during New York Fashion Week, showcasing her freshly dyed locks at the Tom Ford Spring 2018 show.
As the new bombshell waves of the red carpet, Kardashian rocks a signature, sleek high ponytail

@kimkardashian
Returning to a shoulder skimming lob, Kardashian tries on her platinum locks for a change.

@chrisappleton1
Unveiling on Snapchat an even shorter bob, Kardashian took to social media to ask her fans, "Do we like it or is it too short?".

@kimkardashiansnap