Kim Kardashian's Christmas Gift for Kanye West Might Be…AirPods?
A steal at just 0.000159% of the million-dollar check he gave her for Mother's Day.
---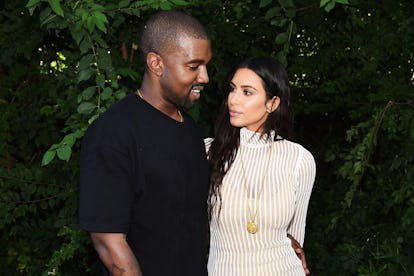 Jamie McCarthy/Getty Images
Since—and even before—they married in 2014, Kanye West has consistently made a show of presenting Kim Kardashian with the most elaborate of gifts, including, like any good gift giver, some that are ephemeral in nature. See: that time he kicked off Mother's Day with a full-on string orchestra to greet her in their living room—not to mention the other, 50-person orchestra he enlisted to join them at the San Francisco stadium he'd rented out for the couple to share a date night.
The latter occasion also came with an engagement ring worth an estimated $3 million, which is just the tip of the iceberg in proving that West excels at material gifts too: Over the years, Kardashian has also been the lucky recipient of romantic gestures like a delivery of 1,000 roses; stock in Disney, Amazon, and Netflix; a matte, neon-green Mercedes; a Birkin bag "decorated" by the artist George Condo; and, for a more recent Mother's Day, a percentage of Yeezy and a million-dollar check. (And let's not forget the year that he gave her no less than 150 Christmas presents—never mind that, two months later, he shared that he was $53 million in debt.)
All that has, however, come with one drawback for Kardashian: a true conundrum of how to possibly reciprocate when it's her turn to do the gifting. It's an uphill battle that, over the years, Kardashian has attempted to surmount with a few successes, like a Lamborghini and an entire island—at least for a time. (She chose to rent it, rather than pulling a Kanye and buying the entire property.)
This holiday season, however, Kardashian seems to be taking a new tack. "For the men in my life, I like to shop for gifts that are sleek and practical," she shared this week on her app.
So what does a person like Kanye West need? She's put together about a dozen items to answer that question, dipping in price to as low as $65. (They're admittedly intended for all the men in her life in general, though, given the fact that we're not exactly sure what her relationship with the likes of Tristan Thompson, Rob Kardashian, or Scott Disick is these days, it seems safe enough to assume that they're largely intended for West.)
There are some items that illustrate how fluid Kardashian's definition of "practical" appears to be. (Exhibit A: a $1,500 Barneys chess set, whose pieces and checkered board are wrapped in crocodile leather.) Others do, however, follow conventions, aside from their exorbitant price tags: There's a stainless steel Gucci watch ($1,000), a ballpoint pen ($225), a piece of luggage from her family friend Jen Atkin's line ($385), and a laptop case ($600). And, for someone who doesn't drink, Kardashian sure knows how to please a non-teetotaler; a whiskey stones set and a sleek champagne saber also made the cut.
And then there are the items that at least guarantee Kardashian's recipients are in for a surprise. Imagine, if you will, receiving a gift from someone whose net worth is an estimated $350 million. Imagine, as in the case of Kanye West, that that someone is your spouse, on whom you've spent millions upon millions of dollars over the past few years. Now imagine tearing away the wrapping paper to uncover something as simple as AirPods.
There's yet another one of Kardashian's gifts that may come as a shock, therefore arguably meriting a closer read. While you're off imagining that you're Kanye, don't forget that earlier this year, he released a song apparently declaring his faith that Kardashian "Wouldn't Leave" him, featuring lyrics like "You know I'm sensitive, I got a gentle mental," and "If you tweakin' out on my texts again/Then I don't get reception here." "Here," it seems safe to assume, would be Wyoming, as he quietly retreated to a snowy resort in the state's mountains earlier this year and recorded most of ye there. Yes, these facts may be entirely irrelevant, but any and every possibility merits consideration in an attempt to understand why on earth Kardashian would give her husband something that the pair's lifestyle makes the complete opposite of "practical."
That something would be an "outdoor survival kit," complete with an LED flashlight, supplies for first aid and water purification, trail markers, rope, fishing tackle, a compass, and a few other features—all of which, rest assured, will likely never come in handy to West while he maintains his residence with Kardashian in Los Angeles. On the other hand, if West again loses his temper—here's hoping the AirPods go over well—and once again sets off for Wyoming, or perhaps an even more rural destination, it might be the best $100 Kardashian's ever spent.
Related: Kanye West Gave Kim Kardashian a Million-Dollar Check and a Percentage of Yeezy for Mother's Day
A Definitive Ranking of Kardashian Christmas Cards, From Least Kardashian to Most Kardashian
Mispelling of Khloe's name aside, this card is most definitely the least Kardashian thanks to one notable exception: as if Kris Jenner would ever miss a photo opp nowadays.
While this was years before Kim was running around with Karl Lagerfeld and Riccardo Tisci, you can still see the pain in her eyes over having to wear ill-fitting, matching motorcycle jackets with the male-heavy Jenner clan.
A Kardashian never misses the chance for a full-scale, glam-squad heavy photoshoot. The fact that they skipped a prime opportunity for the 2009 holiday card in favor of an outtake from Khloe's wedding is very off-brand.
As everyone who has caught a glimpse of Keeping Up With the Kardashians or paged through an Us Weekly in the past decade knows, this family is not without some serious drama. The party-themed, all smiles 2012 card is just a little too happy.

Courtesy of Celebuzz
Another all-white card, but at least this one comes with some angst (Hi, Khloe) and tense smiles that nod to some underlying drama. Bonus points for a tiny baby Kendall Jenner and an appearance from Santa.
Here we have some high glamour Kardashians, as we've come to know and love—at least, until the Yeezy athleisure movement came in full-force. The fact that Kim's shade of red is just slightly off from the rest of the clan is a great easter egg.
The 2013 David LaChapelle-lensed card was a tipping point for the family, as they went from "delightfully zany" to just "full-on insane." There are just so many things to look at here—which, truly, could be said about the family in general.
A distinct departure from the bonkers previous card, once Kim and Kourtney started building their own brood, they let the kid's take center stage in the family's holiday card. A cute thought, but if rumors are too be true, the concept might be a little too crowded come next year.
You want drama? Glamour? Welcome to the 2010 Kardashian family card. This was the first year to let each sister's individual style stand out, a nod at many fashion empires to come.
2011, however, was the card to end all cards. Case in point? It was in 3-freaking-D. Your Christmas card could never. But hey, what are Kardashians if not ahead of their time?