Kim Kardashian's Kids Supply Didn't Copy Comme Des Garçons and Vetements—It Paid "Homage"
A masterclass in how to get away with copying someone else's designs.
---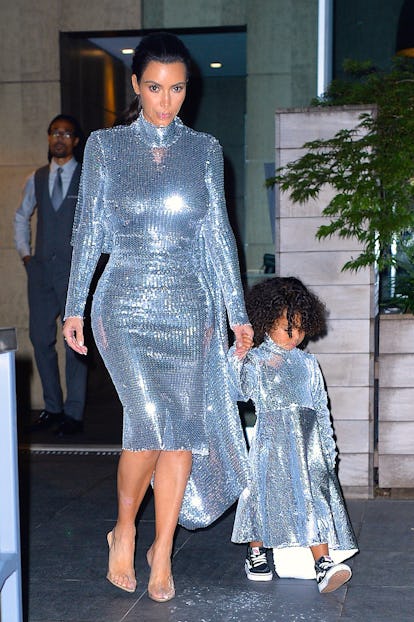 GC Images/Getty Images
There are some perks to being North Kardashian West—notably, a wardrobe that would not ordinarily be available to your average four-year-old, likely making the daughter of Kim Kardashian and Kanye West the envy of preschoolers all over Calabasas. But Kardashian and West wanted to remedy this peculiar privilege, to some extent, when they launched their joint endeavor, Kids Supply, over the summer. "I love making pieces that I haven't seen before in children's clothes, like the slip dress or lace tap shorts," Kardashian told Vogue earlier this fall, describing the kids' clothing line.
But some pieces, rather than being something Kardashian hasn't "seen before," are altogether too familiar. On Tuesday, the Instagram account Diet Prada—which, earlier in the week, pointed out some uncomfortable similarities between new packaging for a Victoria's Secret fragrance and that of Pat McGrath Labs products—posted a series of snapshots detailing the original designs the latest Kids Supply drop had allegedly ripped off.
In a post titled "Kim Des Garçons," imitating the logo for the Rei Kawakubo-designed brand, Diet Prada pointed out that one Kids Supply bomber bore a more-than-incidental resemblance to a Comme des Garçons x Kosho & Co. souvenir jacket, and another silver-sequined dress was a near replica of the miniature Vetements dress that North famously wore to match her mom during New York Fashion Week last fall. "Great message for the little ones!" Diet Prada wrote, tagging Kardashian, the Kids Supply brand account, Vetements, and Comme Des Garçons, and hashtagging "#letreiknow" and "#letdemnaknow." The post has since garnered more than 3,000 likes and nearly 200 comments.
A representative for Kids Supply, though, told Page Six that the resemblance was intentional—an homage, rather than plagiarism, they argued. (The pieces, it seems, were named the "Rei bomber" and "Demna dress" as a direct gesture to the original designs—"out of the utmost respect" for Kawakubo, the rep said.) "The idea behind Kids Supply is to give people the opportunity to purchase things that would never be available for children otherwise. We decided to release the Demna dress after making one on our own for North because it got such a great reaction and an overflow of people wanting it for their own children," the rep said. "It was one of Kim and North's favorite mommy and me moments." (Unclear, still, is how the designers of the original pieces feel about the copies.) A masterclass in how to get away with borrowing someone else's designs, it's an excuse Victoria's Secret might benefit from testing out—especially when combined with a charitable element. The entirety of the proceeds from both pieces, according to Page Six, will be donated to the Children's Hospital of Los Angeles.
Related: Everything Kim Kardashian Has Worn This Week Was Exceptionally Boring, and That Is Okay