Victoria's Secret Appears to Have Copied Pat McGrath, Who Has Responded With Screaming Emojis
The beloved makeup artist is definitely not pleased with the sequined similarities to her signature products.
---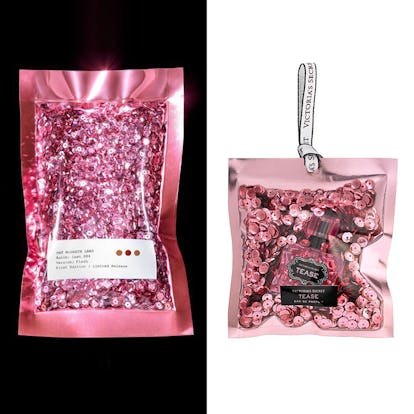 Long before Fenty Beauty eclipsed the ever prosperous Kylie Cosmetics and was named one of the best inventions of the year, Pat McGrath, aka fashion's favorite makeup artist and a Rihanna beauty expert herself, started the trend of going viral with a beauty line, the first product of which proved so popular when it launched in 2015 that it crashed her website and then sold out within six seconds.
Several products and a campaign with Kim Kardashian later, this summer, McGrath finally created a permanent Pat McGrath Labs collection, finally sating the appetite for her products that have proven so popular not just because of her obsession with quality, but because of their signature, easily Instagrammable, and delightfully ridiculous packaging: each cosmetic is packed away in a clear bag yet nonetheless rendered invisible, because the bag is also filled to the brim with glittery sequins in the color of the product in question.
Just in time for the holidays, Victoria's Secret seems to have caught on to the sequins's popularity—and unfortunately for the brand, the internet has caught on to their catching on, too. First, there were mutterings on Twitter about how Bath & Body Works, which is owned by the same brand as Victoria's Secret, was selling gift sets of its products in packaging strikingly similar to McGrath's. Now, however, it's clear that Victoria's Secret is even guiltier when it comes to apparently knocking off McGrath: On Monday, the Instagram account @diet_prada, which has earned itself a cult following for being fashion's pettiest and most intelligent watchdog, posted a side-by-side comparison of a Victoria's Secret fragrance ornament and a Pat McGrath Labs product, calling out the undeniable similarities.
It's not just a variety of multicolored fragrances Victoria's Secret has carried what @diet_prada called the "mystical goddess"'s style over to: The company is also selling gift sets of lotions and mists that notably make use of sequins in their display. And while the account's takedown only featured two fragrance ornaments, it was still enough to get McGrath riled up, commenting "????I LOVE UOOOO @diet_prada ⚡️⚡️⚡️❤️❤️❤️?" less than two hours after it was posted.
Unfortunately for them, this is just the latest controversy Victoria's Secret has faced as of late: Its fashion show in Shanghai last month was surrounded by drama, from models being denied visas to Gigi Hadid dropping out at the last minute to yet another year of criticisms of cultural appropriation in the ensembles sent down the runway, which once again included headdresses.
On the bright side, though, history has proven that they likely won't have too much to worry about when it comes to the apparent knockoffs. Just a couple of months ago, Kendall and Kylie Jenner were called out for not only knocking off a Kate Spade design, but doing so of one also criticized for cultural appropriation. You may have noticed they're doing just fine—though they admittedly didn't have practically the entire fashion industry, not to mention Rihanna and the empire that is Spotify, decidedly not on their side.
Related: You Can Now Buy Makeup on Spotify, Thanks to Pat McGrath
Jasmine Tookes Tries On the $3-Million Victoria's Secret Fantasy Bra: