Kim Kardashian Made $1 Million a Minute Selling Peaches
With a little help from the peachiest Instagram possible, she may have officially reclaimed the fruit from Timothée Chalamet.
---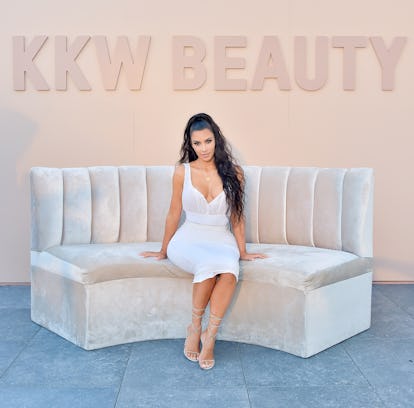 Stefanie Keenan/Getty Images
It's been a few months since Call Me By Your Name star Timothée Chalamet's dramatic claim back in February that he actually may never outlive the movie's infamous peach scene. This week, though, the cultural shift apparently needed to make that happen suddenly surged forward when Kim Kardashian officially embarked on her quest to reclaim the fruit from Chalamet—one that took only a matter of seconds to prove quite fruitful.
On Wednesday, Kardashian made five million dollars within the space of five minutes, which is to say that she dropped the latest scents in her Kimoji fragrance line, one of which is—you guessed it—peach. Then, on Thursday, she stepped even further into Chalamet territory by reveling in her victory, posting a photo of the fruit-shaped, stem-topped perfume bottle in perhaps the peachiest Instagram possible: a tableau featuring the fragrance perched atop the apex of another peach shape that dominates the screen. (You guessed it—her butt.)
Let's not forget, though, that we're talking about an entrepreneur so masterful that earlier this year, she eschewed advertising for, of all things, Post-Its, and still made $10 million off of her KKW Kimoji Hearts fragrances. Perhaps Kardashian had just been bolstered by a look at her bank account when she engineered the shoot, accepting the fact that some of her crop may go overboard. Or, perhaps she was creating the ultimate distraction from the fact that another of her three new fragrances, which include Kimoji Cherry and Kimoji Vibes, has been getting its own fair share of press, having landed her in a lawsuit. Claiming that she stole the logo that they trademarked in 2012, Vibes Media is now suing Kardashian, and reportedly even demanding her to hand over the unsold Vibes for them to destroy.
If that was indeed her goal, she's definitely succeeded. Who's going to spend time caring what happens to the rest of her bounty when you can simply feast your eyes upon her peach post? Indeed, if you look close enough, you'll find that there's more to it than just marketing genius. If the swath of pink atop a pond which Kardashian is pictured reclining on is any indication, it looks like Kimye's plans to build a small, Roberto Burle Marx-inspired lake may have finally come to fruition.
Related: Timothée Chalamet Is Worried He'll Never Outlive That Peach Scene