Kourtney Kardashian on Billionaires: "When Is It Enough?"
"Probably subconsciously it makes us feel like, 'When is it enough?'"
---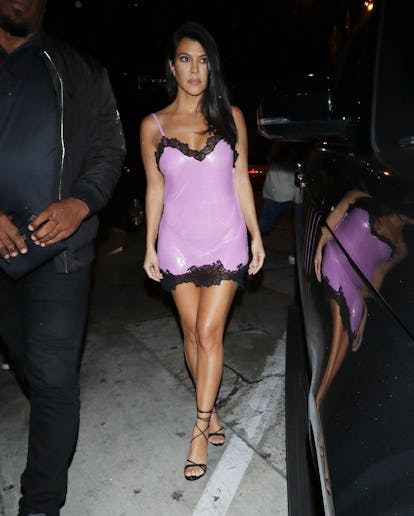 Hollywood To You/Star Max/GC Images
Kourtney Kardashian has expressed some concerns over younger sister Kylie Jenner's billionaire status. Someone alert Bernie Sanders (or Marianne Williamson, for whom the Kardashians have campaigned).
On Monday's season premiere of The Real, Kourtney said Kylie's billions have made her think about the family's overall lifestyle. "Probably subconsciously it makes us feel like, 'When is it enough?'" she said when the show's hosts Jeannie Mai, Tamera Mowry, Loni Love and Adrienne Bailon Houghton asked if the family was intimidated by Kylie's vast wealth. "And that's a thing I always think to myself, 'When is it enough?' Because I don't like missing out on certain things like doing my kids' homework or certain after-school activities for different things like that."
Kourtney also complained about Kylie's post-billions behavior on an episode of KUWTK that aired earlier this summer. "She has this like, entitlement—no one says anything because she's Kylie Billionaire Jenner," Kourtney told Kardashian matriarch Kris Jenner over the phone.
Kourtney has publicly expressed ambivalence about her fame for years, frequently joking on Keeping Up with the Kardashians that she would like to move to a farm in the middle of nowhere, or Italy. So the hosts of The Real also asked her if she had ever thought about leaving the show.
"Every day is different," she said. "At the moment I'm happy and very into my blessings and feeling really good, but I definitely have my moments. Life is short."
As for Kylie, she recently appeared on Ellen for her first sit-down interview since the birth of her daughter, Stormi. Host Ellen DeGeneres asked how the Kardashian Klan treats Kylie now that she's a 22-year-old billionaire. Kylie said that they tease her about it sometimes. "It's only when we're in a group chat talking about where we should go on a group trip, and then everyone's like, 'Kylie? Are you going to pay for it?,'" she said with a laugh. "Or, just stuff like that."
9 Times the Kardashians Wore Vintage Clothes, From Gucci to Versace
Kylie Jenner wore a shortened vintage Gucci dress for her 21st birthday party in Las Vegas in August 2018. The original Tom Ford for Gucci dress appeared on the spring/summer 2000 runway.

Photo by @kyliejenner.
At her family's annual holiday gathering in December 2017, Kim Kardashian wore a vintage Christian Dior dress, from the John Galliano for Dior Fall/Winter 1997 ready-to-wear collection.

@ryanseacrest/Getty Images
On a trip to Japan in March 2018, Kourtney Kardashian wore a vintage denim two-piece from the Alexander McQueen "The Eye" Spring/Summer 2000 collection.

Photo by @kourtneykardash.
Kim Kardashian wore a gold vintage Versace maxidress to the premiere of The Promise in April 2017.

Tara Ziemba
Kendall Jenner wore a vintage Chanel 1990s tweed suit during an appearance on The Tonight Show Starring Jimmy Fallon in February 2017.

Theo Wargo/Getty Images
In May 2018—just days after stunning in a vintage black Versace minidress for a 2018 Met Gala afterparty—Kim Kardashian wore another vintage gold Versace gown from the Spring 1995 collection to a dinner for Business of Fashion in New York.

Condé Nast Archives; Dimitrios Kambouris/Getty Images for the Business of Fashion
Kourtney Kardashian tossed on a vintage button-up Chanel blouse during her Italian summer getaway in 2018.

Photo by @kourtneykardash.
Kim Kardashian showed up to the 2010 White House Correspondents Dinner wearing a vintage Valentino gown that used to belong to her mother, Kris Jenner.

MANDEL NGAN/Getty Images
Kim Kardashian opted for a vintage gold (there's a pattern) Balmain dress with a matching Judith Leiber phone-shaped clutch in July 2018 at Pusha T's wedding.

Photo by @kimkardashian.