Kourtney Kardashian Reaches Historic Peace Accord with Gluten and Dairy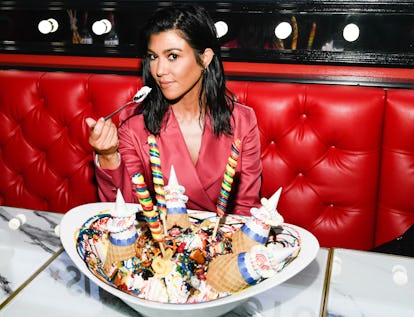 Composite. Dave Kotinsky/Getty Images
After years of simmering tension between both sides, Kourtney Kardashian has announced that she's finally made peace with both gluten and dairy and is ready to accept them back into her diet. Some conditions, however, are attached to the historic peace accord.
In a new post on her website, the very busy Kardashian reveals that she has been taking a step back from her highly regimented eating habits to allow for a few indulgences "in moderation." "Lately, I've been less strict about avoiding gluten and dairy," she writes. "I noticed my tummy would hurt when I occasionally treated myself to ice cream or pizza, so I've switched things up. I'm trying to keep small amounts of both dairy and gluten in my system, so my body is used to it when I do have a little."
She notes that her reason for changing things up stems from her desire to sew deeper relations with foreign powers by sampling their local foods while traveling, revealing that she treated herself to a daily scoop of gelato while on vacation in Italy with her kids this summer, and that when she's at Disneyland with her family it's "the time to live life" and she'll have "whatever [she] wants."
For now, she says, she plans to continue her gluten- and dairy-free diet when she's home, but allow herself a bit more flexibility when she's out. "Everything in my pantry is still free of dairy and gluten, so when I'm at home, it's still how I eat," she writes. "But when I go out, or have a craving, I'll have whatever I want. I try to do everything in moderation in my usual routine."
Hostilities between Kardashian and the two food groups have been going on since at least 2016 when Kardashian announced she had cut both out of her entire family's diets. In addition she announced on her website at the time, that she had made it a habit to treat her body to good-for-you supplements on a daily basis. "Every morning, when I wake up, I take collagen supplements on an empty stomach," she wrote earlier this year. "About 20 minutes after the collagen, I usually drink one tablespoon of organic apple cider vinegar mixed into a glass of water."
No word, however, if the recent détente will pave the way to Kardashian one day enjoying her supplements in a milkshake.
Related: Kim Kardashian Says Sister Kourtney Is "the New Rob"
A Brief History Of All the Times the Kardashians Have Gone Blonde
Kim Kardashian steps out in a blonde lob alongside husband and rapper Kayne West during Paris Fashion Week in 2015.

@kimkardashian
Kendall Jenner looks unrecognizable with her blonde wig walking alongside Gigi Hadid who also sports a brunette wig after the the Balmain Fall 2016 show in Paris.

@kendalljenner
Known for her ever-evolving hair colors, the youngest of the Kardashian/Jenner crew wears her locks in long, tousled waves.

@kyliejenner
These days, Kim Kardashian can regularly be seen sporting her blonde locks and poses alongside with singer Fergie and model Chrissy Teigen backstage during Fergie's "M.I.L.F" music video.

@kimkardashian
Khloe Kardashian, the most regularly blonde of the whole family, wears her long platinum locks sleek straight with a nude lip.

@khloekardashian
Sporting dramatic platinum blonde locks during New York Fashion Week, Kim Kardashian steps out for the Yeezy Season 3 show.

@kimkardashian
Kylie Jenner takes on a silver platinum shade, wearing a sleek, middle-parted pony in tousled wet waves.

@kyliejenner
As the most recent Kardashian to go blonde, Kris Jenner debuts a chic platinum blonde pixie.

@kimkardashian
Khloe Kardashian takes her blonde locks to new heights, sporting perfectly tousled air-dried beachy waves.

@khloekardashian
At the 2017 Met Gala, Kylie Jenner showed up in a side-swept chin grazing blonde bob.

@kyliejenner
After debuting silver platinum locks during New York Fashion Week, Kim Kardashian styles her locks in an ultra sleek high pony.

@kimkardashian
Posing alongside sister Kendall, Kylie wears her blonde locks in soft, polished curls.

@kyliejenner
While she may have temporary tried on a platinum pixie, Kris Jenner starts off the New Year with freshly dyed tousled do.

@krisjenner