Kristen Stewart Purchases $5.6 Million Loft in NoHo Manhattan
The actress is putting down roots in NYC.
---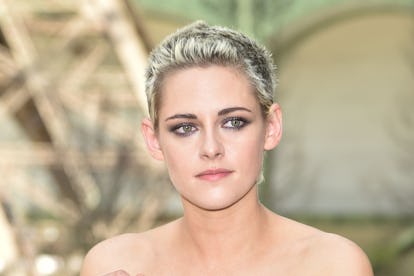 Stephane Cardinale – Corbis/Corbis via Getty Images
Kristen Stewart is putting down roots in NYC. The actress has just purchased an apartment in Manhattan's NoHo area. Stewart, who already owns at least three places in the Los Angeles area, as Variety notes, dropped $5.6 million for an artist loft in a mid-19th century building. To make that price tag seem all the more hefty, the 3000-square foot apartment appears to be a fixer-upper. In the only picture provided on the Zillow listing, the main room containing the kitchen and dining room appears to have office-like lighting as well as weathered wood floors. Plus, the kitchen, with its diagonal tile floors, has a small island with black countertops. As for the walls, they appear to be painted inconsistently white and a muted red.
While it may need some adjustments — and the building is reportedly slated for a renovation as well, per Variety – Stewart will have plenty of room to stretch out in. The apartment comes with three bedrooms and two bathrooms. There is also a lounge area, a laundry area, and a 60-foot long room with a nonworking fireplace.
Given her upcoming busy schedule, it makes sense that Stewart is investing in a home away from home. No doubt she'll be spending time in New York City promoting her next projects, like the recently wrapped Justin Kelly-helmed Girl Boy Girl: How I Became JT Leroy, which co-stars Laura Dern. Who knows what she'll tackle after that. The actress is rumored to be in demand to co-star in a Charlie Angel's reboot alongside Lupita Nyong'o, which is notable considering Stewart has mostly stayed in the realm of indie movies since serving as the lead of Snow White and the Huntsman in 2012.
Outside of filming, Stewart recently made headlines when she revealed that she has been defending female film crew members against sexual assault throughout her career. "I can't even tell you how many times I've saved makeup artists," she said. "Because it trickles down to makeup artists, camera assistants, from DPs [directors of photography] that are like 'Hey, babe.'.. So I would say, 'Let's be aware of this on every level.' I would tell you that those girls are as duct-taped as one could possibly be because they are in fear of getting their next job, as every actress [is] too."
Related: Kristen Stewart Compares Dating to Eating Grilled Cheese Sandwiches
Kristen Stewart Takes W's Screen Test: