Kylie Jenner Reportedly Has a "Lot of Different Emotions" About Her Baby
As one does during pregnancy.
---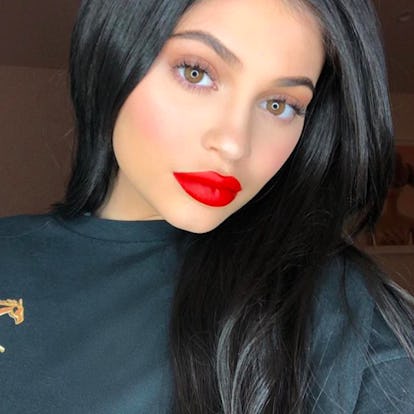 instagram.com/kyliejenner
Kylie Jenner has seemingly vanished as her reported due date in early 2018 nears. The youngest Kardashian-Jenner was noticeably absent from her family's iconic holiday celebrations, she's been quiet on social media since Christmas, and she wasn't even in her family's famed holiday card. She did, however, make an appearance in the Kardashian-Jenners' recently released Calvin Klein ad, which, judging by her pregnant sister Khloé's appearance, was shot at the earliest over the summer. But, while we haven't seen Jenner in recent weeks, she is reportedly doing just fine. Apparently, she has been navigating her feelings around her supposed pregnancy.
"Kylie is definitely ready for baby to arrive!," a source close to Jenner told People. "Coming up on the end of pregnancy, there are a lot of different emotion. She's excited, she's anxious … there are a lot of feelings, but she's ready for what's next."
Of course, Jenner is completely entitled to experience those emotions in privacy, as she is to keep her possible pregnancy a secret. Earlier this month, a source close to Jenner revealed that she has chosen not to announce it because she's shared the rest of her life with the world. After a decade of living out her life in front of cameras, Jenner is reportedly happy to have this moment to herself, which is valid. "She spent her adolescent life on television and has been famous for over 10 years now," the source said. "If this is the first thing she wants to keep to herself, she should be allowed that. She's worked hard enough to do whatever she wants."
The social-savvy beauty mogul has also talked about eventually moving away from public life after she has kids. "Once I have a kid I'm not going to be on Instagram," she told Elle UK in December of 2015. "You know, I'll probably delete my Instagram and just… I don't know, live life… I would love to have a family and build a home with a farm in Malibu Canyon and just have my kids and throw away my phone, and just really, like, live my life and not do this anymore."
Then again, Jenner could also lean harder into the spotlight if she wishes, as a recent report suggested that she may rebrand herself as a "mommy blogger." "As soon as the baby is born, she will make an announcement and introduce the baby to her fans. She will also address the fact that she went 'dark' on social media and in the public," said the source. "Yes, she will release a photo, and yes, she will acknowledge the baby. She's excited to continue to be her authentic self, and that will soon mean being a mother and sharing that with her fans." Only time will tell.