Kylie Jenner On Her Relationship with Kendall: "I Don't Think We'd Be Friends If We Weren't Sisters"
In a clip from 'Life Of Kylie,' Kylie Jenner says she wouldn't be friends with Kendall if they weren't related, and that Kendall lends her bad underwear.
---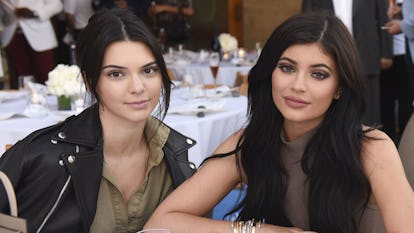 Vivien Killilea/Haute Living/Getty Images
Ah, sisterhood, that special bond that can ne'er be broken by distance nor time. From crib to crypt, womb to tomb, sisters love, support and help one another in times of need. Unless Kylie Jenner needs to borrow sweatpants; she can just have whatever's lying around.
"I let [Kendall] borrow whatever she wants," Kylie says in a new promo for her E! show, Life of Kylie. "[Kendall] always comes through and is like, 'I need an outfit please,' and I'll let her borrow whatever. And then I go over there, and I'm like, 'Kendall, I need a pair of sweats to go home.' And she'll give me the most uncomfortable old underwear, the worst sweats you've ever seen, and anything that's so bad and old and small. And I'm like, 'You're so mean.'"
So mean! Although, we have to wonder, aren't they both millionaires? Couldn't both Kendall and Kylie keep a closetful of unused underwear, sweatpants, bras, small dogs, and sunglasses at each other's houses? Also, Kendall is the face of La Perla and a Victoria's Secret model, so running out of lingerie should never be a problem. Besides which, the sisters literally have a (possibly problematic) clothing line together. Running out of things to wear should never be their issue.
Chalk it up to a difference in personality. In the same clip, Kylie also notes how different she and her other Jenner sibling are, going so far as to venture that if they met by chance, they wouldn't be close. "Kendall and I, I don't think we'd be friends if we weren't sisters," she says.
Related: Kendall Jenner, Performance Artist, Channels Icons Like Marina Abramovic and Yoko Ono
A Celebration of Kylie Jenner's 20 Years of Not Letting the Critics Get Her Down
Watch: Kendall Jenner, Performance Artist, Channels Icons Like Marina Abramovic and Yoko Ono