Kylie Jenner Might Be Making Her Pregnancy Announcement on Keeping Up With the Kardashians
Also, she reportedly hasn't hired a nanny because she doesn't want "new people" around her baby.
---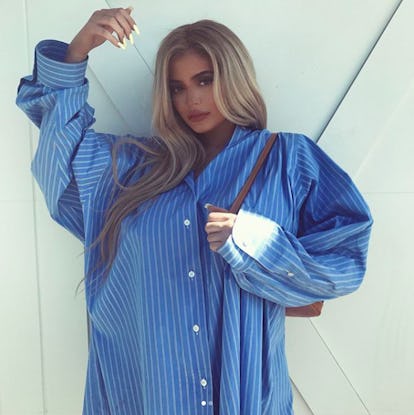 instagram.com/kylie jenner
As the clock ticks closer to Kylie Jenner's rumored due date, the supposedly pregnant Kardashian-Jenner is making plans for her new life as a mom. Firstly, that includes announcing that she is a mom, or going to be one soon, and there is some speculation that she will do so, of all places, on TV. For a brief moment, the Wikipedia page for Keeping Up With the Kardashians episodes listed episode 18 of season 14 with the title "Bumps, Trunks & Little Humps" and episode 19, the season finale, as "We're Expecting!," as Hello Giggles points out. Considering Khloé Kardashian has already announced her own pregnancy, and Kim Kardashian has already spoken about hiring a surrogate for her third child with Kanye West, a daughter who arrived January 15 and goes by the name of Chicago West, the only pregnancy announcement left could belong to Kylie. That is, unless Kendall or Kourtney are expecting, but given that the latter squashed rumors that she was last fall and the former has spoken about having children down the road, the answer is most often the simplest one.
Of course, Kylie's pregnancy announcement should only be hers to make—even though it was previously suggested that the reason the youngest family member has delayed it is because she's been enjoying having rare privacy. "She spent her adolescent life on television and has been famous for over 10 years now," a source close to the family said earlier this month. "If this is the first thing she wants to keep to herself, she should be allowed that. She's worked hard enough to do whatever she wants."
In related Kylie news, the alleged mom to be has reportedly decided against hiring outside help for the time being in order to protect her baby. According to a source close to Jenner, who spoke with People, "She hasn't hired a nanny." "At first, she only wants [mom Kris Jenner] and her sisters to help with the baby," the source continues. "She is worried about new people around the baby." Jenner is reportedly preparing in other ways though: "She hired a company to baby-proof her house," the source says. "Most of it is already finished."
Luckily, Jenner has plenty of built-in support to help with her newborn, from Kris to Kourtney, Kendall, and fellow mom to be Khloé. In fact, she's been leaning on her older sister throughout the process. "She talks to Khloé about being pregnant," the source says. "She is going to Khloé's baby shower."