Lea Michele Shuts Down Viral Conspiracy Theory Claiming She's Illiterate by "READING" a Tweet
She also decided to "WRITE" a tweet of her own.
---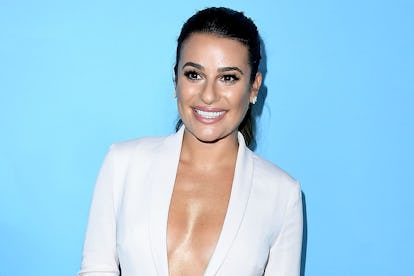 Composite. Steve Granitz/Getty Images
In Hollywood, bizarre conspiracy theories about celebrities abound. There's one claiming Avril Lavigne died years ago and was replaced by a clone named Melissa; another positing that Katy Perry is actually a grown-up JonBenét Ramsey; and now, one that says Lea Michele never learned to read or write. The latter was first put forward last summer by Jaye Hunt and Robert Ackerman, hosts of pop culture podcast One More Thing. They laid out the widely sourced, admittedly compelling theory in a 40-minute Facebook Live session entitled "LEA MICHELE IS ILLITERATE"; though the July 2017 clip largely flew under the radar when it was first posted, it blew up this week when the duo posted a follow-up video on YouTube in which they present 10 more minutes' worth of "evidence."
Throughout the combined 50 minutes, Hunt and Ackerman present an array of photos, videos, and anecdotes that purport to show that, since the actress and singer landed her first Broadway roles at a very young age, she never actually needed to learn to read or write. They claim that Michele's Glee and Scream Queens writer and director, Ryan Murphy, feeds her all her lines; that she signs her name with illegible scribbles; and that she either captions her Instagram posts with strings of emojis or hands over her phone to a friend or assistant when a longer, wordier caption is required. It's all very convincing—see for yourself:
But on Thursday, Michele responded to the theory with a good-natured tweet that sought to simultaneously showcase her playful sense of humor and shut down the conspiracy. In a reply to a fan who suggested that Michele was "laughing her head off" at the theory, she wrote, "Loved READING this tweet and wanted to WRITE you back? literally laughing out loud at all this? love you!!! ?❤️." To be sure, it's a pointed remark that could prove that she can, in fact, READ and WRITE, though one has to acknowledge that there's no way of telling whether it was actually Michele who penned the tweet, or simply an assistant with access to her phone.
Hunt and Ackerman also posted a follow-up to their videos on Thursday, clarifying that the theory isn't mean-spirited in any way. "We're huge Lea fans. Every word we say about her is said with love," they wrote on Instagram. "We're in no way saying she has a learning disability, or mocking those who do. We deliberately say that she just never learned to read, not that she couldn't. It's a really important distinction because we don't want to say that having a learning disability or being illiterate is shameful." They added, "What we do want to say is that never learning to read because you were busy being a child star is hilarious."
Meanwhile, Jonathan Groff has not weighed in on the matter.
Related: Madonna vs. Patti LuPone, and More of the Great Diva Feuds of Yore