Lindsay Lohan Says Women Speaking Out in #MeToo "Look Weak"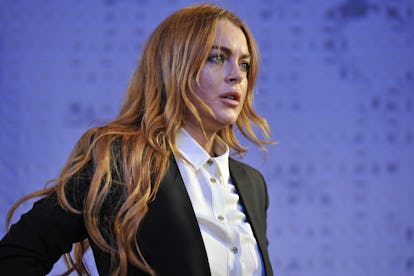 robbie jack/Corbis via Getty Images
Last fall, when the #MeToo movement gained cultural momentum, Lindsay Lohan defended Harvey Weinstein. "I don't think it's right what's going on," she said on her Instagram of the accusations. "I think everyone needs to stop. I think it's wrong." The backlash of those comments seemingly had little effect on her, though, as today a new interview with the actress surfaced where she said women who speak about #MeToo "look weak."
When asked her own personal experiences with #MeToo, Lohan told The Times, "I don't really have anything to say. I can't speak on something I didn't live, right? Look, I am very supportive of women. Everyone goes through their own experiences in their own ways."
She didn't stop there, though. "If it happens at that moment, you discuss it at that moment," she said of sexual misconduct. "You make it a real thing by making it a police report. I'm going to really hate myself for saying this, but I think by women speaking against all these things, it makes them look weak when they are very strong women. You have these girls who come out, who don't even know who they are, who do it for the attention. That is taking away from the fact that it happened."
In reality, it's comments like these that are distracting from the overall goal of #MeToo: to eliminate sexual misconduct through exposing it, and to provide resources for women who have experienced it.
Lohan's earlier defense of her comments about Weinstein looked back to the abuse that she experienced. In October, the actress wrote on Instagram, "Whatever anyone says, I am FOR #womenempowerment as if most women in America cared how I was abused by my ex fiancé."
She was referring to Egor Tarabasov, who she broke off her engagement with after photos and videos surfaced showing the pair in a violent fight with Lohan subsequently claiming that he "strangled" her and "almost killed" her, as The Daily Beast noted. "Not one person stood up for me while he was abusing me," she continued on Instagram, before later deleting the post, as the Huffington Post reported. "You could only imagine what it feels like to come out as a #strongwoman BUT, acknowledge this, we all make our own choices and wake up in our own beds in the morning. I prefer to go to my home and wake up alone."
Lohan recently shared with W that the reason she's currently living in Dubai is for the female solidarity. "It's a very big place for female activists," she said. "Women have a very strong community. It's a whole different world, which is really cool. It's a place you think women don't have as much of a right to be themselves, but they actually have more than you'd imagine."
Hopefully by the time her upcoming reality show debuts, Lohan will have a more enlightened perspective than these comments suggest.