Lucy Hale, Master of Hair Changes, Got One Last Cut and Color to Close Out 2018
"Blonder. Shorter. Happier."
---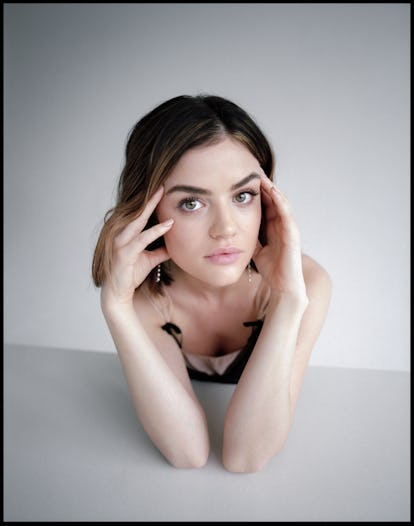 Photograph by Valerie Chiang for W Magazine.
It's been a quite a year for Lucy Hale's hair (and, of course, for Lucy Hale, too). After kicking off 2018 with a dark, blunt lob that hit right above her shoulders, she spent the spring shuffling through countless iterations of that same lob, adding highlights, layers, more highlights, and pink streaks, before returning to her natural, darker brown roots over the summer and shortening the cut to a chin-length bob. In the fall, Hale, went back to blonde and let her hair grow out to a slightly longer, collarbone-skimming lob before finally, this past weekend, making her last—and, perhaps, least dramatic—hair change of the entire year.
The new style, which Hale debuted on Instagram on Sunday, is yet another version of her go-to lob, this one with blunt, single-length ends that reach just past her jawline. It's a lighter shade than most of Hale's 2018 cuts: an all-over honey blonde with slightly darker coloring around her roots and some almost-platinum highlights mixed in throughout. "Because I couldn't end the year without one more hair change," Hale captioned a video of the new 'do, tagging her go-to stylist, Kristin Ess. "Blonder. Shorter. Happier," she wrote alongside the same video, this time posted in her Instagram Story.
In an August interview with W, Hale spoke about how playing Aria on Pretty Little Liars for years had inspired her to take more risks with her hair and beauty—like her pink hair moment earlier this year. "One of the reasons I really liked playing her is because she didn't give a f–k. She didn't follow the rules. She was cool, but it was effortless. Maybe I wouldn't do the colored hair, but I did do pink hair recently. She did the feather trend. She was actually someone I'd look up to because she did things not for anyone else but just for herself," Hale said.
And that's not the only beauty lesson she learned on the Liars set. "I grew up on that show. My whole 20s were on that show, and I truly learned how to do my makeup from the makeup trailer. I started when I was 20 and didn't know what the hell I was doing," Hale continued. "We got to have so much fun with beauty on that show. I learned how to put on fake eyelashes, and my skin was really bad so they helped me learn how to do makeup for my skin."
Related: Lucy Hale Explores ASMR With the Spookiest Sounds From the Scariest Horror Movies of All Time