Lucy Hale's Hair Just Keeps Getting Shorter
She's inching closer to a pixie.
---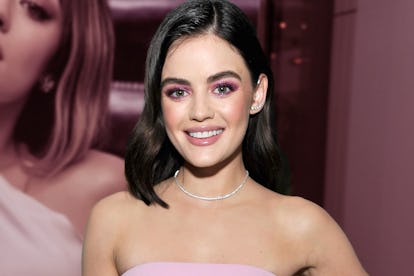 Composite. John Sciulli/Getty Images
Perpetual hair-color chameleon Lucy Hale is always down to try new follicular things, and this year, that has included lots of new hairstyles. Most recently, the Pretty Little Liars actor just debuted a brand new chin-length bob on Instagram, and suffice it to say, fans aren't surprised. Hale is constantly changing things up, thanks in part to her longtime stylist Kristin Ess.
The new cut ends in a blunt line precisely at Hale's chin, finished with a few layers to frame her face and her trademark beachy, tousled texture. They also set off her serious brow style. (The secret? She does them herself.) She captioned the photo with a simple description: "C H O P T," with credit to Ess for the updated look. Hale herself has a sense of humor about her hair: She shared a photo of the new chop spliced with Daria's best friend Jane Lane on her Instagram Story. As Hale puts it, the comparison is "[f-cking] accurate."
Kristin Ess is responsible for some of the bluntest bobs and waviest lobs in Hollywood — from Hale to Lauren Conrad to Lili Reinhart to Jenna Dewan. Her clients all have a few things in common: They're constantly playing with length, and they have some of the best natural texture around. Much of the credit likely goes to Ess's own hair-care line for Target, specifically the Kristin Ess Sea Salt Air-Dry Spray and Weightless Shine Air Dry Crème.
As for Hale, she's moved from her previous wavy, medium-length look with thick fringe to a casual lob to her new chic chin-length look. Though the actor has never quite made it to a pixie, it seems like it's only a matter of time before she goes there.
Related: At 28, Lucy Hale Already Has an Anti-Aging Regimen—and Thinks You Should, Too
The Best Hair Care Tips from Lucy Hale, Rosie Huntington-Whiteley and More Celebrities