Inside Madonna's 61st Birthday With All of Her Kids and Lots of Dancing
Even the bar where she celebrated shared the same name as her alter ego.
---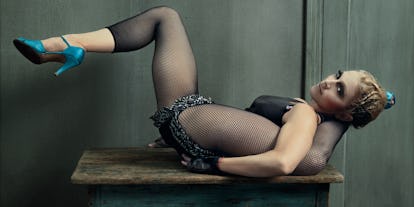 Steven Klein
Madonna turned 61 on Friday, as did, apparently, her newfound alter ego, Madame X, who was everywhere over the course of her birthday weekend. "This is the beginning of three marvelous nights of celebration, and it all starts with donuts," she announced in a video that she Instagrammed from backstage of her tour rehearsals on Friday, gesturing at a spread of desserts that spelled the name of her new moniker. "Dig in, motherfuckers."
It should come as no surprise that from there, Madonna only ramped things up; after all, she celebrated her 60th with a "nomadic" birthday bash in Marrakech, and her 59th the year prior with a party in Puglia, Italy where guests included everyone from Riccardo Tisci to a horse. And while moving this year's festivities to plain ole New York City might sound like a downgrade in comparison, well, Madonna had her reasons: The bar where she chose to continue the festivities on Friday night also happened to be named—you guessed it—Madame X.
"Madame X is a birthday girl," Madonna captioned one of many, many Instagrams she posted over the weekend, including a video of herself giving herself a toast with a glass of rosé champagne. Madame X, she continued in another post, is also a "four-star general"—hence the Prada military jacket she wore throughout the weekend, also emblazoned with her newfound moniker.
As usual, Madonna's kids tagged along to Friday's party—never mind that it was well past most of their bedtimes. Her elusive 22-year-old daughter, Lourdes Leon, gamely posed for photos, while her two 13-year-old siblings, who naturally seemed to have no issue making it past the bouncer, at one point serenaded her with a rendition of Elton John's "Your Song" on the piano. And while her two six-year-olds appear to have stayed home, they did at one point assemble for a family photo in which everyone wore Versace.
As for who else was in attendance, the bulk of her crew at Friday's rehearsals tagged along, too—though only after changing into their Madame X best. Some were even brave enough to copy Madonna's new signature accessory: an eyepatch.
From there, the group recharged with a trip to the Hamptons, where they were joined by the artist JR. Of course, that wasn't the end of the festivities; Madonna then shared one last Instagram to prove she was still partying late into Sunday night.
Related: Jean Paul Gaultier Originally Designed Madonna's Cone Bra For His Teddy Bear
Celebrating Madonna's Most Show-Stopping, Jaw-Dropping Live Performances
June 10, 1985: American musician Madonna performs onstage during 'The Virgin Tour' at Madison Square Garden. Photo by Gary Gershoff/Getty Images.

Gary Gershoff
May 21, 1985: Madonna performs on the Virgin Tour at the St. Paul Civic Center. Photo by Jim Steinfeldt/Michael Ochs Archives/Getty Images.

Jim Steinfeldt
July 13, 1987: Madonna performing on stage during her Who's That Girl tour. Photo by Ebet Roberts/Redferns.

Ebet Roberts/Getty Images
July 29, 1987: Madonna performs on the Who's That Girl Tour at the St. Paul Civic Center in St. Paul, Minnesota. Photo by Jim Steinfeldt/Michael Ochs Archives/Getty Images.

Jim Steinfeldt
November 6, 1990: Madonna's Blond Ambition World Tour. Photo by Kevin Mazur Archive/WireImage.

Kevin.Mazur/INACTIVE
July 24, 1990: Madonna performs at the Feijenoord Stadium during her Blonde Ambition tour in Rotterdam, the Netherlands. Photo by Frans Schellekens/Redferns.

Frans Schellekens
October 14, 1993: Madonna performs during her Girlie Show Tour at Madison Square Garden. Photo by Ke.Mazur/WireImage.

Kevin.Mazur/INACTIVE
October 14, 1993: Madonna performs during her Girlie Show Tour at Madison Square Garden in New York City. Photo by Steve Eichner/WireImage.

Steve Eichner
September 2,1993: Madonna performs the Girlie Show at the 1993 MTV Video Music Awards in Los Angeles,California. Photo by Frank Micelotta/Getty Images.

Frank Micelotta Archive
July 21, 2001: Madonna performing during the first show in the North American leg of her 'Drowned World Tour 2001' at the First Union Center. Photo by Frank Micelotta/ImageDirect.

Frank Micelotta Archive
July 21, 2001: Madonna performs at the kickoff of the U.S. leg of her 'Drowned World Tour' at the First Union Center. Photo by Harry Hamburg/NY Daily News Archive via Getty Images.

New York Daily News Archive
August 28, 2003: Madonna, Britney Spears and Christina Aguilera perform the opening act at the 2003 MTV Video Music Awards. Photo by Kevin Kane/WireImage.

Kevin Kane
May 26, 2004: Madonna performs onstage during her 'Re-Invention' World Tour at The Great Western Forum in Inglewood, California. The outfit she is wearing is designed by Christian LaCroix. Photo by Frank Micelotta/Getty Images.

Frank Micelotta
June 2, 2004: Madonna performs onstage during her 'Re-Invention' World Tour 2004 at the Arrowhead Pond in Anaheim, California. Photo by Frank Micelotta/Getty Images.

Frank Micelotta
September 1, 2004: Madonna performs on stage at the Palais Omnisports de Bercy in Paris, during the France opening concert of her 'Re-Invention' World tour. Photo by Bertrand Guay/AFP/GettyImages.

BERTRAND GUAY
September 20, 2006: Madonna performs during her 'Confessions' Tour at th Tokyo Dome. Photo by Jun Sato/WireImage.

Jun Sato
August 1, 2006: Madonna performs onstage at the first London concert of her 'Confessions' World Tour at Wembley Arena. Photo by Dave Hogan/Getty Images.

Dave Hogan
September 1, 2009: Madonna performs on stage during her 'Sticky and Sweet' tour concert in Tel Aviv's Yarkon Park. Photo by Jack Guez/AFP/Getty Images.

JACK GUEZ
November 6, 2008: Britney Spears sings a song with Madonna on stage during the Sticky and Sweet tour at Dodger Stadium in Los Angeles, California. Photo by Joe Scarnici/WireImage.

Joe Scarnici
February 5, 2012: Madonna performs during the Bridgestone Super Bowl XLVI Halftime Show at Lucas Oil Stadium. Photo by Kevin Mazur/WireImage.

Kevin Mazur
February 5, 2012: Madonna performs with Nicki Minaj during the Bridgestone Super Bowl XLVI Halftime Show at Lucas Oil Stadium. Photo by Al Bello/Getty Images.

Al Bello
August 28, 2012: Madonna performs during the MDNA North America tour opener at the Wells Fargo Center. Photo by Kevin Mazur/WireImage.

Kevin Mazur
November 20, 2012: Madonna performs her final performance of her U.S. 'MDNA' tour at American Airlines Arena. Photo by Larry Marano/Getty Images.

Larry Marano
September 10, 2015: Madonna performs onstage during her 'Rebel Heart' tour at Bell Centre in Montreal, Canada. Photo by Kevin Mazur/Getty Images for Live Nation.

Kevin Mazur
January 27, 2016: Madonna performs during the "Rebel Heart Tour" at Coliseo Jose M. Agrelot in San Juan, Puerto Rico. Photo by GV Cruz/WireImage.

GV Cruz
November 7, 2016: Madonna holds a rally to support Hillary Clinton at Washington Square Park in New York City. Photo by Noam Galai/Getty Images.

Noam Galai