Madonna Celebrated Thanksgiving in Malawi With All 6 of Her Kids
She shared a rare family photo of all her children together.
---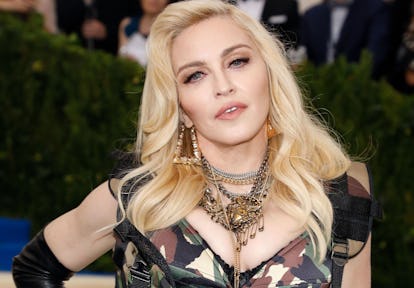 Getty Images
Though Madonna regularly shares photos of her six children on Instagram, it's a rare sight to see Lourdes, Rocco, David, Mercy, and the twins Estere and Stella all in the same place at the same time. This week, however, brought with it something of a Thanksgiving miracle: On Thursday, the proud mom posted a picture of all six of her kids celebrating Turkey Day together in Malawi—where David, Mercy, Estere, and Stella were born before being adopted by Madonna.
In the photo, the siblings gather together against a brick wall, all dressed up for the special occasion. "What I am Most THANKFUL for! My Children have led me down roads and opened doors I never imagined I'd walk through.♥️ Fame , Fortune and Records Broken could never equal that which I treasure and value most," Madge captioned the group shot, adding, "Happy ThanksGiving from Malawi!"
The pop star shared another video from her family's Thanksgiving celebration later on Thursday. In the clip, 13-year-old David plays Queen's "We Are the Champions" on the piano as Madonna and the rest of the family enthusiastically sing along. "Thanksgiving Prayer," she wrote.
Madonna has spent quite a bit of time in Malawi over the years. Besides her travels to the southeast African nation to adopt David in 2006, Mercy, 12, in 2007, and Estere and Stella, both 6, in 2017, she's returned several times with her kids to spend time with the children in orphanages and to visit the Mercy James Institute for Pediatric Surgery and Intensive Care at the Queen Central Hospital, which was funded by Raising Malawi, the charity she cofounded in 2006.
She's also spent a fair amount of time speaking about the priority she places on her children's well-being. Most recently, in Vogue Italia's August 2018 cover story, Madonna spoke about her goals for her kids, and confessed that she now has "no life" since moving to Lisbon, Portugal, primarily to further David's burgeoning soccer career. "All of my children are unique in their own ways. What's amazing is how resilient they are and how they embraced all things, especially music, dance, soccer and sports—things that connect them to other people makes adaptation easier," she said.
"My children are very open-minded about everything, and I'm very proud of that," she continued. "A lot of people say to me, 'You must really want your son to be a successful soccer player, your oldest daughter [Lourdes] to be a dancer, Rocco to be a painter.' And I always say no, what I want my children to be is loving, compassionate, responsible human beings. That's all I want. I don't care what the vehicle is, I just want them to be good human beings that treat other human beings with dignity and respect, regardless of skin color, religion, gender. This is the most important thing, you know what I mean? If they happen to be the next Picasso or Cristiano Ronaldo, then great, that's just the cherry on the cake."
Related: The Most Stunning Mother-Daughter Duos, From Madonna and Lourdes to Cindy and Kaia Gerber
The Most Stunning Mother-Daughter Duos, from Madonna and Lourdes to Cindy and Kaia
Actress Reese Witherspoon and daughter Ava Elizabeth Phillippe looked like twins with their tousled blonde waves at the Home Again Los Angeles premiere.

Getty.
At the 2015 InStyle Awards mother and daughter Lisa Bonet and Zoë Kravitz looked radiant with dewy, luminous skin, dark eyeshadow, and long messy hair.

Getty.
Cindy Crawford and Kaia Gerber have been the most dynamic mother-daughter duo at Fashion Week, proving that good genes run the family,

Getty.
At the 2011 Vanity Fair Oscar Party, Madonna and daughter Lourdes Leon wore their hair in sleek, straight styles.

Getty.
Actress Melanie Griffith and daughter Dakota Johnson attended the 87th Annual Academy Awards wearing similar up dos with messy bangs.

Getty.
French actress Vanessa Paradis and daughter Lily-Rose Depp arrived at a Chanel fashion show during Paris Fashion Week with their hair in effortless waves.

Getty.
Andie MacDowell and daughter Rainey Qualley prove that loose curls and luminous skin go hand in hand on the red carpet.

Getty.
Actress Demi Moore and daughters Tallulah, Rumer and Scout Willis all pose in backstage in support of Rumer's broadway debut in Chicago.

Getty.
At the Chanel Collection des Metiers d'Art in Paris, actress Jada Pinkett Smith and daughter Willow Smith both wore a playful pink lip.

Getty.
Actresses Goldie Hawn and Kate Hudson pose together on the red carpet at the 2014 Baby2Baby Gala.

Getty.
Meryl Streep's three daughters, Mamie, Grace and Louisa Gummer, all take after their mother when it comes to red carpet beauty.

Getty.
Actresses Blythe Danner and Gwyneth Paltrow were the ultimate mother-daughter duo at the 25th annual EMA Awards, both sporting radiant, sun-kissed skin.

Getty.