Congratulations, Maisie Williams, the Real Winner of Game of Thrones
Williams is the self-professed "last woman standing."
---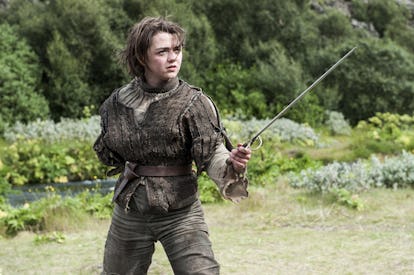 Courtesy HBO
As the Game of Thrones cast members, scattered to the four corners of Westeros, have wrapped their respective storylines in the long-running HBO series, they've said farewell to the show that, for many of them, minted them as stars. Two weeks ago, for example, Emilia Clarke posted a selfie, captioned, "Hopped on a boat to an island to say goodbye to the land that has been my home away from home for almost a decade. It's been a trip @gameofthrones thank you for the life I never dreamed I'd be able to live and the family I'll never stop missing #?#lastseasonitis." Nathalie Emmanuel, who plays her right-hand woman Missandei, did the same in an Instagram. In lieu of a heartfelt goodbye, Kit Harington simply went off and got married (to his one-time co-star Rose Leslie); Sophie Turner dyed her hair blonde (Sansa Stark is famously ginger) and is about to get married; and Gwendoline Christie is a model now.
Now, having wrapped up Arya Stark's storyline, Maisie Williams has posted her own tribute to the series—albeit a decidedly more cryptic one than some of her co-stars. An image of her feet in a pair of white dad shoes—Nike Air Force 1s—smeared with blood (fake, presumably?), her black jeans cuffed at the ankles, appeared on her feed on Saturday. Beneath the photo, she captioned, "goodbye belfast. goodbye arya. goodbye game of thrones. what a joy i've had. here's to the adventures to come #lastwomanstanding #barely #immasleepforthenextfouryears #justkiddingidontsleep."
Naturally, this tiny hashtagged hint—"last woman standing"—has already sent fans spiraling into theories and predictions. So let's follow this to its farthest possible conclusion: It wouldn't be surprising if the youngest Stark were the show's real survivor—after all, she can swap out other people's faces for her own, and her sword is small but mighty. Much of the cast has already bid its adieux, so Williams is perhaps the last woman standing in the real world, even if not in the Seven Kingdoms. After all, Starks don't wear white leather trainers. This is not Marie Antoinette (Sofia Coppola, 2006). And, by the Game of Thrones philosophy ("you win or you die"), that makes Maisie (not even Arya) the real winner. Congratulations, Maisie Williams.
Related: Maisie Williams Is Already Aware of The Pressure Hollywood Puts on Women