Makeup Artist Joyce Bonelli Says She Wasn't Fired by the Kardashians
But implies there was "a fight" involved in the split.
---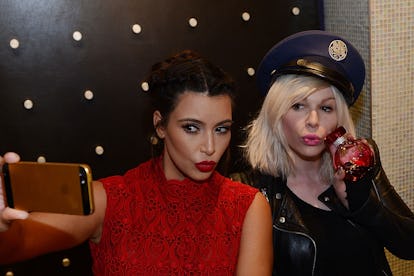 Photo courtesy of Getty Images.
In late June, news broke that makeup artist Joyce Bonelli had parted ways with the Kardashian-Jenner family, with whom she'd worked for over a decade. This week, in an interview with People, Bonelli confirmed that the split didn't stem from her being fired by the famous sisters, but did hint that there was a "fight" involved. "I've never been fired," Bonelli told People. "When something personal happens, it's just a personal thing and I don't think it's anyone's business. But people should know, too, that I wasn't fired and I love all of them and I'm proud of them, too." She added, somewhat cryptically, "Who hasn't gotten in a fight with their girlfriends?"
Bonelli went on to affirm that she's still a big fan of Kim Kardashian West, Kylie Jenner, and co.—even though she no longer has a hand in creating their day-to-day looks. "I'm inspired by that whole family—I mean, just look at them—[their] work ethic and each individually are amazing. We definitely are on the same level as far as working so many years together. I'm so proud of Kylie and her Forbes cover," she said.
The makeup artist also claimed that she's still on good terms with the family, who, she said, still send her their latest cosmetics releases from KKW Beauty and Kylie Cosmetics. "I love Kim's whole 'conceal, bake, brighten' saying. It's great. Not that it hasn't been done before, but that's all what us makeup artists have been working with from the beginning," Bonelli said. "Their products are great, and it's affordable, too. There's so much space in this beauty industry for everyone to do something."
Though some anonymous sources echoed Bonelli's sentiments, telling Us Weekly at the end of June that the parting of ways was an amicable one, another told People at the time that Bonelli "tried to go around them on a deal so the Kardashians wouldn't make money off of it. They caught on and Kim stopped following her." The split, that source claimed, actually took place at the end of 2017, and though Khloé Kardashian reportedly stayed friendly with Bonelli after Kim had cut things off, the entire family eventually severed all ties. "The Kardashians were just over her lies and the trying to cheat them out of money was the cherry on top," the source said.
Joyce Bonelli's Makeup Essentials For Long-Lasting Halloween Makeup