Meghan Markle Wore a Rare Ponytail on Her Australian Royal Tour
The duchess ditched her signature messy bun.
---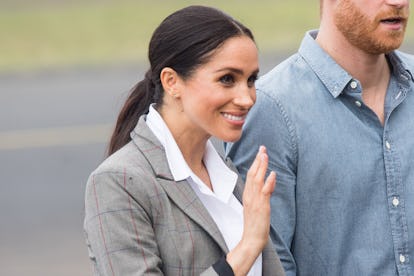 Samir Hussein/Getty Images
It's been an exciting few days for Meghan Markle. First, she and Prince Harry announced that they are expecting their first child. Then, she embarked on her highly anticipated first royal tour. Now, she's wearing her hair in a — wait for it — ponytail. Read: not a messy bun.
The Duchess of Sussex, who is currently in Australia to kick off the international tour, apparently decided to ditch her signature look, but this isn't some spontaneous ponytail created with a hair tie Meghan just happened to have around her wrist. It's a royal pony through and through, with her hair delicately brushed back and tied just above her ears. It's not quite low enough to be a low ponytail, so we'll call this a medium ponytail. She also secured her ponytail the sophisticated way — with her hair fastened around the clasp.
We're not sure exactly where Queen Elizabeth stands on ponytails, but Meghan has long been known for breaking royal protocol when it comes to her fashion and beauty choices.
Related: Is Meghan Markle Really Breaking So Many Royal Traditions?
Visual Proof That Savannah Phillips Is the Most Underrated Royal
Amid all the renewed interest Princess Eugenie's official wedding portraits prompted in the status of Fergie and Prince Philip's longtime feud, it was only this Monday that any attention was paid to Savannah Phillips's most documented mischief yet: stepping on the bride's gown, in an image which has since been repeatedly shared by the monarchy.

Courtesy of @kensingtonroyal
Over the summer, Prince William publicly came to realize just how much of a force Savannah Phillips is to reckon with when she dared to cover his son Prince George's mouth in plain sight on the balcony of Buckingham Palace, during the 2018 Trooping the Colour.

Karwai Tang/Getty Images
This, ladies and gentlemen, is the face of a 7-year-old who knows how to make a power move—involving the third in line to the throne, no less.

Samir Hussein/WireImage/Getty Images
Under the reign of corgi-loving Queen Elizabeth II, a sure command for and love of dogs can only bode well. Here's Savannah Phillips exhibiting both in style, with her mother, Autumn, and Vice Admiral Sir Timothy Laurence in 2017.

Max Mumby/Indigo/Getty Images
In fact, Savannah Phillips has proven herself comfortable commanding the reins since at least the age of 3—to the point that Princess Anne allowed her granddaughter, who was born in 2010, to take one of her pups for a stroll in 2012.

Max Mumby/Indigo/Getty Images
Savannah Phillips may prefer to romp around in all-weather boots, but when the occasion calls for it, she also seems to have an impeccable eye for style, as demonstrated by the cape she wore to accompany Prince Philip and more royals to a Christmas Day church service in 2016.

Chris Jackson/Getty Images
Though that's definitely not to say she doesn't also have style when she's wearing rain boots.

Max Mumby/Indigo/Getty Images
Like any child, Savannah Phillips apparently loves ice cream—and publicly consumed it with abandon from a very young age, including at the Gatcombe Horse Trials in 2012, when she was barely 2 years old.

Max Mumby/Indigo/Getty Images
Three years later, in 2016, Savannah Phillips returned to Gatcombe Horse Trails to publicly suffer brain freeze.

Max Mumby/Indigo/Getty Images
Fast forward to the present—or at least earlier this year, in Gatcombe Park—and Savannah Phillips's love affair with ice cream remains unabashedly strong.

Max Mumby/Indigo/Getty Images
No shoes were necessary for Savannah Phillips to steal the show at the 2017 Maserati Royal Polo Trophy match in Tetbury.

Mark Cuthbert/UK Press/Getty Images
A true rebel to the equestrians, Savannah Phillips opted to spend her time at the 2017 Royal Windsor Horse Show rock-climbing—and showing off a prominent (temporary) tattoo.

Steve Parsons/PA Image/Getty Images
She let loose in a literal sense, too, thanks to a nearby inflatable slide.

Max Mumby/Indigo/Getty Images
A true sport, Savannah Phillips also gives her cousins—in this case, Mia Tindall—a chance to fight back.

Max Mumby/Indigo/Getty Images
She's also been diligent in her duty to pass on family tradition—which, for her, anyway, is to say, mischief-making—to her little sister, Isla Phillips.

Max Mumby/Indigo/Getty Images
She's even been sharing when it comes to ice cream, as seen here with her sister, Isla.

Max Mumby/Indigo/Getty Images
Ever fearless, last year Savannah Phillips showed no intimidation when it came to getting on the field with—and, soon, on the leg of—Zara Phillips's husband, Mike Tindall, who broke his nose at least eight times during his career as a professional rugby player.

Karwai Tang/Getty Images
If that's truly a peace sign, not Savannah counting down the seconds until she bounced her way through Gatcombe Park, she's already made quite the symbolical gesture for a 7-year-old royal.

Max Mumby/Indigo/Getty Images
In may not have been turned into a GIF, but let it not be forgotten that Savannah also caused a minor scene at last year's Trooping the Colour.

Samir Hussein/Getty Images
A close friendship with the reportedly fiercely independent Prince George, showcased earlier this year in Gloucester, is no small endorsement.

Antony Jones/Getty Images