We May Have Seen Megyn Kelly's Last Appearance on the Today Show
The NBC host has disappeared into a maelstrom of controversy since her defense of blackface.
---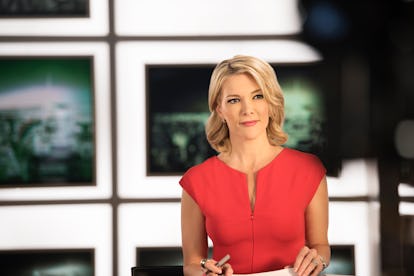 Brian Doben/NBC News/Getty Images
With Halloween rolling around, it seemed like only a matter of time before Megyn Kelly—who once made the argument that Santa Claus should absolutely, always be portrayed as white—would step up to the pedestal and defend dressing up in blackface, which is exactly what she did on Tuesday morning, during her NBC show, Megyn Kelly Today. The backlash to her comments—which came during a segment with Real Housewives of New York's Countess Luann de Lessep in which she also joked about Anne Frank—was swift, even by Kelly's standards. (Since leaving her star role at Fox News, everyone from Jane Fonda to Debra Messing to Kylie Jenner has treated Kelly to a range of criticism.)
Back at Fox, Kelly's show aired at night, but at NBC, her 9 a.m. slot meant that her latest inflammatory comments would yield a full day's worth of criticism and controversy. In fact, some of those critics even appeared on NBC themselves, eliciting praise from the NBC News chairman Andy Lack for denouncing her comments as "ignorant" and "racist" all in that same day. Before it came to an end with a jab from Seth Meyers on his own NBC talk show—"say what you want about Megyn Kelly, but she looks great for being 200 years old"—Kelly emailed an apology to her colleagues.
At the same time, she also apparently prepped to deliver the apology she'd start her show with the next morning: "I have never been a PC kind of person, but I do understand the value in being sensitive to our history, particularly on race and ethnicity," she told her audience, which responded with raucous applause.
But, unfortunately for Kelly, any attempts at damage control were already far too late: Later that day, Netflix confirmed that cast members and EPs from House of Cards had decided to bail on their scheduled appearance on the show. Just a few hours after that, news broke that Kelly had parted ways with her power Hollywood agency, CAA. (Neither party directly cited the controversy, though the timing was most certainly suspicious.)
So, yes, it turns out things can get worse than having your boss react to your performance by informing your colleagues, "I condemn those remarks. There is no place on our air or in this workplace for them. Very unfortunate." Forty-eight hours after the incident, CNN reported that Kelly's departure from the Today show appears to be imminent, mincing no words in saying that "Megyn Kelly Today is not over yet. But it's a matter of when, not if." In fact, we may very well have seen the last of Kelly, given that she did not host her program on Thursday, and Friday episodes of her show are usually pre-taped. (Update: TMZ now reports that Kelly may be out altogether, but CNN now claims that while her daytime show is likely ending it is still possible that Kelly may remain at NBC in a lesser role.)
Amid all the chaos, though, there is one silver lining for Kelly: She will no doubt feature in an upcoming film about Fox News's Roger Ailes, which has tasked Charlize Theron with the role of portraying Kelly as a success story of a woman in the industry, a victim of the conservative system she's worked in, and a public figure who's repeatedly shown reluctance to even turn to Google before engaging in a widely broadcast debate.
Related: Megyn Kelly's Defense of Blackface Wasn't a Mistake. It Was Her Entire Point.