Melania Trump Went to Toronto to Hang Out With Prince Harry and Spent Nearly $200,000 at Six Hotels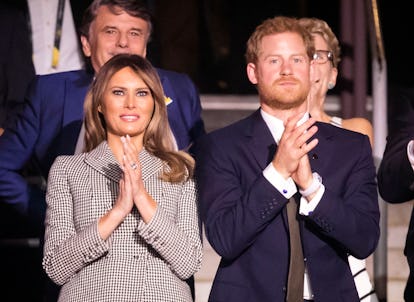 Danny Lawson – PA Images
At the beginning of October, Melania Trump visited Cairo, Egypt, as part of a publicity tour of four African countries (she also went to Ghana, Malawi, and Kenya and inexplicably wore a pith hat during an outing to an elephant sanctuary). It was only later that Quartz unearthed a spending report indicating Trump spent $95,050 on hotel rooms during her six-hour jaunt in the Egyptian capital later in the week.
Well, it turns out the first lady was actually practicing moderation during her trip to Cairo. Last September, Trump traveled to Toronto to meet up with Prince Harry and Justin Trudeau, modern politics' two favorite nonbachelors. During that time, she charged six separate hotel bills, according to government spending reports dug up, once again, by Quartz: for $35,000, $12,000, $19,000, $49,000, $43,000, and $16,000. For those keeping score, this totals $174,000.
Per Quartz, the expenses were not itemized by hotel, but a schedule for the first lady from the trip reveals she spent time at the Sheraton and the Ritz-Carlton, at the very least. And all this so she could spend 20 minutes with Prince Harry before giving a speech and going to watch the Invictus Games opening ceremonies with the Trudeau family. And then just go back to Andrews Air Force Base in Maryland, presumably the last stop before going home to Washington, D.C.
Trump's spokeswoman, Stephanie Grisham, attempted to shed some light on the report. "What I can tell you is that when the President or First Lady travels, there are people who travel ahead on the advance team to ensure safety measures, medical care, communications, motorcade needs and logistics are all in place," she told Quartz in a statement. "Mrs. Trump travels with a much smaller contingent of staff than that of her predecessors, but the entities I mentioned above are legally required for all official travel." (Quartz pointed out that, true or not that the first lady's team is a lean operation, Michelle Obama spent just shy of $20,000 during a trip to Copenhagen, Denmark, and just more than $200,000 during a two-day trip to Chengdu, China.) But the vast majority of the Toronto charges were for the hotels. The charges for her advance team, whose expenses were broken out separately, amounted to just $18,000. So they probably weren't staying at the Ritz, at the very least.