The 7 Most Memorable Menswear Memes and Moments of 2018 (So Far)
Virgil Abloh, Justin Bieber, John Mayer?! They're all here.
---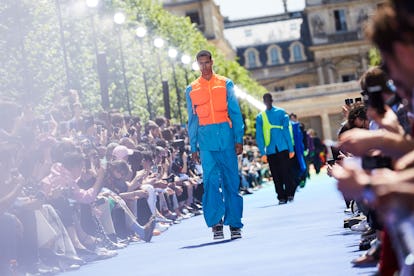 www.mollysjlowe.com
Did you feel a slight disturbance in the mesosphere this week? The rustling sound of a hundred clout packs coming together like so many gentle doves? Well, it happened to be New York Fashion Week: Mens, the CFDA's blink-and-you'll-miss-it shape-shifting experiment in market presence, though you'll be forgiven if you hadn't noticed. The calendar was a clipped one this season—some might say "washed," even—at only three days, with marquee names like Raf Simons and Ralph Lauren nowhere to be found. It wasn't completely without merit, though. Young designers who are usually swallowed up by the machine had the room to breathe, and the negative space also offered us the chance to reflect on the state of men's fashion in 2018, at its halfway checkpoint. These are all the Big Moods and seminal menswear moments so far.
1. The Absolute Unit meme.
Born out of a late-year Britishism admiring the girth of a particularly zaftig fellow, the Absolute Unit meme quickly became an incredibly useful shorthand for something of outsize proportion, and, somewhere along the way, was co-opted by the Online Menswear Community to refer to any exaggerated silhouette. Menswear's faculty for amusing itself with basically anything is one of its most admirable qualities (see: Jonah Hill Day), and the wave of the Absolute Unit met its apex around February. The Balenciaga Triple-S sneaker, and a subsequent yellow Vetements style with a monster truck tread, were ridiculous exercises in the form, but everything from Y/Project's sherpa jacket swallowing up a helpless model to retroactively categorized entries, like Lenny Kravitz's comically huge scarf, received the treatment.
2. Raf Simons's feast for his disciples.
A curious thing about menswear is no one really knows why men become obsessive about certain things, but once they do, they're immediately vaulted into the sacred. There is no middle ground. Raf Simons is one such holy of holies, a 50-something designer with a fiendish Coke Zero habit who's still speaking to youth culture, and whom youth culture reveres like a Flemish Mr. Rogers. In February, Simons again decided to stage his menswear show in New York, a decision that was greeted by New York's menswear community, as with the collection he showed in a humid and fish-streaked Chinatown alley last summer, like a deeply personal gift from the Dalai Lama. Simons showed his elongated wool top coats in acid colors and PSA separates that invoked chemical barbiturates amid a Jan Brueghel the Elder still life, replete with fruits, breads, and wine, all of which attendees partook in gladly. Raf nourishes not just the soul, but also the body. His absence from the calendar this week (he opted to show in Paris) left a Belgian waffle-shaped hole in New York menswear's heart.
3. Supreme, Menswear Designer of the Year.
The CFDA tried its hand at courting the hypebeast subsection of menswear in June, when it decided it would bestow its award for Menswear Designer of the Year on Supreme, a pioneer in skate culture and collaborative synergy that has by now developed a habit of making tchotchkes that feel more like an extended conceptual project, or a shrug. Still, Supreme's blockbuster collaboration with Louis Vuitton last summer shook the industry deeply, and the reverberations mean we're going to see a lot more heritage brands trying to grab a piece of Supreme's shine while assuming the "Hello, fellow kids" voice.
4. The Cleveland Cavaliers wear matching Thom Browne, lose badly nevertheless.
Over the last few years, NBA players have become real clotheshorses, and the ritual of arriving to the arena has become a de facto runway show. In April, the Cleveland Cavaliers closed the loop, becoming an actual Thom Browne catwalk by wearing matching, custom Browne suiting to Game 1 of their playoff series with the Pacers. At the time, I tweeted that the only way the Pacers could respond was if they appeared in head-to-toe Rick Owens, but it turned out that wasn't necessary: The Cavs lost by 18.
Still, the fashion moment was about "camaraderie, solidarity, brotherhood," as LeBron James told The New York Times. The Cavs continued to adhere to their plan of wearing the rigs at away games, and lost most of them, which raised a reasonable question: Were the Cavs' very expensive custom Thom Browne solidarity suits cursed? Was there a sinister patternmaker raised in the Bay Area working in Browne's atelier, who had surreptitiously sewn Kevin Durant jerseys into all the linings? Were the suits given the bad juju in a seance with the ghost of Larry Bird (Larry Bird is still alive, don't worry). Whatever it was, whenever Lebron, JR, and company completed their tunnel catwalk in cropped wool slacks, they pulled up lame, managing a not-great 38% win percentage. For illustrative purposes: When the Cavs decided to forgo their allegiance to the Browne suits at the deciding Game 7 of the Eastern Conference finals in Boston, they won, 87-79.
5. John Mayer's "New Light" was the best merch drop of the year.
In May, noted Japanese heritage menswear aficionado and T-shirt enthusiast John Mayer released a standalone single, a jangly four-on-the-floor disco cut tinged with wistful yearning (there is only one John Mayer mood) with inspired use of Prince-tacular drum machine synth claps. More thrilling still was the accompanying music video: a pleasingly weird piece of pop art filmed by a company that makes Cheez Wiz green screen Bar Mitzvah videos, in which Mayer, wearing Nike Pegasus Pinnacle A/Ts, carnival tent harem pants from the hard-to-find Japanese brand Kapital, and a tastefully distressed hooded sweatshirt from Kapital's harder-to-find-still sub-line, Kountry, yearns wistfully about shopping for wavy streetwear.
Like all new pop music releases, Mayer's single was commemorated by the requisite merch drop. Unlike all new pop music releases, Mayer's "New Light" merch is Very Good, designed by Online Ceramics, purveyors of deeply weird, Grateful Dead-indebted graphics so inspired and faithful to the Dead's patented psychedelia that they now make official Grateful Dead merchandise. This is not to be confused with Kanye West's ye merch, which seemed built to appeal to people who had read something about the Grateful Dead once while standing in line for a $15 salad.
6. Virgil at the top.
In March, Virgil Abloh, a hypebeast pied piper, made history when he was named the first ever black artistic director of the storied European luxury house. How would his love of ironic punctuation and healthy disregard for intellectual property rights translate to the corridors of French fashion? In June we had the answer: It was fine! Abloh's debut men's collection for Louis Vuitton was sober and slick, a crest of crisp white tailoring and striated tie-dye jumpsuits which lifted happily from recent Alexander Wang and Simons' Sterling Ruby Dior Couture collections. But no matter! Everyone is happy for Virgil! Especially Kanye West, who has been trying to be taken seriously by fashion for over a decade and whose recent mental struggles probably didn't have anything to do with Abloh's appointment. It was only a short 11 years ago that Abloh and West invented leather joggers and were turned away by Fendi, and look at them now, sharing a tearful-but-still-masculine embrace on the Louis Vuitton runway. It was as touching a Menswear Moment as any, and something Abloh's actual wife probably would have liked to be present for.
7. Justin Bieber proposing in Adidas slides.
The Bieb God proposed to his longtime girlfriend Hailey Baldwin, while wearing his beloved Adidas slides and his own tour merch, which feels significant, somehow.
There are menswear parallels to be gleaned between this and the whirlwind romance between Ariana Grande and Pete Davidson, another 24-year old with too much money who adheres to the scuzzcore precinct of menswear. Belieb in love!