Meryl Streep Is Trademarking Her Name Because She's Meryl Streep
Surprised it didn't happen sooner.
---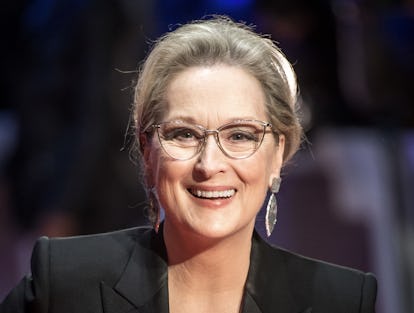 Samir Hussein/WireImage/Getty Images
At the age of 68, Meryl Streep is one of the most lauded actresses of her time. And now, three Academy Awards and more than 40 years into her career, she's finally decided to cash in on the hype—or, at least, prevent others from doing the same. According to TMZ, Streep recently filed an application with the U.S. Trademark Office for "monopoly use of her name when it comes to entertainment services, including live, televised, and movie appearances by a professional actress and entertainer." The trademark would also reportedly protect the use of her stage name "Meryl Streep" at public speaking engagements, autograph signings, and websites related to her films (Mary Louise Steep, by the by, is the actress's legal name). The application reportedly cost a whole $275, pocket change for the A-lister, but the benefits of obtaining the trademark are, undoubtedly, priceless.
Though celebrities typically only trademark their names in relation to upcoming product lines—see: any Kardashian—anyone who dares come for Streep from any angle will be immediately shut down (if her application is approved, that is). The sudden need to trademark her name could be a result of Streep's work in the Time's Up movement; she has been a vocal supporter of equal pay and gender parity in the workplace, and, by extension, outspoken against the practice of profiting off of someone else's name or work.
Late last year, the actress said that there are still not enough women at the executive level of studios, agencies, and other areas of Hollywood, despite there being objectively more opportunities for them now than there were in the 1960s and 1970s. And in 2015, while promoting her movie Suffragette, Streep further expressed her frustration with the lack of workplace equality. "Women are graduating from film schools, law schools, and medical schools in equal numbers as men, but they are shut out when they get to the leadership positions," she said.
Here's to Meryl Streep reclaiming her time—and her name—in 2018.
Related: Meryl Streep Says She "Was Really Beaten Up" When She Was "Young and Pretty"