Michelle Williams, the Actor, Has Gotten Confused With Michelle Williams, the Singer, in Real Life
The Oscar-nominated star of Manchester by the Sea has the perfect icebreaker if she ever meets Beyoncé.
---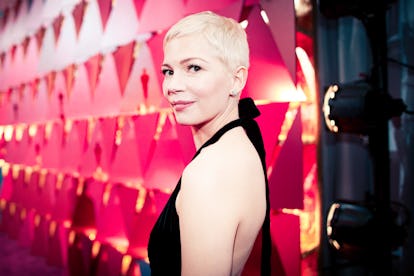 Photo by Getty Images.
Earlier this week, as part of a Variety series entitled "New Power of New York," the magazine asked Michelle Williams to write a public missive to rapper and erstwhile Love and Hip-Hop: New York star Cardi B.
"Only clicked to figure out which Michelle Williams," my editor wrote in Slack. For the record, it was Destiny's Child Michelle Williams—but as far as Google is concerned, one might be forgiven for any mix-up because according to the algorithm, apparently, they're one and the same. As one Twitter user pointed out last month, if you search "Destiny's Child five members," four little thumbnail pictures will come up: head shots of LeToya Luckett, Kelly Rowland, LaTavia Robertson, and—you guessed it—Michelle Williams, pixie-haired, Oscar-nominated star of Blue Valentine and Manchester by the Sea. (A recent test proved this is still true. Beyoncé, it appears, now transcends Destiny's Child.)
Name aside, they're not hard to tell apart: One's a prominent actor married to the guy from Mount Eerie; the other is a musician, Broadway regular, and former member of the girl group that gave us Beyoncé. One is best friends with Busy Philipps; the other, one degree removed from Beyoncé. Nevertheless, the confusion—at least on the Internet—persists, so much so that Williams—the actor, now promoting her Marvel film Venom—has even had her name confused with her Destiny's Child counterpart in real life.
You see, apparently, her daughter is "an enormous Stevie Wonder fan," Williams told the Huffington Post in a recent interview, so she took Matilda to see the musician play a concert. When she arrived to pick up their tickets at will call, the ticket attendant blanched. "The guy said, 'No, you're not,' and I said, 'I am. I'm Michelle Williams,' and he said, 'No, you're not.' And I said, 'I really am,'" Williams explained. "I showed him my ID, and he said, 'Oh, that Michelle Williams. I just assumed that it was gonna be … Oh cool. What?'"
Nevertheless, Williams isn't too bothered by the whole thing: "It gets me one step closer to Beyoncé, so I'm pretty good with it," Williams said. "Now I'll have an icebreaker if I ever get to meet Beyoncé. I'll talk to her about the old days of Destiny's Child."
Related: Michelle Williams Just Oh-So-Quietly Unveiled Her New Wedding Ring