Milo Gibson, Mel Gibson's Son, Is Finally Ready to Give Acting a Real Shot
The 27-year-old made his acting debut in his father's film, Hacksaw Ridge, but now he's got a leading role all on his own, plus a modeling contract.
---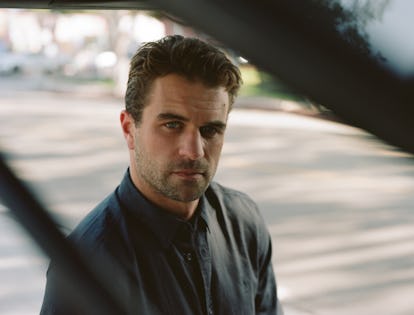 Unlike many Hollywood scions of late, who seem to be given modeling contracts and film roles in utero, Milo Gibson, the son of actor Mel Gibson, actually made a concerted effort to live a humble existence out of the spotlight, despite—or perhaps in spite of—his last name.
Until recently, that is.
Born in Malibu, California, Gibson grew up playing on his high school football team and surfing in his spare time. After graduation, he decided on a whim to be a private massage therapist for two years, (his friends always told him he was good at it), later making a career change to become an electrician for the next five, (another childhood friend owned the company). He liked working with his hands, meeting people, and solving problems. And because his parents never pushed him towards a career in acting, he had the impression that it was off-limits.
"We didn't grow up in the Hollywood lifestyle clique," said Gibson of his six siblings (now plus two step-siblings) in the low, calm baritone of his father. "I basically did everything other than going into the career of acting; I wanted to do more of a blue-collar job that involved real people."
Now, however, at the age of 27, Gibson has just wrapped filming his first two starring roles in All the Devil's Men—a film about a War on Terror bounty hunter filmed in London and Morocco—and Breaking & Exiting, an indie about man who breaks into a house finds a young woman attempting to commit suicide, proving that he's game to play both the good guy and the bad guy. To boot, Gibson also just modeled in his first ever online editorial for W, having recently signed a contract with Wilhelmina, which also represents the scions Clara McGregor, Destry Allyn Spielberg, and Hopper Penn.
But what changed? How does a man go from being an electrician, to flipping the switch and embracing a glamorous career in Hollywood?
"When you're growing up and you're not pushed in a direction, it makes you feel like if you do go in that direction, it might not be okay," said Gibson of an acting career. "But as I got older, I realized that it was my life, and I wanted to act because I love it."
Gibson, who sites Steve McQueen's smooth confidence as his ultimate inspiration, made his acting debut alongside Andrew Garfield in last year's World War II film, Hacksaw Ridge, which his father directed.
"It was nice to see him behind the camera," he said of the experience, although he prefers not to talk about his career in relation with that of his father. "I learned that you have to be comfortable taking risks and then stick with them; one of the keys in acting is to be vulnerable."
In-between Hacksaw Ridge and his two lead roles, Gibson also had a smaller role in an upcoming film with Jennifer Anniston called The Tribes of Palos Verdes. He's getting steady and varied work—a good sign for any young actor. Which is why he said he's comfortable exploring other creative outlets, too, like modeling.
"I'm new to it, so I'm just going to take it all in and see where it takes me," said Gibson of his entrée into fashion, naming Salvatore Ferragamo, Rag & Bone, and Giorgio Armani as brands he identifies with.
He's the spitting image of his father, with thick hair, piercing eyes, and a football player's build. But he's also got a gentle, soft quality about him—maybe it was the years of massage therapy.
When asked if he was hesitant about posing in front of the camera for the first time, however, he adopted a kind of zen that some might call confidence: "Nervous?" he said. "Never."
Watch 6 Rising Male Models from Famous Families Share Their Biggest Pet Peeves