Miranda Kerr Moves on From Disgraced Ex By Turning Over $8.1 Million in Diamonds to U.S. Government
In the most supermodel way to move on from an ex, Kerr is making sure to "cooperate fully" with the investigation surrounding her ex-boyfriend.
---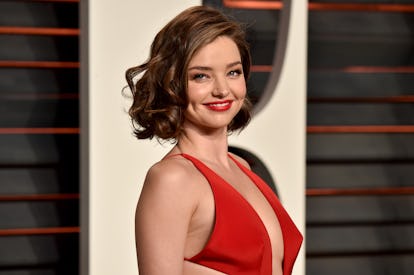 Alberto E. Rodriguez/Getty Images
Given that Miranda Kerr got married to Snapchat cofounder and chief executive Evan Spiegel just a month ago, it's not exactly surprising that lately, she's been divesting of sentimental gifts from her exes. But thanks to the fact that Kerr is a supermodel with 11 million followers whose gigs have included replacing Gisele Bündchen at Victoria's Secret, and her ex is the Malaysian financier and billionaire Jho Low, the process hasn't been the most normal—or even voluntary.
On Friday, after an ongoing investigation resulted in lawsuits last week, Kerr headed to her safe deposit box in Los Angeles and took out $8.1 million worth of diamonds her ex Jho Low gifted her in 2014—and promptly handed them over to the government.
Low, after all, is at the center of an ongoing investigation into the scandal surrounding 1MDB, or 1Malaysia Development Berhad, which was founded by the Malaysian prime minister Najib Raza. Though Raza was supposed to use 1MDB to fund the country's economic development, he's since allegedly turned it into a money-laundering operation that's reached as far as Hollywood, thanks to Low's involvement with the fund and predilection for partying with the likes of Lindsay Lohan and Paris Hilton.
The Prettiest Model Weddings of All Time
Though Bianca and Mick Jagger's marriage was short-lived, images from their 1971 ceremony in Saint-Tropez continue to inspire alternative brides to forgo a traditional gown for a chic white suit.

Photo by Getty Images.
Iconic model Marisa Berenson does everything in style, so it should come as no surprise that her 1976 Beverly Hills marriage to James Randall makes this list.

Photo by Getty Images.
Christy Turlington went classic for her 2003 marriage to Ed Burns.

Photo by @cturlington.
Kendra Spears became a princess when she married Prince Rahim Aga Khan in Geneva in 2013—and looked appropriately regal in cream silk and diamonds.

Photo by Getty Images.
Kate Moss has often posed as a bride (including in this iconic image by Inez and Vinoodh for W), so by the time she married Jamie Hince in 2011 she was well prepared.

Photo by Getty Images.
Chrissy Teigen reportedly wore three gowns over the course of her 2013 wedding to John Legend—this voluminous ivory version for the actual ceremony.

Photo by @chrissyteigen.
With such a photogenic family, Poppy Delevingne's 2014 wedding to James Cooke was bound to be beautiful.

Photo by Getty Images.
Model Frida Gustavsson reignited the braid trend when Instagram posts of her 2015 ceremony hit. Her dress, an intricate Valentino creation, wasn't too bad either.

Photo by @fridargustavsson.
Once Kerr split from her then-husband Orlando Bloom, in 2014, she became the object of Low's affection, too. Among his gifts were an 8.88 carat heart-shaped diamond pendant, plus, over the course of their year-long relationship, more jewels that eventually amounted to around $8 million. It's all quite romantic, except for the fact that Low appears to have stolen those millions from 1MDB instead of legally dishing them out from his own bank account.
In any case, Kerr, for her part, has definitely moved on.
"From the start of the inquiry, Miranda Kerr cooperated fully and pledged to turn over the gifts of jewelry to the government," Mark Fabiani, the longtime Democratic strategist who's also recently worked as a spokesman for Bill O'Reilly, told W. "Ms. Kerr will continue to assist with the inquiry in any way she can."
Luckily, Kerr has had some pro bono help along the way, too: Leonardo DiCaprio has been embroiled in his own headache involving Low and 1MDB since last year, inadvertently but conveniently setting quite the example for Kerr to follow. After learning that his film The Wolf of Wall Street was involved with a1MDB-affiliated production company, Red Granite Pictures, DiCaprio enlisted some of his representatives to actually reach out to the Department of Justice and ask how they could help.
As a result, earlier this month, DiCaprio ended up forking over Marlon Brando's Oscar, a $3.2 million Picasso, and a $9 million Jean-Michel Basquiat.
Supermodel Miranda Kerr Knows How to Balance Super Sexy and Ultra Feminine
Kerr attended the 2008 launch of a new Victoria's Secret bra in a colorful strapless frock.

Getty
Showing off a new blonde hairstyle, Kerr matched her hue to a light colored frock for a Victoria's Secret event in 2009.

Getty
Back to her darker roots, Kerr chose a metallic mini for Victoria's Secret 5th Annual "What Is Sexy?" Bombshell edition party in 2010.

Getty
Kerr showed off her playful side in a cheery floral dress at the launch of a new Victoria's Secret fragrance.

Getty
At W's Best Performances issue party at Chateau Marmont in 2012, Kerr chose a slinky white satin dress.

Getty
Kerr attended the 2011 CFDA Fashion Awards in a black gown with side cut-outs.

Getty
For the 2011 Victoria's Secret Fashion Show, Kerr arrived in a leopard print bustier dress.

Getty
Kerr arrives at the 9th Annual G'Day USA Los Angeles Gala in 2012 in a white dress with black leather straps across the stomach.

Getty
Showing off her girly side, Kerr chose a light blue, floral dress for a 2012 Golden Globes party.

Getty
Sticking with the blue hue, Kerr arrives at the 2012 Women Of Style Awards in Australia in 2012.

Getty
Kerr attended the 2011 Met Gala with then-husband Orlando Bloom, wearing a frothy white dress.

Getty
For a 2012 music video premiere, Kerr opted for a Stella McCartney LBD.

Getty
Kerr takes a more gothic turn in this black lace number with long-sleeves at the 2013 Vanity Fair Oscar Party.

Getty
Kerr attends the 2012 Just Cavalli Soho Flagship store opening in a wild animal print dress by the brand.

Getty
Kerr shows off a revealing side slit and open back while attending a 2014 Golden Globes party.

Getty
At the 2015 Vanity Fair Oscar Party, Kerr goes the Grecian goddess route in a white dress with metallic accents.

Getty
A sweet and girly moment for the model, at the opening night of "Romeo And Juliet" on Broadway in 2013.

Getty
The model shows off her legs in a metallic mini at the 2015 Met Gala.

Getty
A look only a supermodel could pull off: Kerr wears a belt around her abs, in Calvin Klein, at a Los Angeles event in 2015.

Getty
Kerr chose a slinky silver gown for the 2014 Vanity Fair Oscar Party.

Getty
Showing off her edgier side, Kerr takes in the Saint Laurent runway show in a leather mini, leopard print jacket, and oversized choker.

Getty
Pictured with now-husband Evan Spiegel, Kerr opted for peekaboo white at a 2016 Grammys party.

Getty
Kerr arrives at the 6th Biennial UNICEF Ball in 2016 wearing a disco-ball-esque Louis Vuitton dress.

Getty
Red hot. Kerr shows more than a little skin in this cherry number at the 2016 Vanity Fair Oscar Party.

Getty
Kerr goes colorful in Carolina Herrera, including a thigh-high slit, at a Los Angeles party in 2017.

Getty
For the 2016 Met Gala, Kerr wore a risky Louis Vuitton design that she pulled off like only a supermodel can.

Getty
Kerr stood out in vibrant pink and red at the Louis Vuitton Spring 2017 show in Paris.

Getty
Kerr dazzled at the 2017 Vanity Fair Oscar Party in a pale blue gown by Prada.

Getty
At this year's Met Gala, Kerr turned heads in a vintage-inspired Oscar de la Renta gown.

Getty
Related: Having Confiscated Leonardo DiCaprio's Oscar, the Department of Justice Is Now Eyeing Miranda Kerr's Diamonds
See W's most popular videos: