You Can Now Wear Your Pajamas To the Beach, Thanks To Morgan Lane
The swimwear designer creates sleepwear that doubles as beachwear.
---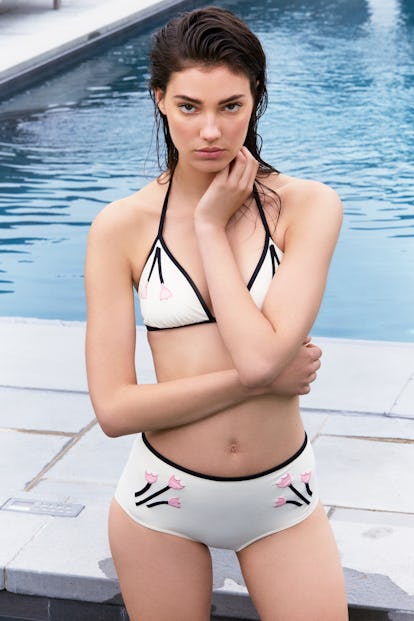 Morgan Curtis has created a world made for those who love all things cute with her ultra-feminine her swim, lingerie and sleepwear brand, Morgan Lane. Curtis's love of illustration and dolls played a major role in the development of the company so much so that a doll named Lanie, who Curtis created, is now the image of the brand. Lanie represents the playful, charming, and mischievous Morgan Lane girl. Evrey collection has a theme and incorporates details such as tiny bows, embroidery, miniature ruffles, and tulip-shaped drawstring ends in lieu of the traditional tassels. Every piece in the collections can be worn interchangeably: the bathing suits as a bodysuit, the sleepwear as beachwear, etc. Here, Curtis shares favorite beach in Montenegro, fondest beach memory, and more.
What is your favorite beach?
King's Beach at Sveti Stefan in Montenegro.
What is your insider beach secret?
Bring a real camera; the sand is a pink coral color and the views are breathtaking. An iPhone shot just won't do.
What is your favorite thing to do pre- and post- beach?
Pre-beach, I like to go on a run and explore my surroundings. I love the feeling of jumping in the ocean after working out. Post-beach, I usually end up having a little nap or taking a sunset dip in the pool.
Do you prefer the pool or the beach and why?
I prefer the beach, I love the feeling of the warm sand beneath my feet and collecting different shells and things I find.
What do you always bring to the beach?
I always bring my waterproof Morgan Lane dollhouse clutch that my bathing suits are sold in; the bracelet makes it easy to carry and I throw my phone in so it doesn't get too sandy.
How does your favorite beach inspire your work?
I have a sketch book that I love to fill with watercolors on each vacation. I like to sign it with the beach name and date. The Kings Beach inspired a painting of me and my sister Sophie which hung on my mood board for my first swim collection.
How would you style your swimsuit from the beach to a night out?
A lot of my bathing suits are made from fun materials such as lurex that can easily double as bodysuits. The one pieces look great with a sheer georgette wide leg pant and sparkly low sandals.
What is your ultimate do and don't at the beach?
My ultimate do for the beach is to bring a cozy sweater or soft tee. I love the feeling of clean fabric on my tan salty skin.My ultimate don't for the beach is to wear a one piece on the first day of vacation. I always spend the rest of the trip making up for the tan lines.
Which swimsuit reference has influenced you most?
Wendy Peffercorn in The Sandlot. I love the way she smiles while viciously ruling that pool. Her hair, sunglasses, and bathing suit are simply perfect.
What is your favorite memory at the beach?
My favorite memory of the beach was the first time my now fiancé took me around Montauk, where he grew up, in the winter time and we saw seals pop up on the rocks.
What are you reading this summer?
To be completely honest, my free time has been dedicated to my wedding Pinterest boards. I like to hide under the towel and lose myself in flower arrangements and table settings. I would like to revisit some classics like "To the Lighthouse" and "Tender is the Night" before summer ends.
Related: Inside Cara Delevingne's 25th Birthday Bash in Mexico With Suki Waterhouse and Adwoa Aboah
See W's trending videos, here:
How to Do a Summer Girls Trip Like Cara Delevingne, Kylie Jenner, and More
Cara Delevingne hit Mexico alongside pals like Suki Waterhouse and Georgia May Jagger for her 25th birthday.

Instagram
A key component for Delevingne's getaway: custom t-shirts with her name and face printed across the front.

Instagram
Last year, Kylie Jenner celebrated with friends like Hailey Baldwin and Bella Hadid in Turks & Caicos.

Instagram
Big sister Kendall Jenner came along for the trip, as well, naturally.

Getty
Victoria's Secret models Doutzen Kroes, Constance Jablonski, Joan Smalls, and Alessandro Ambrosio took to the high seas.

Instagram
Joan Smalls and Doutzen Kroes headed to the beach in a pair of matching bikinis.

Getty
Kim Kardashian and Jasmine Sanders proved unlikely vacation buddies early last year.

Instagram
A trip that spurred 1,000 fan accounts and one Vogue cover: Karlie Kloss and Taylor Swift's journey through Big Sur.

Instagram
Swift hit Hawaii with the HAIM sisters before heading on tour together.

Instagram
Nothing says summer quite like a bunch of Victoria's Secret models on a boat.

Instagram
This time, Taylor Hill and Romee Strijd hit the water in the Hamptons.

Instagram