The 12 Most Incredible Abandoned Buildings and Cities to See Now Around the World
Adventurers of the world unite: the beautifully creepy sites you need to see, and how to break into them.
---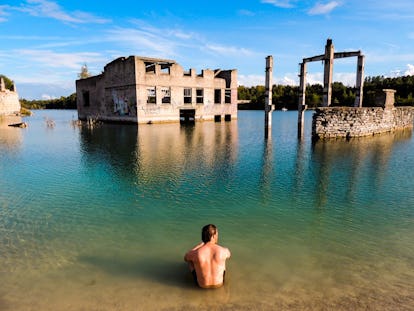 What is it about an abandoned building that pulls us in? The curiosity, sure, but a more powerful draw may be the allure of a faded beauty. They may seem dilapidated and weathered at first glance, but like Miss Havisham in Great Expectations there's glamour beneath the surface. Decaying walls, capsized chairs, crumbling pillars—these buildings may be dystopian, but there's a great thrill in seeing them up close that invites the imagination. No wonder Hollywood has found them fertile ground for many of its films, from the empty Aldwych tube station in V for Vendetta and Sherlock to the the vacant streets of Oshawa, Canada, where It was filmed. As the season fades from fall to winter, grab a partner and a flashlight, and take a tour of some of the craziest abandoned sites in the world. But make sure to get there before they all become popular tourist sites.
Rummu Prison, Estonia
Located two hours from Tallinn in a limestone quarry, Rummu was built by the Soviets as a mining labor camp and prison in the late 1940s. In addition to the eight watch towers that line the perimeter of the main prison, there are two other smaller prisons, one of which is now sublimely submerged.
Enter at your own risk:
At first it will appear inaccessible, but make your way to the water's edge, walk to the left, and you will see a pile of crumbling bricks low enough to hoist yourself up. Once you're inside Rummu, walk between the main wall and the barbed wire fence and you'll see a series of staircases that will lead you right up to the watch towers. If you go in the summer, make sure to bring a swimsuit and swim out to the submerged tower. You can climb up and dive off the ledge.
Nara Dreamland Amusement Park, Japan
Opened in 1961, Nara Dreamland was Japan's version of Six Flags for 45 years. As theme parks often go, the visitors grew few and far between over the years, and the park was forced to shutter its doors. After 15 years of abandonment, the park now looks like Jumanji. Overgrown weeds strangle roller coasters, bumper cars sit empty, and plants have pushed their way through the magic tea cup ride.
Enter at your own risk:
Just walk right through the front entrance. The park was never gated, so it is impossible to forbid entry, as all rides and games are out in the open.
Laguna Vere Sports Center, Georgia
An outdoor swimming stadium that seats an audience of 6,000, a gym, sauna, water slide, athletics halls, and cafeteria, Laguna Vere was Caucasia's first major aquatic sports center. Opened in 1978 to critical design acclaim, the Soviet facility was predominantly used by the Young Communist League for sporting events. It sits abandoned in Georgia's capital of Tbilisi, for twenty years.
Enter at your own risk:
The main entrance is locked, but to the side you will see an easily hoppable chain link fence that empties right onto the main swimming pool.
Pavlovsk Submarine Base, Russia
The Soviets began the construction of a nuclear proof submarine base in the hidden city of Pavlovsk in the 1960s, and abandoned the project in the '80s. Tucked into a sea side cliff, a labyrinth of tunnels are big enough for Russian submarines to easily pass through. This underwater maze is literally frozen in time, and urban explorers bring ice shoes to explore the caves in the fall and winter.
Enter at your own risk:
It's a tough one. Pavlovsk is a small town enclosed by imposing cliffs and volcanoes, and the only way to find it is to circle the town with a boat. There is a Brutalist square entrance, and a large external water pit near the water's edge that will signal the submarine hide out. Good luck.
The Maunsell Army Sea Forts, England
In 1942, the British Army built seven stilted forts to prevent the seashores of Kent from a Nazi invasion. After being decommissioned after the war, they were hijacked as pirate radio stations throughout the '60s and '70s.
Enter at your own risk:
You don't. But you can get close. It's an eight mile boat trip from Whitsable on the north coast of kent. All ladders have been removed, due to fears of smuggling and illicit activities. Your best view is to look up.
The town of Kolmanskop, Namibia
Founded in 1900, the town of Kolmanskop in Southern Namibia was once a successful German diamond mining town. The diamonds dried up after World War I, and the town was abandoned by its residents. Waves of sand have since blown through it, leaving a surrealistic, Alice In Wonderland-esque mountainous tableau.
Enter at your own risk:
The site is open to the public, and protected by a private firm. Buy a ticket and climb the dunes.
Paterei Prison, Estonia
An eerie penitentiary used by the Soviets from 1920 until 1991, the building and remnants are remarkably in the exact state the Soviets left them in when they fled the country overnight in 1991. Not only will you find Soviet telephone books, records, and posters, but they have a remarkably creepy hospital room, where sharp medical tools, blood-stained blankets, and medical charts litter the floors.
Enter at your own risk:
Paterei closed to the public in 2016. You have to either break in, or call the local police chief to see if you want to arrange a tour.
Buzludzha, Bulgaria
Perched atop a grassy hill sits, Buzludzha, a flying saucer looking structure that served as the Bulgarian Communist Party Headquarters from 1981 until the Soviet Union's collapse ten years later.
Enter at your own risk:
Accessible via three hour drive from Sofia, Buzludzha has become a difficult place to break in to, much to Bulgarian dismay. In the last nine months, authorities have amped up security in an attempt to safeguard the remaining structure, with the long-term goal of turning it into a tourist site and charging admission. There is still an underground hole when you walk around to the left of the monument that you can drop into. That said, as of late, authorities have been filling it with boulders so as to prohibit entrance. Even if you can't break in, it's worth walking the perimeter for its incredible views, and peak inside from the metal gates.
Underwater City of Shicheng, China
Once a beautiful bustling city, Shicheng was intentionally flooded by the Chinese government in 1959 to make room for a hydroelectric station. Despite being one hundred feet under water, the city has remained remarkably intact, complete with sturdy wooden doorways and intricate carvings that are visible on old staircases and an ancient temple.
Enter at your own risk:
Consider this the ultimate diver's paradise. Make sure to visit between April and October when it's warmest and underwater visibility is best. Bear in mind that this is a man-filled lake, rather than clear ocean water, meaning the water is murky, so make sure to dive with a head light and flashlight.
Chernobyl, Ukraine
The northern Ukrainian city of Chernobyl is the de facto mothership of abandonment. But this ghost city is not for the faint of heart: It is a gut-wrenching trip to take, as you'll witness loss in epic proportions. Chernobyl has been abandoned since its power plant tragically exploded in 1986—a mix of human error and faulty Soviet-era equipment. Chernobyl and its neighboring cities, such as the much-frequented Pripyat which was home to the factory workers, remain in the exact frozen state from the day of the explosion. You'll find empty swimming pools, an amusement park, elementary schools with decaying toys, and apartments with shattered TV screens.
Enter at your own risk:
With a hazmat suit—seriously. The Chernobyl explosion released 400 times the radiation that was emitted from Hiroshima. There is still notable traces of radiation in the area, and it is ill-advised to visit unprotected.
Kasukabe Storm Water Tunnels, Japan
A series of cavernous, misty rooms with mammoth columns await those who venture 165 feet below the busy streets of Kasukabe. Built in 2009 (with a budget of 2 billion dollars) for preventing the flow of excess water during typhoon season due to the increasingly worsening effects felt by climate change, the facility can pump 200 tons of water per second into vacant rooms.
Enter at your own risk: Tours are available.
Wonderland Amusement Park, China
Originally designed to be the largest amusement park in Asia, WAP ceased construction in 1998 after encountering financial problems. Located twenty miles outside of Beijing, all that remains is the main magic castle, now rickety from decay and explosives from when the Chinese government tried to take it down.
Enter at your own risk:
If you plug "Wonderland" into google maps your results will be nil. Type Chenzhuang Village or Nankou Town, and drive down the main road until you see the castle peeping out.
The Victoria's Secret Angels Do Jetsetter Beauty on Their Way to Shanghai
Lais Ribeiro makes the case for a natural face with relaxed waves and chic sleeping mask.

@laisribeiro
Angels Martha Hunt and Elsa Hosk pose fresh-faced with natural skin and low maintenance, tousled waves.

@marthahunt
Danish beauty Josephine Skriver is all smiles on her way to Shanghai wearing her brunette locks swept over in loose curls.

@josephineskriver
Model Stella Maxwell strikes a pose before jetting off making her tousled, messy curls an effortless on-the-go look.

@stellamaxwell
Model Alessandra Ambrosio poses with her daughter, Anja, radiating with luminous skin and natural waves.

@alessandraambrosio
Victoria's Secret Angel Taylor Hill's low maintenance messy top knot and natural skin is a jetsetter must.

@taylorhill
Model Lily Aldridge makes clean skin and messy top knot the ultimate jet-setter beauty look.

@lilyaldridge
Swedish beauty Romee Strijd makes her sun-kissed skin and golden messy waves the ultimate hair accessory.

@romeestrijd