These Are the New Most Influential Teens in the World, According to Time
Noah Cyrus, Millie Bobbie Brown and Brooklyn Beckham made the cut.
---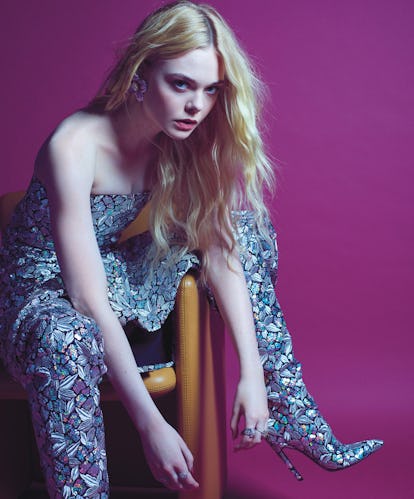 Photographs by Mario Sorrenti, Styled by Edward Enninful
Who run the world? Teens. Seriously, songs don't get radio play if the teens aren't down, movies don't get blown out into never-ending franchises unless the teens are on board, and even fashion brands fall all over themselves to make sure they have teen appeal.
Of course, not all teens are equally powerful. Some teens are just infinitely more influential than others, and Time, a magazine that does not normally concern itself much with teens, has kept an ongoing list of the world's most influential teens since 2013. Though, the thing about teens is that they don't stay that way forever. Eventually they grow up, and the pecking order of the world's coolest teens is constantly in flux.
Last year's influential teen nominees—Malala Yousafzai, Maisie Williams, Camila Cabello, Simone Biles, and swimmer Katie Ledecky all turned twenty in the last year. Same for Kylie Jenner, who, "allegedly," is now just thirteen years away from being the mother to a potentially influential teen of her own. Former influential teen mainstays Malia and Sasha Obama are now, for the first time in their teendom, the children of private citizens. Other teens like Luka Sabbat and Amandla Stenberg just didn't do enough this year to maintain their influential teen status, at least in the eyes of Time. Taken all together it was a stunning loss to teendom, but of course, there's always new teens to rise up and take their place. Some obvious (hello newly minted teen Millie Bobby Brown), others not so much.
So, here, a selection of the newcomers who Time has dubbed the most influential teens of the moment in the worlds of fashion and culture. Just in case you weren't already feeling their teen influence already.
Han Hyun Min, 16
The half-Nigerian, half-Korean teen grew up being harassed for his skin color, but is now one of the hottest models in the Korean fashion industry, adding some much needed diversity to the country's runways in the process.
[#instagram:https://www.instagram.com/p/Bar4b22lS2v/?hl=en&taken-by=noahcyrus]
Noah Cyrus, 17
The little sister of former influential teen Miley Cryus has come into her own this year with a supporting slot on Katy Perry's latest tour and a debut album in the works. Though, as Noah told us recently her sister has helped her navigate the burdens of fame, including how to deal with the trolls. ""Don't look yourself up, don't read the comments," Cyrus said of her sister's advice. "At the end of the day, if it's hate, it's garbage."
As if Gerber needs introduction around these parts. After dabbling in occasional photo shoots for the past few years, the daughter of Cindy Crawford made her runway debut during this past fashion month and walked pretty much every show worth walking.
Ethan and Grayson Dolan, 17
When Vine shut down last year, we lamented that all that was left was all the famous teens it gave us. The Dolan twins, who got their start on the six-second video platform, apparently weren't quite famous enough then to warrant inclusion, but they've since grown their audience and influence on other platforms. Also, they're twins.
Brooklyn Beckham, 18
Beckham has always been in the public eye, but in the last year he moved to New York for school, published a book of his photography, and apparently rekindled his relationship with Chloë Grace Moretz.
[##instagram: https://www.instagram.com/p/BIOY7Hdh88O/?hl=en&taken-by=isaachwright]
Isaac Hempstead Wright, 18
The sole remaining teen left from the Stark family makes his debut.
Elle Fanning, 19
Seems kind of Rude that Fanning hasn't been included on the list before, but Time rightfully makes amends during her last possible year of eligibility. And what a year its been for the younger Fanning. She's been in four movies in 2017 (including Cannes selection The Beguiled and How To Talk To Girls At Parties) and already has six more lined up on her to-do list.
Khalid, 19
Annointed as a boy to love earlier this year by Charli XCX, Khalid is an accomplished R&B singer.
Steve Lacy, 19
A hip-hop artist with a guitar, production credits for Kendrick Lamar, and an openly bisexual identity. Peak influential teen.
Bretman Rock, 19
Makeup boys are all the rage, but Time decided Rock is currently the most influential after including another, James Charles, last year.
Millie Bobby Brown, 13
Again, no introduction needed here, but at just 13, Brown may be the youngest on the list but might just be the most influential.
Of course, there are teens from the non-fashion world on the list as well (like snowboarder Chloe Kim, activist Rayouf Alhumedhi, and business teen Moziah Bridges). There's also some returning favorites like Shawn Mendes, Maddie Ziegler, and influential teen hall of famers Jaden and Willow Smith.
Related: Noah Cyrus Is Emerging From Heartbreak—and from a Stadium Tour with Katy Perry—More Confident Than Ever Before
Noah Cyrus Would Call Her Sister Miley If She Had Car Trouble, Her Dad Billy Ray If She Needed a Laugh:
Elle Fanning Has a Bold, Grown-Up Wardrobe to Match Her New Role in The Beguiled
For a brief moment, Fanning, in Vivienne Westwood, seems to have pondered wearing a bit of color. It didn't last long, though it made a splash at the Hollywood Foreign Press dinner in Beverly Hills, California, August 2014. Photo by Getty Images.
The baby-faced, temporarily brunette actress was already in the know at 16, wearing insider favorite label Rochas to a screening of Low Down at the Mill Valley Film Festival in San Rafael, California, October 2014. Photo by Miikka Skaffari/WireImage.
In Marchesa, Fanning demonstrates her penchant for dressing beyond her years (and somehow making it work). Here, she promotes her film Low Down at its premiere in Hollywood, California, October 2014. Photo by Tibrina Hobson/FilmMagic.
Like any good baby style star, Fanning puts in the requisite Rodarte appearance, at a dinner for the Rodarte x Superga collaboration with Gia Coppola in Los Angeles, California, January 2015. Photo by Stephanie Keenan/WireImage.
This Valentino is a quintessentially Fanning look — pastels, ruffles, chiffon, almost-but-not-quite too much dress for a then-16-year-old. She deserves a place at the grown-ups' table at the Women in Film pre-Oscar party in West Hollywood, California, February 2015. Photo by Getty Images.
At Outfest Los Angeles, Fanning proves that she's not tied to any label — here, in a cute Prada dress at the opening night gala for Tig in Los Angeles, California, July 2015. Photo by Jason LaVeris/FilmMagic.
Fanning rarely opts for a dark palette, but this black, ruffled Emilio Pucci dress stayed within her comfort zone of princess silhouettes at the Toronto Film Festival in Toronto, Ontario, September 2015. Photo by Getty Images.
And when she does go for a color, it's sure to pop. Here, she wears Gucci for the premiere of Trumbo at the Toronto International Film Festival in Toronto, Ontario, September 2015. Photo by Getty Images.
attends the premiere of "Trumbo" at Samuel Goldwyn Theater on October 27, 2015 in Beverly Hills, California.
While the stars around her opted for silver statements, Fanning kept it simple in Thakoon, her milky complexion allowing her to pull off ivory tones that others wouldn't dare — here, at the Metropolitan Museum of Art Costume Institute Gala in New York, New York, May 2016. Photo by Getty Images.
Over the past few months, Fanning has developed her own style aesthetic — this Valentino Couture gown is ethereal, yet with quirky details like a body chain. It's a definite style statement from a girl who's making her name working with Nicolas Winding Refn on a movie about models.
Elle Fanning at the amfAR Gala in Cannes, France, May 2016. Photo by Kevin Tachman/amfAR/WireImage.
Fanning joins the legions of cute young stars (Kristen Stewart chief among them) wearing Karl Lagerfeld's designs — here, a short, frilly Chanel dress for the Neon Demon photocall in Cannes, France, May 2016. Photo by Getty Images.
She's definitely got a color palette, and she's sticking to it — here, she wears Alexander McQueen to the afterparty for Neon Demon's Cannes premiere in Cannes, France, May 2016. Photo by Getty Images.
Alternate title: Elie Saab and Elle Fanning, a love story. Fanning wore a couture design by Saab to the U.K. premiere of The Neon Demon in London, England, May 2016. Photo by Karwai Tang.
During a quick hiatus from promoting her new film, Fanning stopped in at Alessandro Michele's Gucci Cruise 2017 presentation — in Gucci, naturally. She and director Nicolas Winding Refn sat front row at the presentation in London, England, June 2016. Photo by Getty Images.
Fanning's latest designer ensemble was a sharp turn from her previous looks, and a welcome change: Her Gucci tracksuit proves she's not getting fashion-stagnant. Photo by Getty Images.
Elle Fanning in Lanvin at the premiere of The Neon Demon in Paris, France, June 2016.

Marc Piasecki/Getty Images
Elle Fanning in Marc Jacobs at Variety's Power of Young Hollywood event in Los Angeles, California, August 2016.

Steve Granitz/Getty Images
Elle Fanning in Dolce & Gabbana at the premiere of The Neon Demon in Hollywood, California, June 2016.

Axelle/Bauer-Griffin/Getty Images
Elle Fanning in Creatures of the Wind at the Just One Eye x Creatures of the Wind collaboration dinner in Los Angeles, California, August 2016.

Stefanie Keenan/Getty Images
Elle Fanning in Rodarte with Jimmy Choo shoes and Tiffany & Co. jewelry at the premiere of 20th Century Women at the New York Film Festival in New York, New York, October 2016.

Gilbert Carrasquillo/Getty Images
Elle Fanning wore a pink Max Mara coat at the Sundance Film Festival in Park City, Utah, January 2017.

Vivien Killilea/Getty Images
Elle Fanning in Rodarte at the Harper's Bazaar 150 Most Fashionable Women party in West Hollywood, California, January 2017.

Steve Granitz/Getty Images
Elle Fanning in Oscar de la Renta at the premiere of Live by Night in Hollywood, California, January 2017.

Steve Granitz/Getty Images
Elle Fanning in Prada at the Fondazione Prada dinner during the Cannes Film Festival in Cannes, France, May 2017.

Jacopo Raule/Getty Images
Elle Fanning in Miu Miu at the Metropolitan Museum of Art Costume Institute Gala in New York, New York, May 2017.

Karwai Tang/Getty Images
Elle Fanning in custom Vivienne Westwood at the premiere of Ismael's Ghosts during the Cannes Film Festival in Cannes, France, May 2017.

Tony Barson/Getty Images
Elle Fanning in Marc Jacobs at the afterparty for the Metropolitan Museum of Art Costume Institute Gala in New York, New York, May 2017.

Daniel Zuchnik/Getty Images
Elle Fanning in Prada at the photocall for How to Talk to Girls at Parties during the Cannes Film Festival in Cannes, France, May 2017.

Tony Barson/Getty Images
Elle Fanning in Gucci at the premiere of How to Talk to Girls at Parties during the Cannes Film Festival in Cannes, France, May 2017.

Anthony Harvey/Getty Images