How Natacha Ramsay-Levi Became Fashion's Coolest Force Of Nature
Natacha Ramsay-Levi, Chloé's boldly chic creative director, is her own best model.
---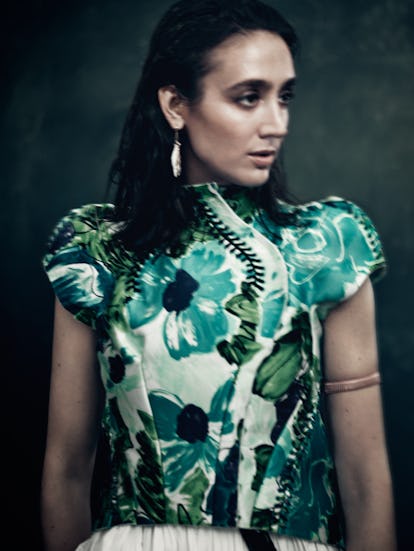 Photograph by Paolo Roversi; Styled by Camille Bidault-Waddington.
As a thunderstorm finally breaks and sunlight reappears, the gold-toned costume jewelry laid out in rows in a photo studio in Paris begins to glow. Most of the pieces are by Chloé, and culled from the personal stash of the brand's creative director, Natacha Ramsay-Levi. There are four-finger rings heavy with chains; basket-weave cuffs; collars and brooches dangling with coral mano figa, the Etruscan fist-shaped charm that wards off the evil eye; and longhorn-adorned bangles that nod to Georgia O'Keeffe. "With Natacha's design, there is always the organic feminine," says the stylist Camille Bidault-Waddington, her close friend of some 15 years, who helped Ramsay-Levi edit the clothes and accessories for today's shoot, an eclectic mélange of Chloé's latest and Ramsay-Levi's personal archives. "There's always something a little boyish with Natacha. A little eccentric, tough but not butch, a slightly hippie-roots thing, but refined."
Alongside the oversize cocktail rings is a solitaire fashioned out of crumpled tinfoil. "Ah, that's the work of my son," Ramsay-Levi says, clad in block-heeled boots for the first shot of the day. She had grabbed the jewelry on her way out the door, she explains, and hadn't noticed the addition snuck in by Balthus, who is five and a half. (Sadly, his contribution would not make it into the pictures.) His father is Ramsay-Levi's ex and Purple magazine's editor in chief, Olivier Zahm, but Balthus gets his magpie tendencies from his mother. "Everything in my closets that's printed or made from a special material, he reacts to," Ramsay-Levi says. "He loves to play with the jewelry, which is all over my apartment. Sometimes he puts it on. He's like, 'Maman, you have so much gold!' "
Most designers dress simply, saving their more directional work for the runway. (See: Miuccia Prada's obsession with A-line skirts; ­Carolina Herrera's white-blouse understatement; Phoebe Philo's uniform of simple black pants, Adidas sneakers, and turtlenecks.) Ramsay-Levi is cut from more rambunctious cloth. She loves an exaggerated silhouette, a clash of prints, and pairing colors that probably shouldn't go together—sometimes all within one outfit. Head-to-toe anything, whether designer or seasonal, is a rarity for her. She keeps her long brown bob slept-in, her eyebrows shaggy, her makeup minimal, and she never seems overwhelmed by what she's wearing, even when it's a look that would give most women a panic attack. "When I was pregnant," she recalls, "my favorite thing to wear was crop tops; then I'd pull a supershort pleated skirt over the top of my belly." With pants? "No." Needless to say, she has good legs.
Most of the pieces on display today are things that Ramsay-Levi wears in real life and had a hand in designing, either for Chloé, where she was appointed creative director last year, or at Balenciaga and Louis Vuitton, houses where she worked with Nicolas Ghesquière for 11 years and three and a half years, respectively. "We didn't disguise her for this shoot," says Bidault-Waddington. Nevertheless, Ramsay-Levi says she's toning things down now that she's the boss. "I have to make too many decisions every day," she says. "Getting dressed in the morning is one I don't need."
This newfound simplicity is relative. When I visited her at Chloé's offices in late spring, she was wearing tailored pedal pushers, knee-high white cannage boots over black knee socks, and a sleeveless blazer. Her ensemble for a casual coffee in her neighborhood a few days before this shoot consisted of deconstructed Louis Vuitton track pants with a laid-over tube skirt and yellow python-print calfskin cowboy ankle boots from her first season at Chloé. Clearly, minimalism is not her ethos. "My problem is I like everything," says the 38-year-old designer, who stores her finds "in ugly Ikea cabinets in practically every room of my apartment. I also have my basement, and my parents have a house in the South of France and I use their attic." Like any serious collector, she photographs and catalogs each item before storing it. When she's packing for a trip, she lays out outfits on the floor and snaps a picture.
Ramsay-Levi was raised near Montparnasse, in Paris, and studied history at school. Her father was a book and magazine editor, her mother an interior decorator. Ramsay-Levi liked fashion, but she wasn't one to dreamily sketch dresses in the margins of her notebooks. Her strong relationship to clothes came through dressing up, seeing fashion simply as a tool for personal satisfaction and self-expression. The granddaughter of a seamstress, she bought a sewing machine when she was 16 and used it often. "I would cut my father's pants to fit me, put on my little brother's T-shirt, and add an accessory that twisted it all up," she says. (There are also rumors of a turban phase.) "I come from a bourgeois family, but I wanted to be with other people, listen to other music. Through fashion, personalities can multiply. Through clothes, it's like I had a mosaic of possibilities."
Ramsay-Levi was on the verge of signing up for a sewing class to indulge her hobby when a friend convinced her to set her sights higher and apply to Paris's prestigious Studio Berçot. "I didn't know how to draw when I arrived," she recalls, "and I had a real complex about it." Upon completing her degree in 2002, she landed an internship at Balenciaga, where Nicolas Ghesquière was leading a small team to fashion greatness. She followed him to Louis Vuitton in 2013, and was hired as Chloé's creative director in March 2017. Acting as a part-time muse for Ghesquière for all those years was crucial to building their relationship—and Ramsay-Levi's fearlessness as well. "Being inspiring for him was part of the fun," she says, recalling the time when he fell in love with a tablecloth with crocheted swans that she had turned into a necklace. The two have remained close.
Chloé was founded in 1952 by Gaby Aghion to bring chicness and ease to a broad market. (At the time, most fashion was haute couture—made by special order for the customer's body, not sold on racks.) Aghion designed the collections herself early on, but in time developed a knack for hiring talents like Maxime de la Falaise and, in 1964, a young Karl Lagerfeld, who defined Chloé as countercultural and free-spirited. Its modern iteration began in 1997, when Stella McCartney was appointed creative director. (She knew the label intimately, since her mother, Linda, and many of her set had been devotees of Lagerfeld's hand-painted silk Chloé dresses.) Since then, the brand has found its most successful ambassadors not in celebrities but in its own designers, most of whom have been attractive, cool young women. After McCartney came Phoebe Philo, who went on to design for Céline; then Hannah MacGibbon; then Clare Waight Keller, now at Givenchy, where she has earned worldwide renown as the designer of Meghan, Duchess of Sussex's wedding dress. (Paulo Melim Andersson, who led the house from 2006 to 2008, has been the lone male exception.)
In the space of four collections, Ramsay-Levi has put her own quirky, bold imprimatur on the house. " 'Bohemian,' for me, is one of the adjectives that always has to be present at Chloé," she says. "Clare was so good at it, with her English embroidery and Victorian spirit, that many people thought that was all there was. But masculine-feminine also has a very strong heritage at Chloé. In the '70s, it had a very bourgeois-perverted side, and Phoebe really gave a great sense of that. With Stella, it was very pop. And Hannah's beige obsession was really strong. I'm not doing the same things as those women, but I like to take all of their contributions and shake them up."
She has kept identifiable signatures like lace, Western motifs, and high-necked blouses, while sharpening shoulders, adding metal piercings, and toughening up leather outerwear. Boots are now heavier and pointier, and there is always a sense of contrast: Louche disco flares are paired with ladylike pussy-bow blouses; lingerie dresses are worn under shearling bombers. In making collections out of eclectic, standalone pieces, Ramsay-Levi is inviting women to take an active, curatorial approach to their wardrobes. "It's funny to see how ready everyone is for new things," she says. "Last season, I got scared because we didn't have any big, fluid dresses. So we found two pieces from the previous season and crashed them into the collection. Nobody bought them. We realized that customers want the DNA of Chloé, but they want newness. The biggest successes so far"—like the aforementioned boots—"have been the departures."
Perhaps because of the satisfaction she derives from dressing herself, Ramsay-Levi seems to have a sixth sense about what others want. "I love having conversations with women about their bodies and what they feel good in," she says. It's telling that, on red carpets, she has zeroed in on friends like Isabelle Huppert and Cat Power, who are not exactly wallflowers. Rachel Weisz, another pal who works with the house, recently needed something special for the Tribeca Film Festival premiere of her film Disobedience. Weisz was heavily pregnant, so Ramsay-Levi adapted a daring runway look for her, covering up its plunging V-neck and moving the waistline up high. The result, a floor-length brown crepe gown, was almost prim, and Weisz looked confident, happy, and relaxed. It was a far cry from Ramsay-Levi's maternity crop tops and hitched-up miniskirts—and that's exactly how she wanted it.
Related: Fall 2018 Fashion Is Fit for the End of the World—and a New Beginning