Replicas of Meghan Markle's Stella McCartney Wedding Dress Are Going Up for Sale in the Designer's London Store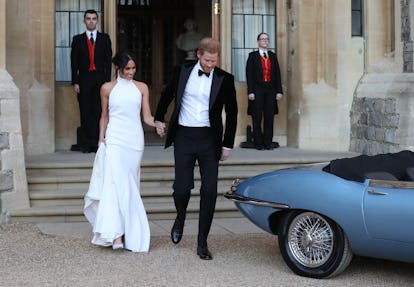 Steve Parsons – WPA Pool/Getty Images
Meghan Markle's wedding dresses will be forever emblazoned into the memories of those who watched the royal wedding. Soon, one could also be hanging in your closet. Well, maybe not the exact same one.
Much to the delight of royal wedding fans, Stella McCartney has announced plans to sell replicas of the halter, column gown she wore to her and Prince Harry's wedding reception. While any non-royal could hypothetically purchase one, there will be some hoops to jump through before one can do so. Only 46 replicas of Markle's wedding dress will be produced, and half of those will be in black. The other half will be in white, identical to Markle's own gown, which left quite the impression.
To purchase your version of the Duchess of Sussex's gown, which will retail for £3,500 each (about $4,656), you'll need to visit Stella McCartney's London flagship at 23 Old Bond Street. Only those with advanced permission — after emailing 23oldbond.store@stellamccartney.com and receiving confirmation of an invite — will be able to purchase one of the 46 dresses. While they won't be on display in the store for anyone else (as they're being stored in an "exclusive exhibition area," per Page Six), who knows, Markle's own gown may very well end up in a museum one day. As a more concrete consolation, Stella McCartney is hoping to launch a new bridal collection in spring 2019 that extends the same "Made With Love" collection that Markle's gown is now a part of, as a rep confirmed to The Telegraph.
As for the designer, she recently opened up about the experience of collaborating with Markle on the gown, which they labored over to perfect the "right kind of positioning, the right pace, the right voice." "You know it was very much her dress," she told the BBC. "And I felt very proud that she came to me for that part of the wedding, and that she got to reflect her in it."
Not surprisingly, the "chill bride" knew exactly what she wanted. "We worked together," McCartney said. "When you come to a wedding, you don't just just go, 'here, this is what you're wearing.' That person has to feel a million dollars; they need to feel like they own it." Own it she did, and, if you're lucky, now you can too.
Related: Why Stella McCartney Is Taking Back Full Control of Her Brand