New York Fashion Week's Biggest Trend Is: Mom
The hottest front-row date at New York Fashion Week? Mom.
---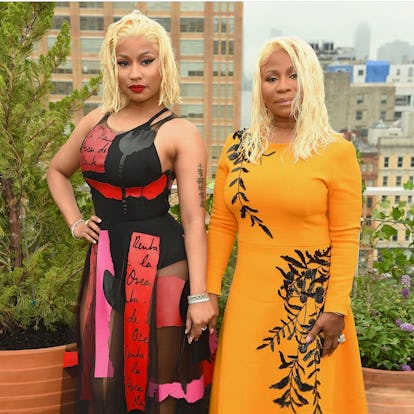 Photo by @nickiminaj.
Forget clear umbrellas and oversize denim bags, "mommy and me" vibes are the biggest trend at New York Fashion Week this season. If Eckhaus Latta's day care center slash Spring/Summer 2019 runway show or a pregnant Lily Aldridge walking the runway at Brandon Maxwell does not convince you that this New York Fashion Week is shaping up to be a pretty solid family affair, consider that celebrities like Priyanka Chopra and Nicki Minaj are showing off how much they love their mothers by bringing them to the front row. Not to mention the model moms like Yolanda Hadid and Cindy Crawford showing off how much they love their model children, on and off the runway. Sure, mothers are trending at Fashion Week and maybe even bringing new meaning to the phrase "everybody and their mother was there," but frankly, moms can never get too much credit, so the coolest things you can do this Fashion Week are not necessarily serving street-style looks or scoring backstage sneak peeks but instead, bringing your mom to the shows or being a mom who cheers her kids on as they make their way down the runway. Here, meet the moms of Fashion Week.
Priyanka Chopra and Madhu Chopra
Priyanka Chopra brought her mother, Madhu Chopra, to New York Fashion Week, and the two sat together in the front row. She even told W all about her mom's experience this week. Get you a daughter who flies all around the world and brings her family to her luxurious destinations.
Nicki Minaj and Carol Maraj
Nicki Minaj also opted for a front-row mom date, only she took the trend one step further—the rapper appeared at Oscar de la Renta's Spring/Summer 2019 show on Tuesday morning with her mother in tow, both sporting matching blonde hairstyles and looking just like the double-dancer twin emoji.
Catherine Zeta-Jones and Carys Douglas
Catherine Zeta-Jones was spotted out and about with her look-alike daughter, Carys Douglas, to celebrate her first cover of Town & Country magazine, and of course she had to be a mom about the whole thing and post a boomerang of herself with her daughter on Instagram. Carys's brother, Dylan Douglas, recently started his first semester of college and also got the Instagram Mom treatment (Zeta-Jones documented his move-in day via video on Instagram, using editing software and everything).
Cindy Crawford, Kaia Gerber, and Presley Gerber
Is there any mother who is more "proud" of her kids than Cindy Crawford? "So fun seeing these two sharing the runway," she wrote in the caption of a cute snap of Kaia and Presley Gerber at Sies Marjan.
Yolanda Hadid, Bella Hadid, and Gigi Hadid
After Yolanda Hadid went for a quick "shopping" trip inside of her daughter Bella Hadid's closet to wear a denim getup for the Prabal Gurung Spring 2019 show, she was featured on her kid's Instagram Story, but it was all in good fun (no parents were harmed in the making of Bella's Instagram content, as evidenced by the sparkling emojis she placed over the image). As we've already established, it's always cute to watch a mom stan for her model kids on Instagram, which is exactly what Yolanda has been doing on social media all week ("Sugar and spice, always nice," she captioned one photo set of her daughters making their way through the rainy New York streets).
Only time will tell, but surely there could be another famous mother-child duo to hit the front row together (or maybe even the runway) before this Fashion Month is over.
Related: Priyanka Chopra Explains Why Her Mom Is the Best Fashion Week Date