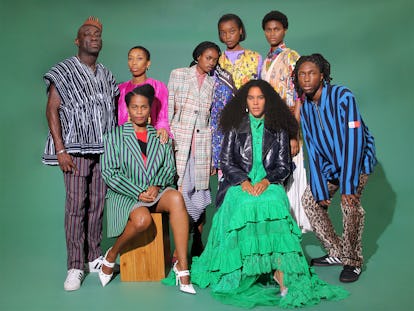 Photograph by Ruth Ossai; Styled by Jason Rider.
Nigerians, of course, saw it all along. The infiltration of world culture by the sounds, images, and styles of their country has been building for some time. The author and photographer Teju Cole notices Nigerian pop music when he travels—recently, in a taxi in Peru. The journalist Bim Adewunmi remembers finding a group of white British kids in London singing "Oliver Twist," a hit by D'Banj, down to the artist's Nigerian accent: OH-lee-vah. "D'Banj trumped Charles Dickens in that moment," Adewunmi says. "And that made me feel good!"
Perhaps the breakout moment came in 2013, when Beyoncé placed a spoken passage by the Nigerian novelist Chimamanda Ngozi Adichie, excerpted from an essay on the social conditioning of girls, at the ­center of "Flawless," her empowerment manifesto set to a bouncing Houston funk groove. Queen Bey's validation turbocharged the ascent of the author of Americanah to her status as a cross-cultural (and stylish) feminist icon. And any doubt vanished once Drake turned up on the remix of "Ojuelegba," a silken ode by the Nigerian singer Wizkid to his Lagos neighborhood, in 2015—along with Skepta, the British-Nigerian star of the London grime scene.
It's been a seeping, decentralized thing; to call it a takeover would be hyperbole. But the assertive Nigerian global influence today cannot be denied, whether it's in literature, music, fashion, or art, with new talents appearing at a relentless pace. Many hold court in London, which has an established Nigerian presence that spans working-class Peckham and the Knightsbridge mansions of industrialists and oil barons. Others are in the United States, where middle-class immigrants have flourished in places like Houston and Atlanta. But all of them feed off the scene in Nigeria itself—and in its megacity, Lagos, a frenetic engine of creativity.
Ever since Purple Hibiscus, Adichie's 2003 debut novel, Nigeria's history, social issues, and the experiences of its immigrants have spread into every realm of literature. Cole, for instance, who grew up in ­Nigeria and lives in Brooklyn, trains a meditative eye on Lagos in Every Day Is for the Thief. Illinois-raised Nnedi Okorafor draws on Igbo spirituality to shape award-winning science-fiction and fantasy; Who Fears Death, her postapocalyptic allegory in which magic transcends sexual violence and civil war, is slated for an HBO series.
Acclaimed recent debuts by Ayobami Adebayo, Lesley Nneka Arimah, and Tomi Adeyemi underscore the prominence of women writers in the scene. Adebayo was born in Lagos; her Stay With Me, a deft, stirring family drama, addresses intimate ordeals of infertility and illness against middle-class pressures and aspirations in a provincial Nigerian town, and received the critic Michiko Kakutani's final New York Times review. Minneapolis-based Arimah sets the surrealist, feminist stories in What It Means When a Man Falls From the Sky in both Nigeria and the U.S. Raised in the Chicago suburbs, marked by both the Harry Potter series and the rise of Black Lives Matter, Adeyemi found her outlet in a world she called Orïsha, inspired by the divinities of Yoruba culture. Published this year, Children of Blood and Bone, the first in a series for which Adeyemi secured a huge publishing deal at the age of 23, topped the young-adult best-seller list.
Nigerian designers are giving fashion a jolt of adrenaline as well. They follow established creators such as Duro Olowu, who showed his first London collection in 2005 (and later became a Michelle Obama favorite), Lisa Folawiyo (Jewel by Lisa), and Amaka Osakwe (Maki Oh). Meanwhile, Nigerian shoppers—big spenders who regularly visit London and Dubai, and who avidly seek out foreign brands on the MallforAfrica app—support up-and-coming talents. Lagos brims with showrooms nestled behind the walls of private compounds. Alára, the entrepreneur Reni Folawiyo's concept store in Lagos, houses both Western and Nigerian designers in a David Adjaye–designed building, as well as Nok, the store's nouvelle-­Nigerian destination restaurant.
Nigerian style is all about subcultures, mash-ups, and street life. London-based Mowalola Ogunlesi, known for her sexually charged punk clothes, finds inspiration in the country's rock underground and the aggression of Lagos street racers, bikers, and minibus drivers. ­Adebayo Oke-Lawal's Lagos-based label, Orange Culture, short-listed for the LVMH Prize in 2014, explores androgynous undercurrents that Nigerian tradition, influenced by both Christianity and Islam, repress. London's streetwear brand Vivendii, started in 2011 by Jimmy Ayeni, Ola Badiru, and Anthony Oye, collaborated this year with Virgil Abloh's Off-White and Nike on a limited-edition jersey for the Nigeria soccer team. Meanwhile, Nike's official gear for the team's World Cup campaign became an instant cult item.
Global brands are catching up to Nigeria, says the photographer Ruth Ossai, who took the pictures in these pages. "There is such a spotlight on Nigerian creatives because brands have gotten behind us and trust us," she says. "But local talent has always been there." Indeed, as trend spotters ogle Nigerian kids in London and reporters safari through the Lagos nightlife, many Nigerians seem amused. "People are just realizing this now?" the artist Njideka Akunyili Crosby says. "Maybe they are just slow to the scene."
With 190 million inhabitants or more—no one knows, there hasn't been a census in years—the country's size alone, dwarfing its ­African neighbors, makes it a player. "You can't ignore the nation that ­represents one in eight black human beings in the world," says the crime novelist Leye Adenle, author of Easy Motion Tourist. In the years ­following independence, in 1960, that scale was accompanied by prestige. ­Nigeria had good universities, political influence, a booming ­commercial capital in Lagos, and a dynamic, emerging middle class. Music blossomed—highlife in Lagos and the Igbo southeast, juju from the Yoruba heartland—and albums by great bandleaders found their way across Africa and to the West.
But the good times didn't last. A coup and countercoup in 1966 ushered in the bloody Biafra civil war, followed by three decades of nearly uninterrupted military rule. The economy became dependent on oil exports, and corruption took hold as politics centered on controlling and distributing oil revenue. In the long, jazzy songs that made him Nigeria's musical icon in the 1970s and '80s, Fela Anikulapo-Kuti described a country beset with greed, decay, and the suffering of ordinary people. The nation became disreputable: Visitors returned with tales of outrageous shakedowns, and Africans from neighboring ­countries stayed away, traumatized by stories of swindles or vigilante justice. The advent of the Internet gave rise to a stubborn archetype, the Nigerian prince who wants to wire you a vast sum of money after you send him a fee—Nigerians called this scam 419, after a provision in the legal code on fraud.
Today's Nigeria reflects a drastic turnaround. "It's gone from 419 to Lagos nights," Adewunmi says. Elections have been held since 1999, and the country has become an energetic—if still corrupt—democracy. Every year, Nigerians living overseas stream back for the holidays, injecting millions of dollars and pounds into the economy, moving by Uber around Lagos and Abuja, the capital, and popping bottles at the ever-changing clubs. Social media is vibrant, and instead of scams, it turns out a steady flow of Nigerian memes, slang, and music.
Akunyili Crosby, who grew up in Nigeria and lives in Los Angeles, has found acclaim for her mixed-media collage works that evoke her memories of family and Nigerian daily life. "I'm really trying to show the side of Nigeria that is just people living their lives," she says. In her wake, Alabama-raised Toyin Ojih Odutola had a solo exhibition at the Whitney Museum of American Art last year, with a series of elegant large-scale drawings that depict the lives of two fictional aristocratic Nigerian families connected by the marriage of two male heirs. Ruby Onyinyechi Amanze, for her part, makes works on paper in an evanescent, surrealist style that evokes unsettled identities; raised in the U.K. and living in Brooklyn, she says her approach took form during a year spent in Nigeria, where she was born. "I have a connection to the land that is deeply nuanced, perhaps even immeasurable," she says.
Some Nigerian artists who began their career overseas have returned home, joining the Lagos scene—anchored by the respected curator Bisi Silva's Centre for Contemporary Art and the Art X Lagos fair—or reestablishing their rural roots. The photographer and ­conceptual video artist Zina Saro-Wiwa—the daughter of Ken ­Saro-Wiwa, a national hero executed by the military regime in 1995 for his environmental activism—is based in Brooklyn but makes her work in the Niger Delta region that her father fought for. "I'm in our village a lot," she says. "I'm trying to let the land speak through me and express the reality of that place."
An important force behind Nigeria's cultural dynamism is its collector class, including deep-pocketed banks and corporations. Even more ­decisive, however, is the vast popular market for locally ­produced entertainment. It includes the sprawling Nollywood, but also the Hausa-language film industry, which is influential in the country's north and gets exported to the Arab world. Nigeria's music scene, too, allows artists to grow careers independent of foreign labels and tastemakers. "I'm able to make music locally," says the musician Brymo, who began in mainstream pop and then moved to a more recherché singer-songwriter style. "Between downloads, streams, and gigs, people pay to see my group."
The exponential growth of Nigerian pop music—now often called Afrobeats—tracks with the turn some 10 years ago toward a hybrid sound full of references to prior waves of Nigerian music, sung in English as well as in Yoruba, Igbo, and pidgin, a street vernacular. American, British, Caribbean, and Congolese borrowings add to the blend. It's this music, not the more formulaic hip-hop and R&B that immediately preceded it, that has taken Africa by storm and merged with global black culture.
Nigerian pop's royal ranks already include the megastars Wizkid and Davido, the reggae-inspired Burna Boy, and the female singers Yemi Alade and Tiwa Savage. Ubiquitous across Africa and increasingly in the mix elsewhere, pop music has become a source of prestige for Nigeria. "Growing up in the U.S., it wasn't cool to be Nigerian," says the rapper Jidenna, who was raised near Boston. "Now, it's freeing." These days, he works vintage Nigerian highlife music into his songs and finds inspiration for his ultra-dapper style on the Lagos streets.
But let's be real: Nigeria is also a mess. Middle-class life involves constant battles—with corrupt cops, disorganized public services, fuel shortages, and power cuts that force reliance on noisy, polluting generators. The country recently surpassed India as the nation with the largest number of people living in extreme poverty. And violence is rife: not just the Boko Haram crisis that drags on in the northeast but resource conflicts, such as between farmers and herders, that take on ethnic hues. "People think Nigeria is incapable of imploding, but I don't agree," says the novelist Elnathan John, who comes from Kaduna, in the northwest, and now lives in Berlin. "It's these little conflicts in a million places." But others are more sanguine. "Some god is ­smiling on Nigeria," Duro Olowu says, "considering how many things are completely ignored."
"Nigeria succeeds in spite of itself, and that's what's great about it," says the writer Lola Shoneyin. "The doggedness is always there. On nearly every street, there is a girl who is going to university but also has a sewing machine. There is a fearlessness with which ­Nigerians pursue creativity." Shoneyin, the author of The Secret Lives of Baba Segi's Wives, herself has many hustles—a positive term in the ­Nigerian vernacular. A publisher and cultural entrepreneur, she founded the Aké literature festival in 2013. It is now a vibrant institution with a global draw.
Self-belief is no culture's monopoly—but talk to Nigerian creatives and you could be forgiven for thinking otherwise. In Donald Glover's hit TV series Atlanta, the character Darius, a purveyor of goofy wisdom played by Lakeith Stanfield, is Nigerian-American. "Don't you start that," he tells Earn, the lead protagonist, played by Glover, at one point. "You know Nigerians don't fail." And as their influence grows, Nigerian creatives are nudging one another into more transgressive terrain: feminism, queerness, dissent. The hope is that the culture at large will follow.
The trans author Akwaeke Emezi, who is half Igbo, half Tamil, and grew up in southern Nigeria, identifies specifically as ogbanje—a gender-ambiguous spirit that arrives from outside the lineage and inhabits the body. Freshwater, Emezi's debut, unfolds from an ogbanje's perspective, narrated in the first-person plural. The acclaimed novel, which earned Emezi a two-book follow-up deal, was published in the U.S. this past February and recently in Nigeria. "Several Nigerian readers have written me to say, 'Thank you for this,' " says the author. " 'This is the first time in my life that I haven't felt crazy.' "
Oke-Lawal, of Orange Culture, observes that his androgynous label is generating interest abroad and at home, with a growing number of customers from conventional professions, such as lawyers, now purchasing his clothes. New York–based Chike Frankie Edozien, author of the acclaimed memoir Lives of Great Men, is among a handful of gay Nigerians who are writing and speaking openly, often at personal risk.
"People are creating progressive culture in real time," Teju Cole says. Known for his own artistic experiments with social media, he sees the Internet as a catalyst for Nigerian culture to gradually shed its inhibitions. "There are people who are very liberal in their views, and there are people who are not so much, but you can see them thinking it through." For all its difficulties, Nigeria is going through a creative blossoming and sharing the results with the rest of the world, at a time when many societies seem to be looking inward. Perhaps that's the secret to its appeal. "It feels like a coming to fruition," Cole says. "We really got hot, and that feels right."
Meet the Nigerian Creatives Taking Over the World
Self-belief is no culture's monopoly, but talk to Nigerian creatives and you might be convinced otherwise. Here, the writer and journalist Chike Frankie Edozien (far left), whose recent memoir, Lives of Great Men, ruminates on what it means to be a gay Nigerian man today, stands beside the artist Ruby Onyinyechi Amanze (in pink), with Elizabeth Ayodele, Olivia Anakwe, and Imade Ogbewi, all models (standing, from left). In the front row are (from left) the writer Akwaeke Emezi, who identifies as ogbanje—a gender-ambiguous spirit that arrives from outside one's lineage and inhabits the body—the photographer Ruth Ossai, and the talent agent Michael Rotimi.

Edozien wears Missoni trousers with his own clothing and sneakers. Onyinyechi Amanze wears a Givenchy dress; Sophie Buhai earrings. Ayodele wears a Versace coat and shirt; Loewe skirt and boots. Anakwe wears Balenciaga. Ogbewi wears a Salvatore Ferragamo dress; Versace shirtdress. Emezi wears a Calvin Klein 205W39NYC jacket, skirt, and shoes; Akris sweater; Emezi's own jewelry. Ossai wears an Yves Salomon trench; Gucci dress; Miu Miu shoes. Rotimi wears a Martine Rose sweater and pants; Adidas sneakers.

Photograph by Ruth Ossai; Styled by Jason Rider.
For the past 10 years, Nigerian pop has surged across Africa and the world; the trend has empowered Nigerian diaspora artists too. For the rapper, songwriter, and producer Jidenna (above), who was raised outside of Boston, "it's a liberating evolution."

Jidenna wears a Loro Piana cape; his own shirt, pants, and jewelry.

Photograph by Ruth Ossai; Styled by Jason Rider.
Ogbewi wears a Salvatore Ferragamo dress and shoes; Versace shirtdress. Anakwe wears Balenciaga.

Photograph by Ruth Ossai; Styled by Jason Rider.
Nigerian designers, like Mowalola Ogunlesi (left) and Kenneth Ize, channel sexual ambiguity, street life, and local subcultures with their clothes.

Ogunlesi wears clothing and boots of her own design. Ize wears signature pieces from his spring 2019 collection.

Photograph by Ruth Ossai; Styled by Jason Rider.
Walé Oyéjidé (middle), the lawyer turned designer behind the label Ikiré Jones, whose lavish work appeared in the movie Black Panther, believes that "clothing is a vehicle to talk about culture."

Ogbewi, Oyéjidé, and Ayodele (from left) wear suits from Ikiré Jones. Ogbewi wears a Missoni shirt; Kathleen Whitaker earrings; Alumnae shoes. Oyéjidé wears his own jeans, glasses, jewelry, and boots. Ayodele wears Erdem shoes.

Photograph by Ruth Ossai; Styled by Jason Rider.
The model Daberechi (left) and London-based Akinola Davies Jr., who is also known as Crackstevens, an emerging art, music, and fashion star, with a recent project for Kenzo, a video for Devonté Hynes, and his own art film, Boot/Leg, on the street culture of counterfeit fashion.

Daberechi wears Prada clothing and Manolo Blahnik boots. Davies wears his own Ozwald Boateng suit and Saint Laurent by Anthony Vaccarello sunglasses.

Photograph by Ruth Ossai; Styled by Jason Rider.
London's Nigerian-influenced streetwear brand Vivendii, started in 2011 by Jimmy Ayeni, Anthony Oye, and Ola Badiru (from left), collaborated this year with Virgil Abloh's Off-White and Nike on a limited-edition jersey for the Nigerian soccer team.

Ayeni wears a Vivendii top; Marni suit; Bunney choker; his own necklace and sandals. Oye wears a Vivendii shirt; Craig Green trousers; Ambush necklaces; Alexander McQueen boots; his own sunglasses. Badiru wears a Vivendii shirt; Alexander McQueen coveralls; Ambush jewelry; Bunney bracelet and signet ring; Falke socks; Marni sneakers.

Photograph by Ruth Ossai; Styled by Jason Rider.
From left: The writer, filmmaker, and medical doctor Uzodinma Iweala, author of Beasts of No Nation and Speak No Evil, and director of the African Center, in New York; the writer and video artist Zina Saro-Wiwa; the critic and writer Teju Cole, who trains a meditative eye on Lagos in his novel Every Day Is for the Thief, first published in the U.S. in 2014.

Iweala wears a Paul Smith suit; Brioni shirt; Falke socks; his own shoes. Saro-Wiwa wears a Busayo dress; Elsa Peretti for Tiffany & Co. earrings; her own shoes. Cole wears an Hermès suit; Brioni sweater; his own glasses, pin, and shoes.

Photograph by Ruth Ossai; Styled by Jason Rider. Hair by Neil Grupp for Orlando Pita Play at The Wall Group; Makeup by Yui Ishibashi for MAC Cosmetics; Model Casting by Edward Kim at The Talent Group; Photography Assistant: Michael Rotimi; Fashion Assistants: Ray Reyes, Dan Small; Ogunlesi, Ize, Ayemi, Oye, Badiru, Daberechi, Davies: Hair by Virginie Moreira for Bumble and Bumble at Saint Luke; Makeup by Lauren Reynolds; Photography Assistant: Ryan Coleman; Fashion Assistant: Peter Evans.